1902
Ledbury Free Press and Herefordshire advertiser, published evry tuesday, by Luke TILLEY, price one penny, established in 1869, office High Street
Booksellers and stationers.
Deot of the S. P. C. K.
Suttons Parcels Office.
Agent for Norwich Union Fire and and London Accidental Insurance Companies.
Circulating Library


---
1910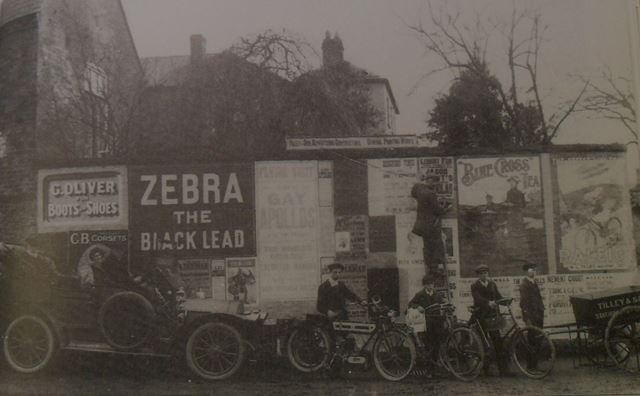 Posting Station at the bottom of the Station Approach
1914
Ledbury Guardian Newspaper 01 10 1914
DEATH OF MR. LUKE TILLEY

We regret to announce the death of our old townsman, Mr. Luke TILLEY, who passed away on September 30th, at Sunnyside, Newbury Park, Ledbury, at the age of 75 years. Mr. TILLEY had suffered from heart trouble for some years, for which Dr. McKEAN had successfully treated him, but his final collapse was undoubtedly caused, in the first place, by the war.

Mr. Luke TILLEY was one of seven sons of the late Mr. Wm. TILLEY, who for 50 years carried on the business of leather seller and bootmaker in South Street, Dorchester, and was there born in 1839. Two of his brothers died in boyhood, but the remaining four survive at good ages, averaging 72 years.

He was educated at Dorchester at the private school of the Rev. William BARNES, who is now known to fame as the Dorset Poet, his charming poems having been written in the broadest dialect. Here his schoolfellows included Sir Frederick TREVES, the King's physician, and Thomas HARDY, the well-known Wessex novelist.

He served a seven years' apprenticeship in the principal bookselling and printing business in the town, and also became acquainted with the inner workings of a newspaper office.

Later he was with Messrs. BARNICOTT of Taunton, only leaving in April, 1870. Then he purchased the old-established bookselling, stationary and printing business of the late Mr. BAYLIS, in High Street, Ledbury, then carried on in the lower portion of the premises now occupied by Messrs. HILL and Sons, ironmongers. In the following month he married the eldest daughter of Mr. Robert LUTLEY, of Baltonsborough, Somerset.

Within six months he had bought the stationary and printing business carried on next door (where Mr. BIXLEY now lives), and for a time he occupied both houses, ultimately buying the lower one, greatly altering it and making it his sole premises.

In connection with the latter business was published the"Ledbury Free Press, " the only newspaper in the town, which he improved and sold, and which is now the "Ledbury Guardian. "

About 30 years ago he purchased the premises at which the business of Messrs. TILLEY and Son is still carried on, rebuilt them, and resided there until he retired from business 18 months ago, leaving his second son John to carry on the business, the eldest son being engaged in the motor trade. The last few years of his life were spent at Sunnyside, Newbury Park, Ledbury. He leaves a widow, two sons, a daughter in Canada, and two who live at Wimbourne, Dorset.

Though Mr. TILLEY always adhered to his principle that he would never allow himself to be nominated for any public office necessitating any election or voting, nevertheless he has served the town in which he lived for 44 years in many ways.

He was one of the keenest workers in the early seventies of the last century for the Ledbury Conservative Association, and many will remember the outings by canal barges and other festivities in which he was one of the chief workers and originators.

The Ledbury Cottage Hospital (1873), had in him the oldest surviving member of the Committee of Management, and to the end he took a great interest in its work.

In 1887 the arrangements for the Queen's Jubilee were so successfully carried out chiefly due to his indefatigable efforts in conjunction with the late Major PALAIRET, both working together as joint secretaries. The programme then arranged included a dinner to adults in the streets, sports, amusements, tea, and medals to the children on the first day, and a railway picnic to Tintern Abbey the second day. A gold medal bearing the imprint of the Market House presented to Queen Victoria by the town, was designed and executed by Mr. TILLEY.

So great was the success of this programme that 10 years later Mr. TILLEY was again asked to be hon. Secretary (in conjunction with Mr. Ernest HOPKINS), for the Diamond Jubilee celebration. This went off equally well, and included a dinner to old people, tea to the children, sports and a bonfire at Bradlow.

Mr. TILLEY was also on the committees of The Coronation festivities, both of King Edward and King George, which are within the memories of most of our readers. The Ledbury Building Society (1885) has done so much good work in the town, Mr. TILLEY was the last of the original directors, and was one of the trustees appointed at the formation of the same. The same may be said of the Ledbury Markets and Fairs Company (1885), the idea of the market having been in his mind for several years before it came into being. He had hoped to see a fruit, poultry, and butter market on the site of the old tan pits in Bye Street, but that idea never came to anything.

He served on both committees of the Herefordshire and Worcestershire Agricultural Societies on their visits to Ledbury in 1884 and 1891, and worked well on the committee for the restoration of Ledbury Church, when, £10,000 was raised. For many years he was a sidesman at this church, but when a suggestion was made that he should be churchwarden he declined, and it was thanks to his suggestion that Mr. C. H. BASTOW for so long ably filled the post.

But it was not only in official ways that Mr. TILLEY was always ready to give his help and time. Our older readers will remember that in pre-Council days it was to Mr. TILLEY, every one turned, in the seventies and eighties, and it was then he fully earned the title bestowed half jocularly, half affectionately, of "ayor of Ledbury. " Was it a hard winter? Mr. TILLEY organised a soup kitchen on his own premises: were there out of works? He started the snow-sweeping: did a poor man suffer a loss or was a poor woman in trouble, both knew to whom to go to start a subscription list, or to get a recommendation to a richer neighbour who could start them afresh. He was a keen business man, a good organiser, a man of his word, respected by all who knew him, and much beloved in his own family circle.

The funeral will take place on Saturday at Ledbury Cemetery, leaving the house at 3.30 the first portion of the service being at Ledbury Church.


Ledbury Guardian Newspaper 10 10 1914
FUNERAL OF THE LATE MR. LUKE TILLEY

A SIMPLE CEREMONY

On Saturday afternoon the remains of the late Mr. Luke TILLEY, were laid to rest at the Ledbury Cemetery, amidst many manifestations of regret. The respect and esteem in which the deceased was held was evidenced by the number of blinds which were drawn and windows shuttered in many business houses in the town. The first portion of the burial service was conducted in the Ledbury Parish Church, and the Rector (the Rev. F. W. CARNEGY; M.A.), officiated. As the cortege entered the church, the organist (Mr. F. A. HOBRO) played "O rest in the Lord," and as the mournful procession left for the graveside the organ played "Abide with me," both being the deceased's favourite music.

In accordance with the deceased's wish everything was as simple as possible. The remains were enclosed in a coffin of plain elm and the inscription read as follows:-

Luke TILLEY,
Died September 30th 1914.
Aged 75 years.

The service at the graveside was of a simple character, and the last rites were performed by the Rev. F. W. CARNEGY. The deceased was laid to rest in a grave in close proximity to that of the late Mr. C. W. STEPHENS.
The chief mourners were:-

The widow, Miss Nellie TILLEY (daughter), Mr. W. L. TILLEY and Mr. P. J. TILLEY (sons), Mr. Matthew TILLEY, Dorchester (brother), Mr. Peter TILLEY, Wem (brother), Mr. Harold TILLEY, Dorchester (representing Mr. John TILLEY, brother), Mrs. W. L. TILLEY, Mrs. J. J. TILLEY, Master Don TILLEY (grandson), Dr. MCKEAN, Mr. SINCLAIR, Mr. J. T. DUNSFORD.

Among those present at the church or at the graveside were the Rev. C. L. MONEY-KYRLE (vicar of Much Marcle), Rev. A. H. KNAPP (vicar of Pixley), Rev. F. S. STOOKE-VAUGHAN, Mr. S. H. BICKHAM, Lady COLVILLE, Mrs. MADDISON GREEN, Dr. MCKEAN, Dr. M. A. WOOD, Mr. H. S. H. BICKHAM, Mr. R. G. GURNEY, Mr. R. MASEFIELD, Mr. C. H. BASTOW, Mr. W. P. BARRY, Mr. H. W. ORME, Mr. F. N. WHEATON, Mr. T. HOWELL, Mr. W. H. HORTON, Mr. A. J. CHADD, Mr. F. W. WADE, Mr. F. W. TAYLOR, Mr. V W MEACHAM, Mr. R G SUTOR ( SUTER ), Mr and Mrs. J. BELL, Mr. J. COBB, Mr. J. SHINN, Mr. W. MADDOX, Mr. C. PEDLINGHAM, Mr W SMITH, Mr J PITT, Mr W TAYLOR, Mr. J. J. FUTCHER, and Mr. G. HENNER

Among those who were prevented from attending the funeral were - Mr. E. H. TILLETT, Mr. C. B. MASEFIELD, and Mr. C. T. SMITH.

A number of beautiful wreaths were sent by the following:-

Cross (on the coffin) - From his loving wife,
"Heaven's morning breaks, and earth's vain shadows flee,
In life, in death, O Lord, abide with me."
A last token of affection to dear dad, from Will and Pat, Oaklands.
To dearest dad, with fond remembrance, from Jack and Birdie.
To the best of fathers, from Nell and Mab -
"Within a hallow'd acre He sows yet another grain,
When peaceful earth receiveth the dead He died to gain."
With best love to dad, from Amy -
"Until the day breaks."
Dearest grandad, from Josie.
To dear grandpa, from his little Mollie.
In loving memory of grandpa, from Don and Les.
Dearest grandad, from Leonie.
With sincere sympathy, from the shop staff of Messrs. L. TILLEY and Sons.
In affectionate remembrance, from the printing office staff.
With deepest sympathy and regret, from the staff at Mr. W. L. TILLEY'S garage and cycle shop.
From Mr. Matt TILLEY and family.
Mr. John TILLEY and family, Dorchester.
Mr. Peter TILLEY.
Mr. Mark TILLEY.
L. E. K. and E. W., 16, High Street.
In memory of master, with sympathy from E. POSTANS.
Mr. and Mrs. A. NAYLOR, Hereford.
With true sympathy, from an old friend, Lady BIDDULPH, of Ledbury.
Mr. G. W. and Misses SMITH, Homend Lodge.
Mr. and Mrs. Harold W. ORME.
Mr. and Mrs. MEREDITH and family, Powick.
Mr. and Mrs. PAUL and family.
Mr. and Mrs. MEACHAM and family.
Mr. and Mrs. PATTERSON, Barry.
Mr. C. H. BASTOW and Miss. Pearce.
Mr. and Mrs. C. T. SMITH, The Knapp.
Mr. J. T. DUNSFORD, F. I. J. Bridgwater
Mr. and Mrs. SINCLAIR, Upper Norwood.
The funeral arrangements were carried out by Messrs. G. HILL and Sons.
The mourning coaches were from the Feathers Hotel.

AN APPRECIATION
Mr. C. B. MASEFIELD, writing on behalf of the committee of the Ledbury Cottage Hospital, said he was directed to convey to Mrs. TILLEY the committee's great sympathy with her and her family at the death of Mr. TILLEY, and at the same time to express their great appreciation of the work Mr. TILLEY did for the Hospital as a Governor and member of the Committee of Management. The committee felt that they had lost one of their most valuable members.


---

1916
Booksellers, stationers, photographers, fancy warehousemen, the library and printing works.


Tilleys Almanac Advertisements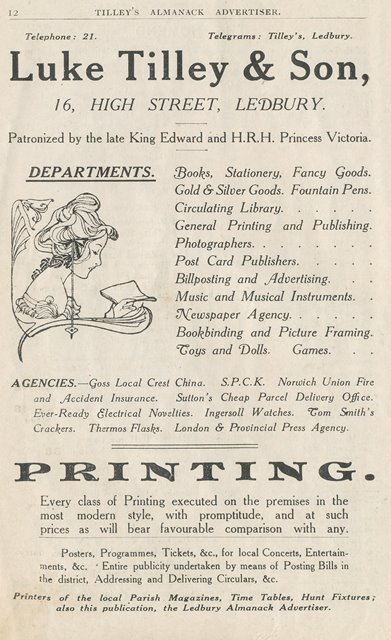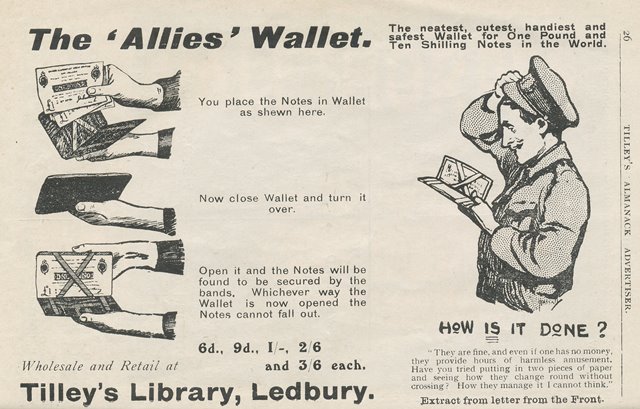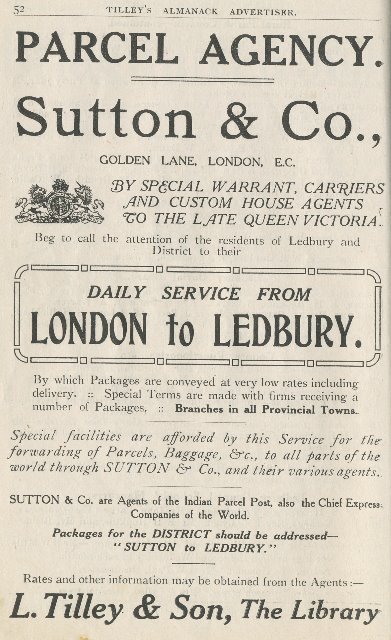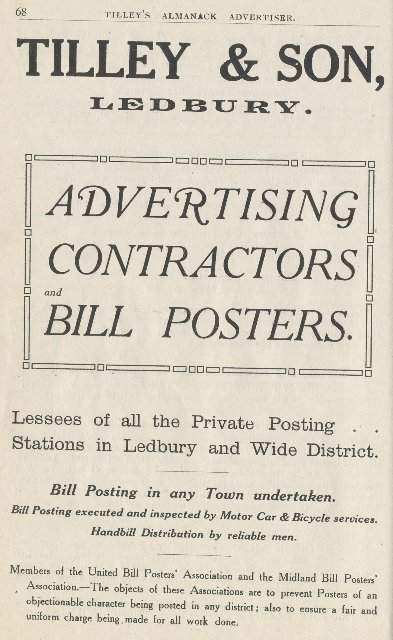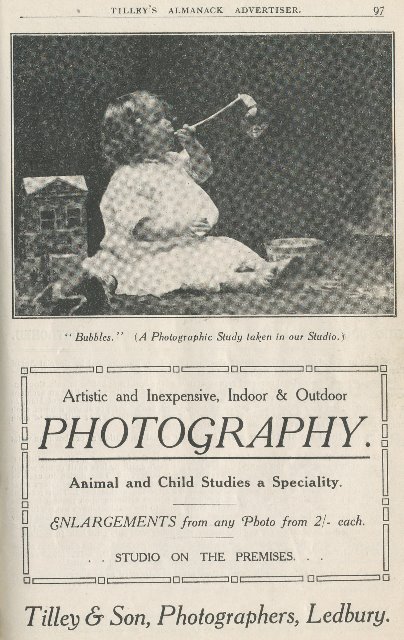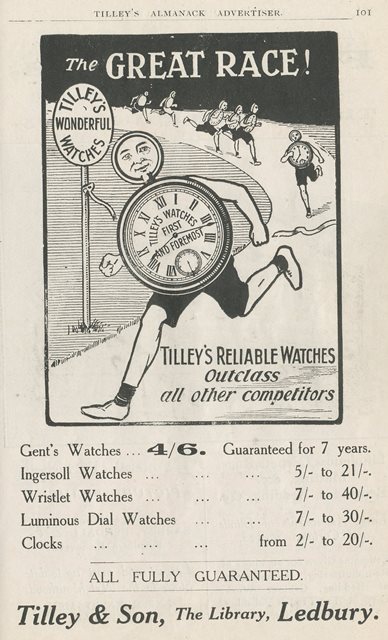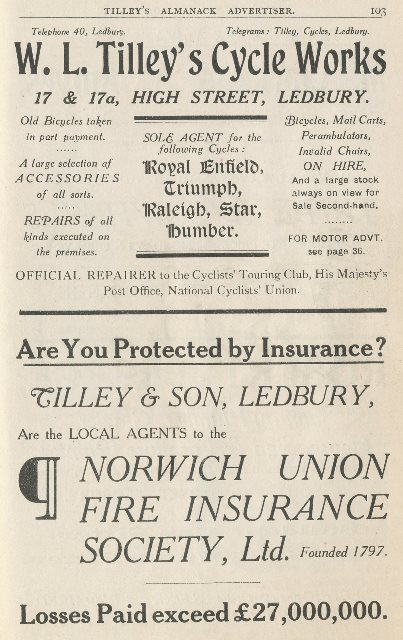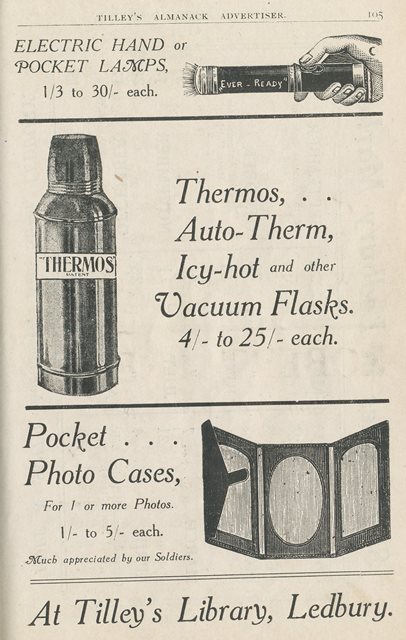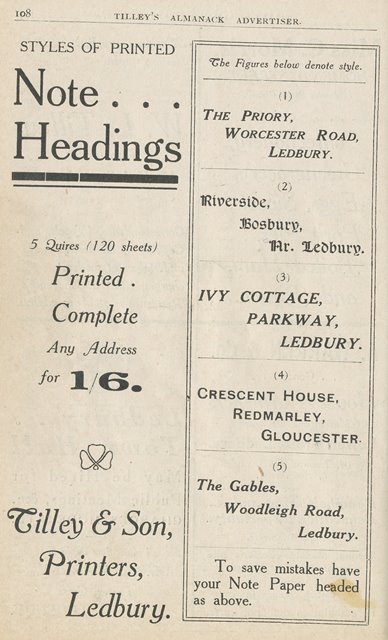 ---
Date Unknown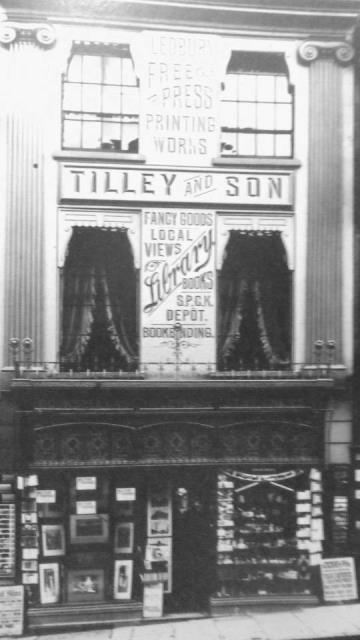 Loved that shop when i was a kid,all those toys...DE
I think the fancy edges to the first floor windows are still there...JL
I used to work in there lovely old shop !...SP
Do you remember the firework cabinet that used to be at the back of the shop(up the stairs) around bonfire night. Did they also have a sort of lending library there at one time?...FP
Yes Fiona they did have a library at tilleys - my aunty dorothy used to work there...HJ
I remember the library at the back of Tilley's...JL
I remember the magic of that shop coming up to christmas it was every childs dream being in there...SMP
My Husband (Dave)'s Grandad was a printer for Tilleys...PM
Date Unknown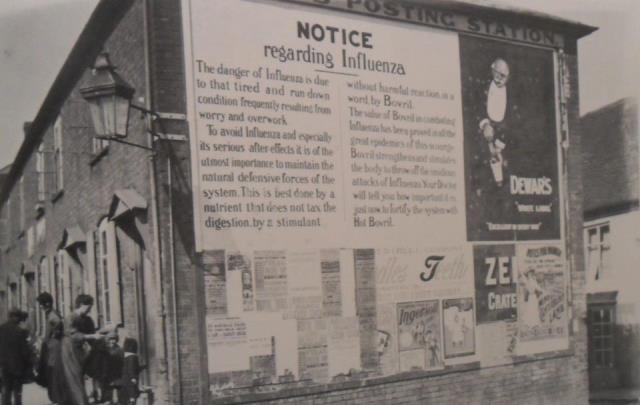 Posting Station Bye Street
Date Unknown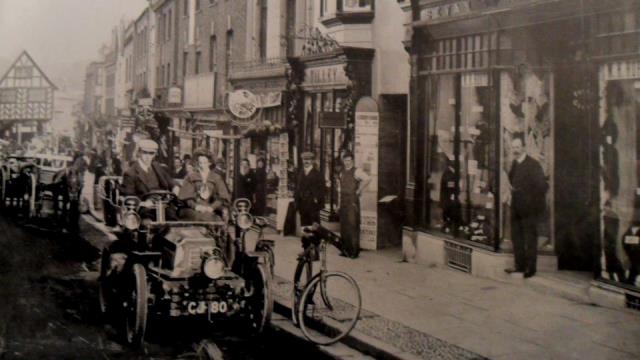 ---
Date Unknown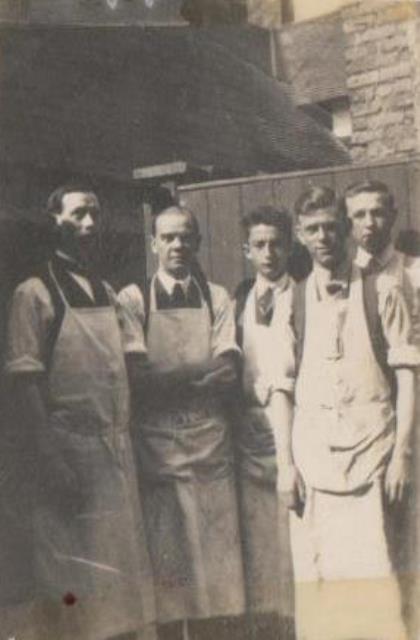 Tilleys Printers L/R Mr MOSS, unknown, Trixie LEE, unknown, In Front George DAVIS ( he worked at Tilleys for 47yrs)
Did your dad have anything to do with the Tilley's Almanack?...JE
Yes he did. When he became foreman he did all the wording in the back of the Almanack which he got from the Ledbury Reporter of the events that had happened in Ledbury throughout the year. After he retired due to ill health he could not wait for the Almanack to come out then he would read it from cover to cover to see if he could find any spelling mistakes. Hope I haven't made any !!!!!...BH
Brenda a job for you then should they re do the Almanack?...JE
Daves Grandad worked at Tilleys, we think he might be the second from the left, but we haven't got any pictures of him. Do you know year this picture is from...PM
Paula what was your Grandads Name?...BH
His name was Frederick MALPAS...DM
---
1958
16-17 High Street, Printers, stationers, bookmen, etc
Tilleys Almanac Advertisements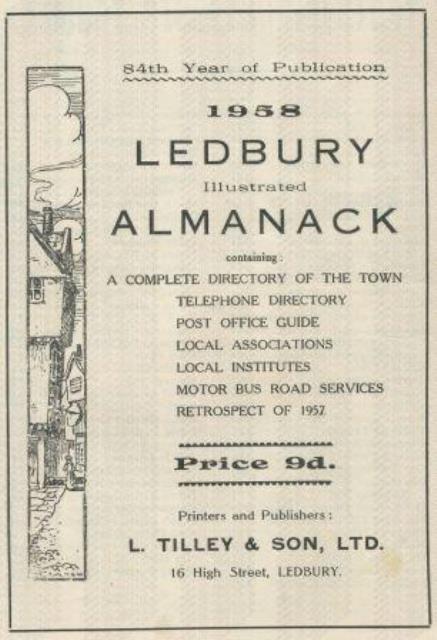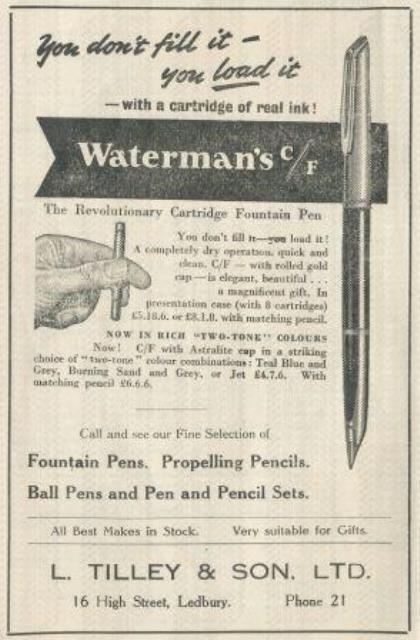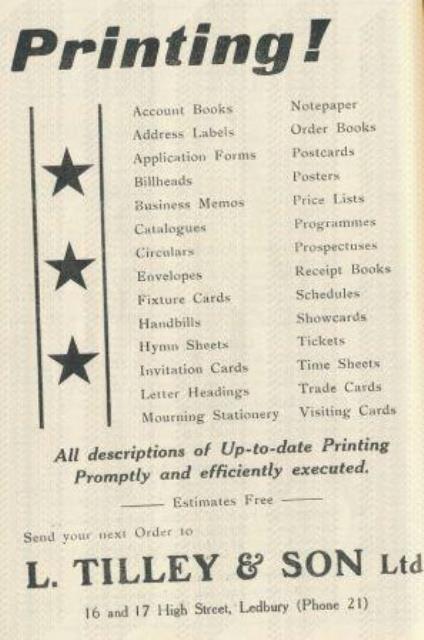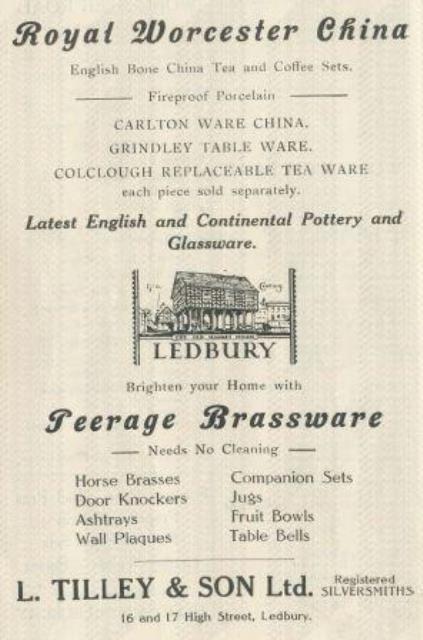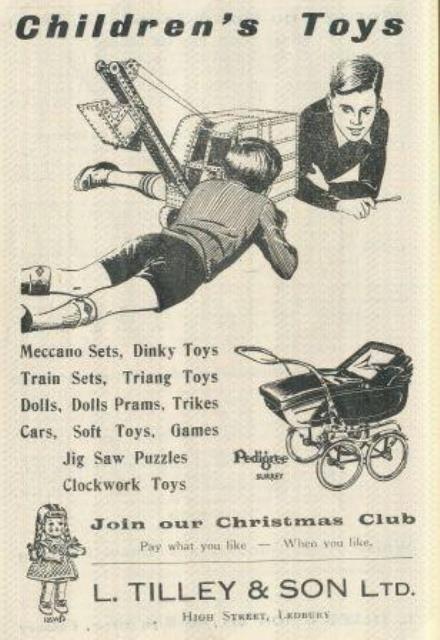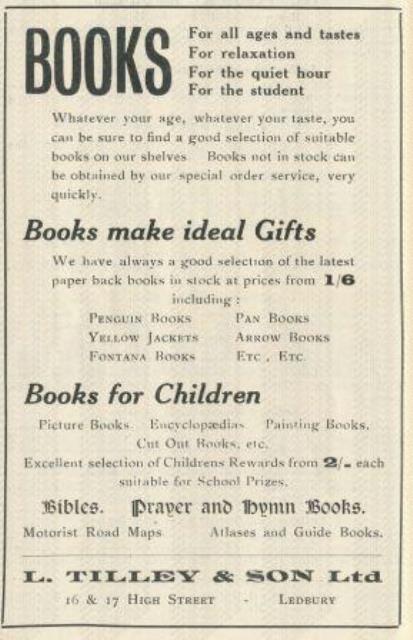 Many a happy hour up in the toy section had to go up steps to it...CP
Only place I could buy shoes for my doll and i still have doll and shoes now...VB
I used to love Tilleys and the toy section was fab - I used to spend hours in there!...SH
I used to look at the Hornby Doublo electic train sets, never ever managed to have one, they were £9-17s - 6p...TW
Our Mum and Dad had a blazing row, which resulted in Dad giving us £5 each. I was going to buy a Chipperfields circus that was in Tilleys window, unfortunately they made up on the evening which ended with Dad reclaiming the £5, Was I cheesed off...TS
I worked in Tilleys on Saturdays and holidays, has one of the great tills that you had to add up in your head and just push down the huge buttons for total price- damn hard going and then the till draw would shoot out nearly cracking your ribs!! they had a good "layby" scheme where people would put xmas presents by and pay weeky, only troublw was daft sods wrapped ALL of them in brown paper with just a number on each - so when they camt o collect took ages to find the bloody things lol...SD
---
1960s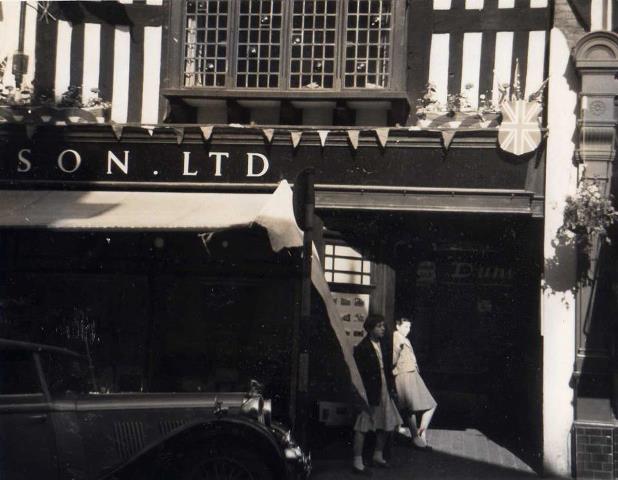 View of Tilleys, especially for the window about which was our 'front room,' when we lived there. Recognise the girl in the blazer but can't put a name to the face.
When did you live there? Think this was the same flat my Aunty lived n - Mary CLUEIT nee FLETCHER...CE
I think it was from about 1957 (when my brother was born) until about 1961. Then we moved back to Longacres...JB
I'll find out when she lived there. Was definately sometime after you...CE
Ask her if the brick fireplace was still there - my dad built that when we moved in...JD
Thats where i was born in that flat. My claim to fame. My parents rented it for 15 shillings a week...ZC
Mum cant remember about the fire place...ZC
The PERKS family lived above Tilleys when I was at School- wonder what happend to Margaret?...SD
I remember a Margaret PERKS!...JE
I think she had older brother and sister...SD
Auntie Marge lived there, Kelly that was your nan, she had a flat with Reg. I dont know if John was born, so anyway dad proposed to mum in that flat, on one knee in front the gas fire, who said romance is dead!!! xx...LJ
I remember 'Aunty' Marge and 'Uncle' Reg - they lived next door to us...JD
...
---
Sources
1902 Jakeman and Carver's Directory and Gazatteer of Herefordshire
1914 - 1919 Ledbury Guardian Newspaper - Herefordshire History
1916 Tilley's Almanack
1958 Tilley's Almamack
1963 Tilley's Almanack
Photographs are credited to the owners
Comments are from members of the Old Ledbury Facebook Group
Cuttings from Ledbury Reporter Newspapers