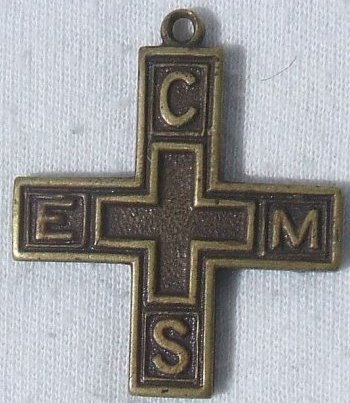 1914

Ledbury Guardian Newspaper 17 10 1914

LEDBURY C.E.M.S.

OUTSPOKEN REMARKS BY CANON BANNISTER

WANTED - "MEN AND DEEDS!"

Very outspoken remarks were made by the Rev. Canon BANNISTER on the present war crisis at the Ledbury Parish Church on Sunday afternoon, when the monthly meetings for men in connection with the local C.E.M.S were recommenced. There was a large attendance and Canon BANNISTER was listened to with great interest. In the course of a very eloquent address, Canon BANNISTER said they were beginning their new series of men's services in one of the supreme moments in the world's history, and it was inevitable that during the coming winter their thoughts, in church and out of church, should turn on the war. For England was stirred to-day as she had never been stirred before - not the England of the music hall and the public house, but the England of the sober middle class, the England of MILTON and CROMWELL, of John HAMPTON and of William WORDSWORTH, the England that fought for freedom for herself against a tyrant King, that fought for the freedom of the world against Napoleon, and that now was fighting to save civilisation and humanity from the tyranny of a cynically unscrupulous military despotism. Fight to rid mankind of the scourge of war, the one scourge, among all, that could not be excused, that could not be explained, since alone amongst all, it came entirely from the heart of men - results entirely from the failure of men and nations to follow Christian principles. He had always been an anti-militarist, one who whole-heartedly hated war, one who looked upon the vast increase of armaments as a hideous nightmare, which had clouded their European life for years, which had prevented the realisation of so many social reforms, and which had hindered the removal of so much evil and suffering. He was one of those who, in spite of Germany's immense preparations, believed that the present European


WAR WOULD SOMEHOW BE AVOIDED

He knew that there were German as well as English jingoes and that they were far more numerous and more resolutely bent on war than any among them and that they were all powerful at the German Court. But he thought that the serene good sense of the countrymen of LESSING and GOETHE would still prevail against the colossal vanity and the insensate megalomania of the school of TREITSCHKE and BERNHARDI. But they were mistaken: it was not to be. Events had proved that the poison of those men's teaching had infected practically the whole German nation. To-day, in the eye of that infatuate people, the ideal man was no longer the Christ, but the military despot, some super-human Napoleon of Teutonic blood, destined in BERNHARDI's words "to stamp humanity with the Impress of the German spirit". That was nakedly stated to enslave the world of Prussia. They cynically asserted that CORSIEN had conquered Galilee. They openly taught that war was not to be bravely faced as a dire necessity, but actively promoted as a sacred duty. They might think that this was an exaggeration, scarcely believing that such was the faith of what still called itself a Christian nation. The present war was not so much a war between England and Germany as a war between two ideals, a war between light and darkness, between the forces of freedom and of slavery. They were fighting for humanity, for the future of civilisation and for the preservation of morality in international relations. They were fighting a war against war, a war against the terrible and immoral militarism of which Prussia was the incarnation. They were rallying against this barbaric, this hideously brutal thing, all the assailed powers of religion, science, art, and literature. It was scarcely too much to say that they were conducting a crusade against a great and terrible outburst of anti-Christ.

THIS WAS A RIGHTEOUS WAR

and it was the Cross which so many young fellows were carrying with them to the front. "God save me from retaliation and from all anger and hatred." proceeded Canon BANNISTER, but he added, "The surgeon's work must be done." It was a ghastly business, but there was no escape for the world until German lust for blood and mastery had been cauterised. He believed these words actually to express the spirit in which many thousands of our noblest and best were jeoparding their lives for them at home. They in England did not wear their hearts on their sleeves, but said little about what they felt. But thousands of their nation - "God's Englishmen" as MILTON finely called them - were going to the front that day with the quiet unspoken resolve to do their duty, even to the death. Some had already given their lives and some had done even more, had given the lives of those who were even dearer to them than their own life. "I don't want you to go," said one such mother to her only boy, "but if I were in your place I think I should go." Surely they might be deemed almost fortunate whose sorrow for dear ones lost was an honourable sorrow such as that. Slack and selfish, they Englishmen, had been in the past. Only too often they had forgotten their high calling in the world. But they might thank God to-day that there were


HEROES STILL AMONG THEM

in their thousands, cheerfully perilling their lives that the world might be free from the over-bearing and brutal methods of a military autocracy. That they might no longer have to live under the continual threat and shadow of war. For that, at the bottom was the root cause of their fighting, and that was why those of them who passionately hated war, felt that for the sake of the world's future, the war must be fought out till the hideous tyranny of force and cunning was abolished for ever. For of what avail would be their losses and their sacrifices if they only led them back to another armed truce and to further competition in armaments? Why begin again the doleful history of the last twenty years? When they thought of them who had so nobly responded to the call of duty, who had gladly laid down their lives that life henceforth might live in peace, it was inevitable surely that they who were left at home in easy going comfort should find something at least of inspiration in their devotion and their heroism. It was little enough that mere civilians could do when the need was for soldiers, but be believed that already the war was drawing out in some of them elements of higher and nobler feeling and purpose which had been lying dormant under the hum-drum comforts of their ordinary lives. Poor, in comparison, was the higher help that they could give their country in this crisis of her fate. Longing to help, chafing at our impotance, they might at least try in the trials and losses entailed upon them by the present war.


TO QUIT THEMSELVES LIKE MEN

and be strong. A true man, a manly man, was a noble and inspiring thing to meet. He had robustness of character, self-control, courage to face hard work and toil, patients to hold on and not to whine and fret at every difficulty and disappointment, strength and cheerfulness even in the face of great disaster. These were the qualities of heart and soul they would need if they were going to bring their nation successfully through its time of trial as they must and should do. Yet it might be that some dark days were ahead of them before they won their way to the victory. It was going to be a protracted struggle, calling for all their patience and endurance and steadfast faith and to secure its successful issue they "needed men." In conclusion, Canon BANNISTER recited some stirring verses as illustrating the need of the present movement, namely, "men and deeds."


1916
President- Rev F W CARNEGY, Vice President Dr A R GREEN, Hon Secretary Mr F W WADE
Meetings - held on 2nd Tuesday in each month, from October to April, in the Church room, at 8.30pm.
1958
President and Chaplain - Preb W G MOERAN, Chairman Mr G W E FARROW, Treasurer Mr C P TUTT, Hon Secretary Mr H C HOOPER
Meetings - Monthly, November till May
1963
President and Chaplain - Rev Dewi LLEWELLYN JONES, Chairman Mr J G MURRAY, Treasurer Mr W CONSTANCE, Secretary Mr A R HODGES
Meetings - Second Tuesday in each month, November till May. 8 pm.