All Newspaper Cuttings have been taken from old Ledbury Reporter newspapers, most adverts from Tilleys Almanac 1916 and 1958, photos are credited to the owners and comments are from members of old ledbury group on Facebook
1902
The girls' and infants' board schools are situate in Back Lane. The girls' school has accommodation for for 170 children, with an average attendance of 152. The infants' school has an average attendance of 140.
Girls Mistress - Miss Isabel HOOPER
Infants Mistress - Miss Eva ADAMS
School Buildings and Playground
Date Unknown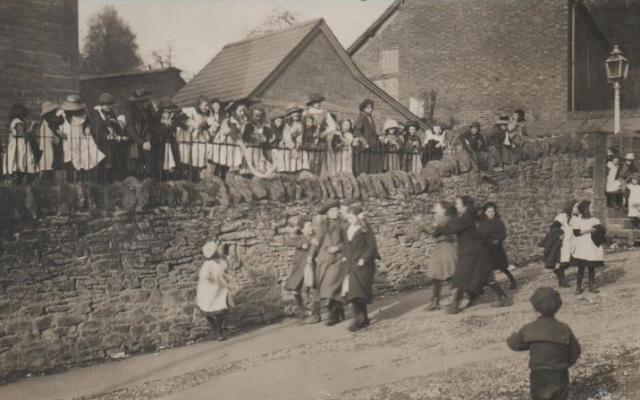 Photo Jo ISAACS Collection JI15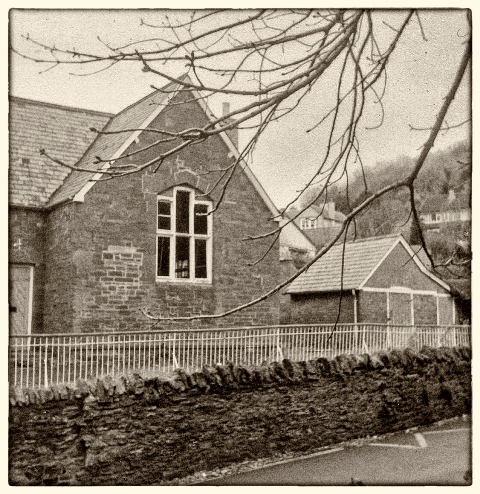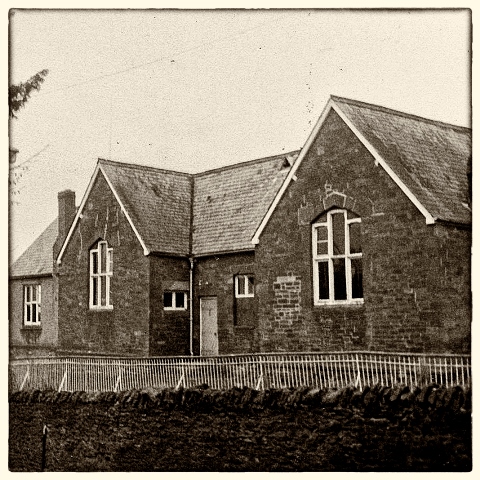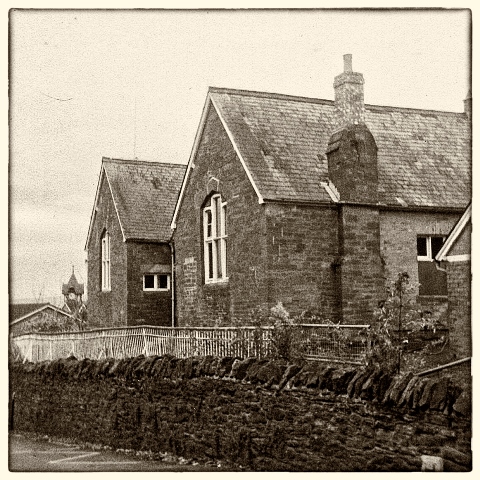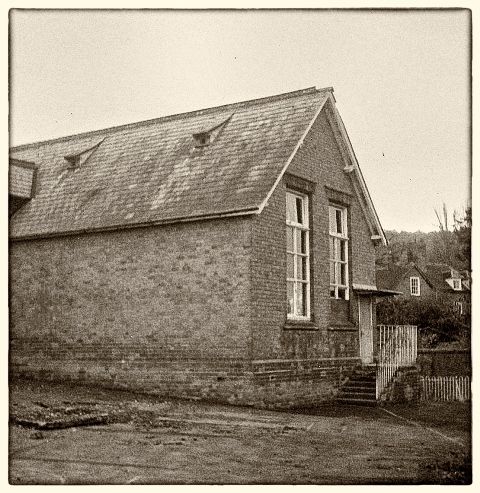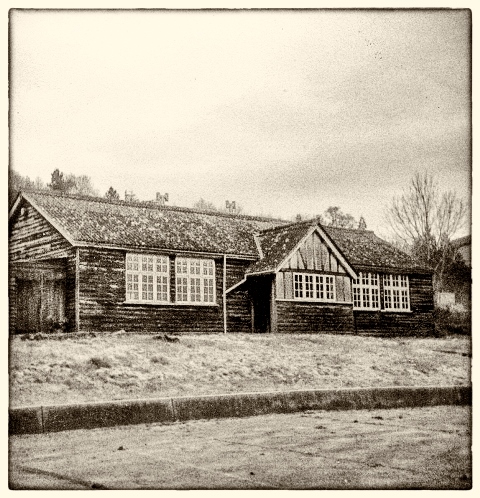 School Gallery
1912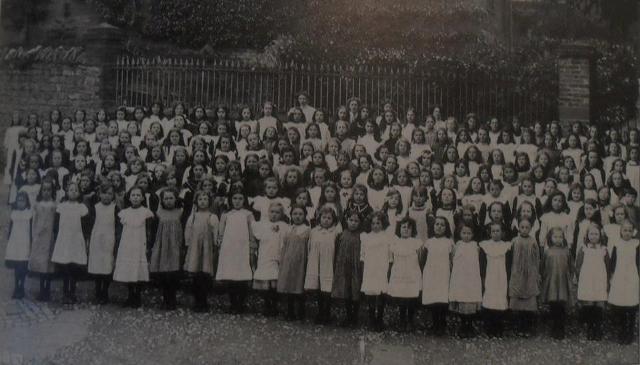 Taken opposite the school to the left of the Grammar School entrance
A total of 168 girls pose for their annual photograph in 1912, watched by the headmistress, Miss HOOPER. ( Pub J TILLEY )
Photo Chris PONTER Collection CP86
Wall and pillars still look exactly the same today 100 years later although there is now a hedge where the railings are...CP
Awesome again Chris Ponter I bet there are a few relatives of members in there somewhere! Wonder if we will ever know...JVE
Just great, wonder who they are...CP
Just a bit early for my mum who was born in 1910, some of her sisters could be there but I've no way of finding out! Great photo!...MI
I would think my Grandmother is there somewhere...SG
It would be great to know the names. Both of my grandmothers could well be in the picture. They both attended that school, as far as I know:- Emily BARNETT ( b. 1904, married MANSELL ) should definitely be there, and Florence STURGE ( b.1899, married BRYON ) although she may have just left. I believe the school leaving age was 12, at that time! ...CAB
This wonderful photo reminded me of an article I read from 1914...some of these young ladies could well have been involved with the carryings on during a teachers strike over pay... LR
Think I remember my nan ( Emily ) saying she left early, to work on the land because of the war. None of my grandparents were 'Grammar School stock'...CAB
Great photo Chip, yes Nan BRYON may well have left by then, earliest photo I have of her would be when she was around 16 so not sure that i could even pick her out if she is on here. Her sister Frances STURGE could well be on here as well. Love their pinnies, and wouldn't it be fantastic to have some names ...HJ
...
---
1914 February - Two local newspapers reports on the strike

RIOT IN SCHOOL
FIGHTS BETWEEN "STRIKERS" AND WORKERS - HEADMISTRESS SENT HOME
About 70 schools in Herefordshire are closed in consequence of the teachers' strike. In several cases yesterday clergymen conducted the teaching with the aid of monitors.

Riotous scenes occurred at LedburyGirls' School. The girls dressed upbrooms and wrote notices: "We are going to have our teachers back." They then started playing the piano, overturned the desks, spilled ink about the floor, and wrote notices on the walls.

The new headmistress, Miss CREASY did not leave the school until after the children had gone some time, but a crowd of children awaited her and hooted as she went along the streets.

At half-past one, when the pupils were due back, about two hundred of the bigger girls assembled in the school grounds, and after a hurried meeting decided to go "on strike". When the new mistress appeared she was greeted with hoots and cat-calls, and the girls said they would not allow her in the school. She endeavoured to gain an entrance, but was surrounded and kept out.

The scholars then obtained the keys of both the front and back doors and formed a guard in order to prevent anyone getting in. Free fights took place between the "strikers" and a number of children who refused to "strike", and many parents who gathered outside called their children away and took them home.

A number of the more dutiful children effected an entrance unobserved through one of the windows, but they were quickly followed by "strikers", who took their hats and coats from them and threw them out of the windows. Miss CREASY meanwhile was powerless to do anything and had to leave.


---
1914 7th February Hereford Journal Newspaper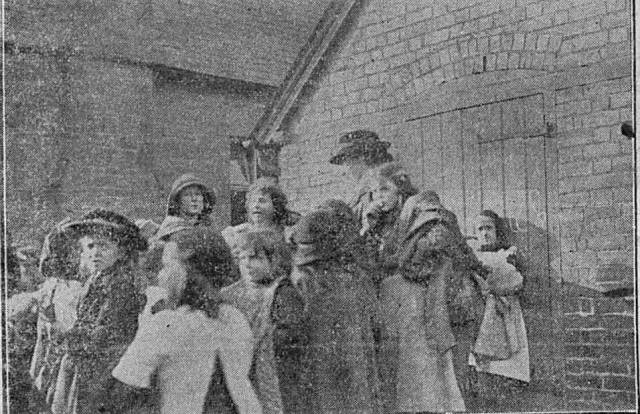 Miss CREASY prevented from entering the school by the children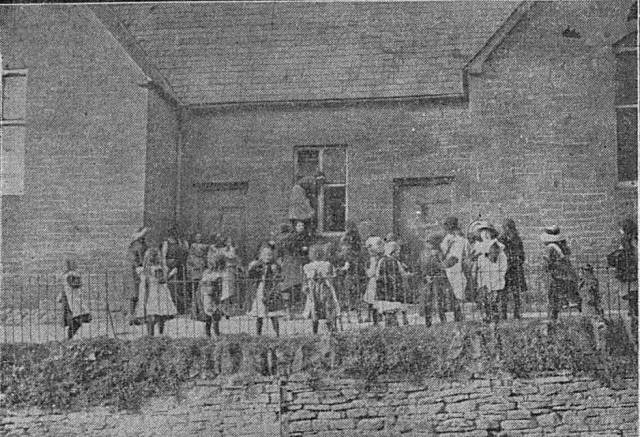 The girl entering the window is not a striker. She is helping the teacher to get into the building, which the sympathetic girl strikers locked up. Note the handwriting on the wall, " We want our governess back."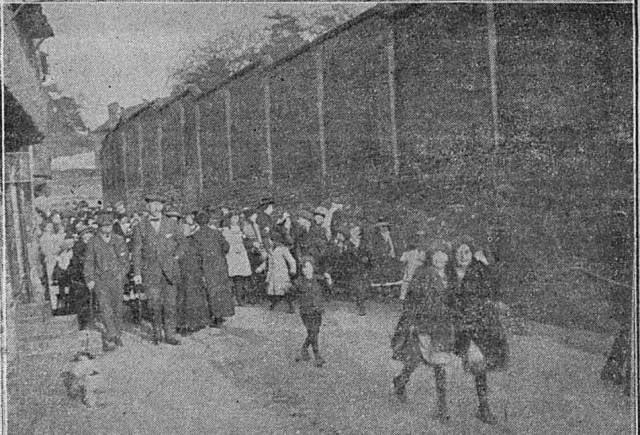 Mr HOPKINS C. C., and Mr H. V. SMITH, the Correspondent of the Council School, returning after trying to persuade children to be good. Miss CREASY, the new head, in the road with an "uncomplimentary" escort.
---
1916 Girls School - Miss HANDS Headmistress
1916 Infants School - Mrs CALLEN Headmistress
---
1930s Early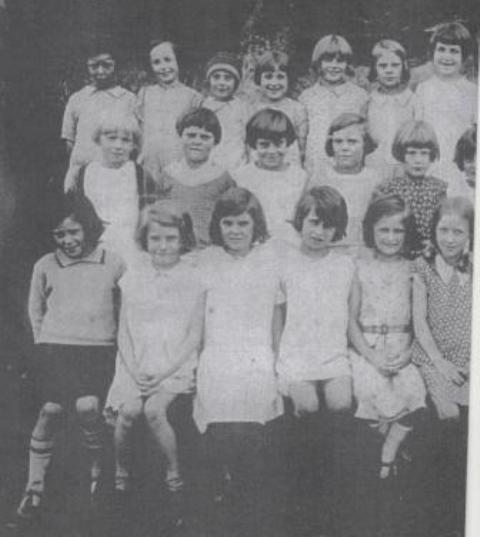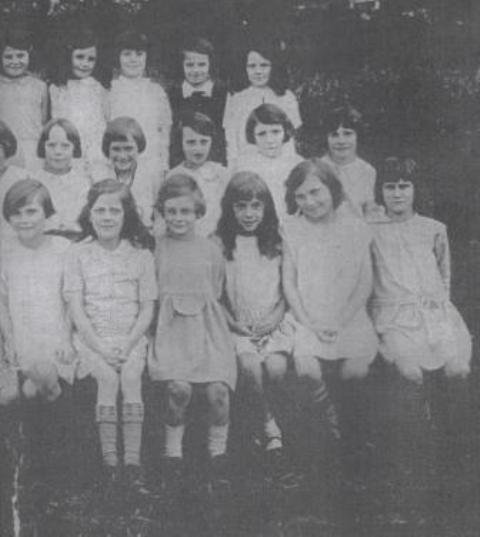 Back Row - Phylis POWELL, Joy MARLOW, Joan FORDHAM, Ruby JAKEMAN, Marjorie GROVES, Betty JENKINS, Renie ARTHUR, Joyce FLETCHER, Ivy JONES, Phobe PRICE, Dorothy FARLEY, Edith MORRIS
Middle Row - Beryl BENNETT, Barbara FORTEY, Francis COTTRELL, Iris FARLEY, Barbara HOOPER, Betty MORGAN, Ruby COLE, Kathleen BEAVAN, Muriel FLETCHER, Dorothy CALE, Dolly LANE
Front Row - Betty PREEDY, Patrica CHANCE, Cissie NEAL, Mary HOTHAM, Phylis WALKER, Dorothy HABBITTS, Phylis DAVIS, Pearl SUMMERS, Stella PONTER, Peggy COLE, Marguerite HODGETTS, Pamela JENKINS
Photo Brenda HILL ( Davis ) Collection BRH7 and BRH8
...
---
Date Unknown - Poetry Group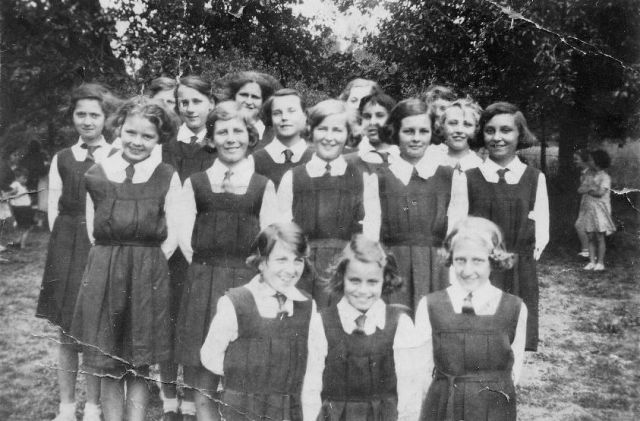 Back Row - Tall girl Francis SHINN, the other three girls are too obscured to name
2nd Row - Myrtle DRINKWATER, Beryl HAINES, Mary POWELL, Winnie MONROE, Daisy SHIRVINGTON
3rd Row - Rosa CHERRITON, Eileen MORGAN, Roana COLDRIDGE, Betty BOWES ( Cooper ), Grace PEDLINGHAM
Front Row - Joan POOLE ( Hickey ), Hazel HOOPER, Joy GRIFFITHS (Mallen )
Photo Pat HICKEY Collection PH7
...
---
Date Unknown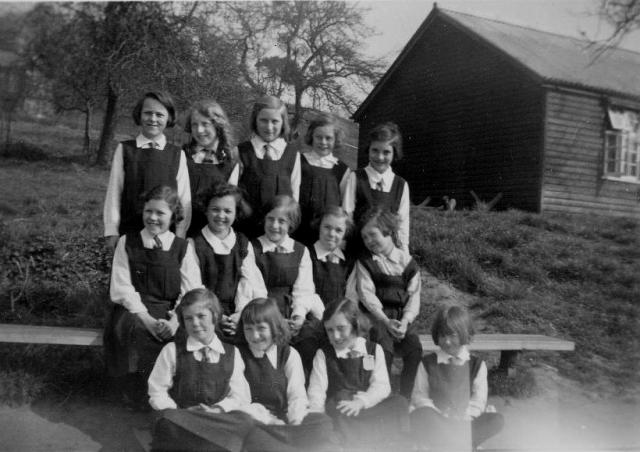 Back Row - unknown, Jean POOLE, unknown, unknown, unknown,
Middle Row - ...
Front Row - ...
Photo Pat HICKEY Collection PH8
...
---
Date Unknown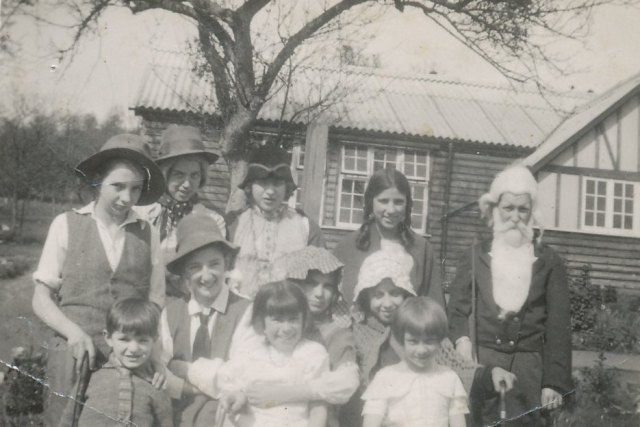 Back Row - Margaret JONES, unknown, Irene MORGAN, unknown, unknown
Middle Row - Tressie SMITH, Eve DAVIS?, Julie YEOMANS
Front Row - unknown, Ivy TUSTIN?, unknown
Photo Audrey EDGE ( Davis ) Collection AE1
...
---
1937 - 1938?
Back Row -
Middle Row - 2nd from the left Edna HANKINS ( Nicholas )
Front Row -
Photo Kathe CREW ( Clarke ) Collection KC2
...
---
1939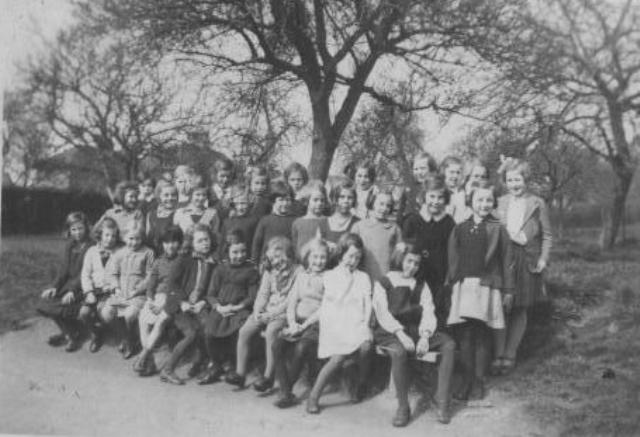 No names yet...
Photo Rosemary DYER ( Woodward ) Collection RD8
...
---
1940s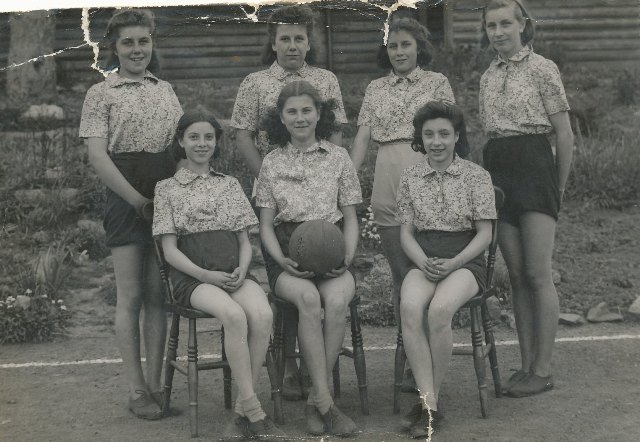 Netball Team
Back Row - Jean LEAR, Dorothy MAY, Pearl NEALE, unknown Front Row - Rita COTTON, Kath DAVIS ( Brace ) ( Captain ), Beryl BUTLER
Photo Audrey EDGE ( Davis ) Collection AE20
---
1942 - 1943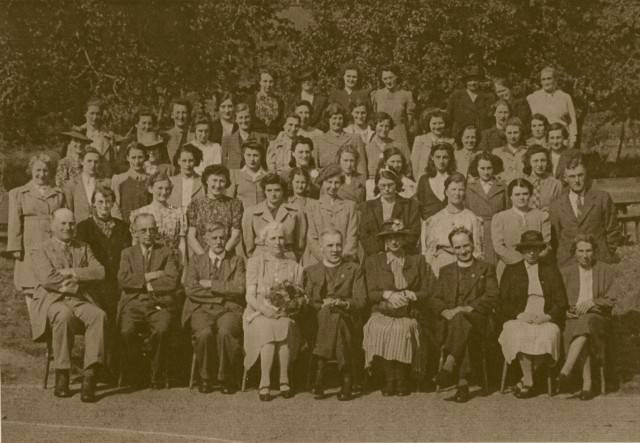 Miss COLLINS retirement
Photo Copy Brian JONES Collection Album 2 BJ39
---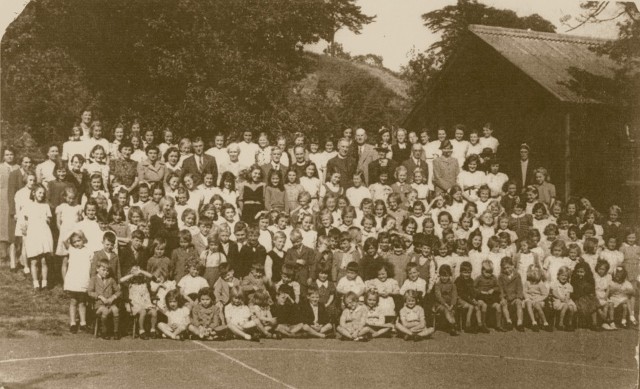 Photo Copy Brian JONES Collection Album 2 BJ38
...
---
1944 - 1945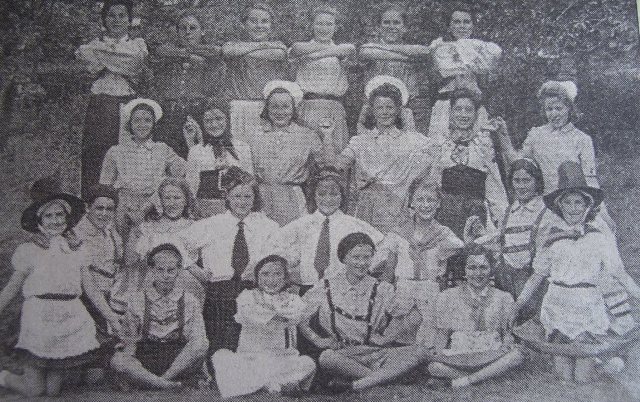 Pupils in various national dress
Kathleen DAVIS, Vera JONES, Beryl FORDHAM, Audrey SKINNER, Dorothy MAY, May LLOYD
Rita COTTON, Marie CALE, Rosemary CALE, Sylvia BALDWIN, unknown, unknown
unknown, unknown, Elizabeth CALE, Violet BAKER, unknown, Pearl NEAL
unknown, unknown, Josie LIPPIT, unknown, unknown, unknown
Original photo supplied to Ledbury Reporter by David CALE
Can we get an original scan of the photograph?
...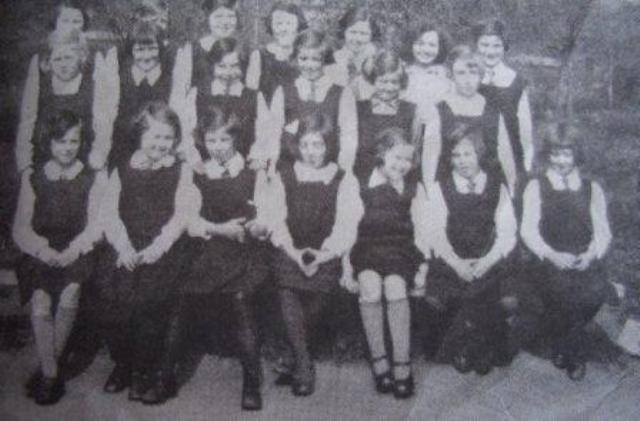 M SMITH, Pat WATKINS, S MASHAM, E HILL, E BAKER, S OSBOURN, J BEVAN
J TAYLOR, E WILLIAMS, M CHESTER, B LANCETT, E MEREDITH, W PHILIPS
Audrey DAVIS, B NEAL, D JENKINS, C FLEETWOOD, A SKINNER, V JONES, J CALE
Original photo supplied to Ledbury Reporter by Margaret NOAKES ( nee Chester )
Can we get an original scan of the photograph
...
---
1945 - 1948 Miss Oakley was head teacher. All the staff were Women...
Date Unknown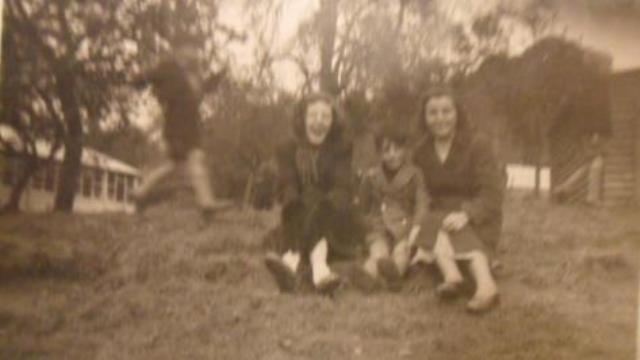 ...
Photo - Chris PONTER Collection CP79
...
---
1953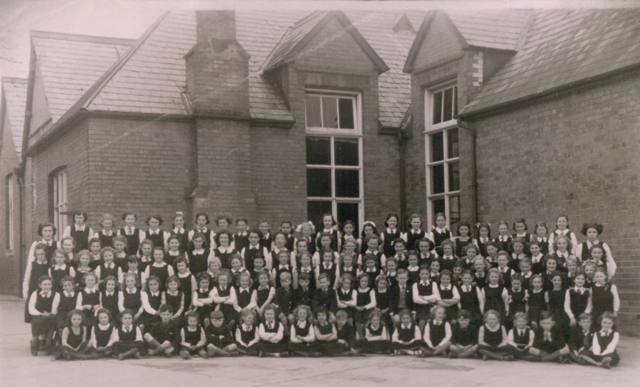 Photo Gary GARDNER Collection GG1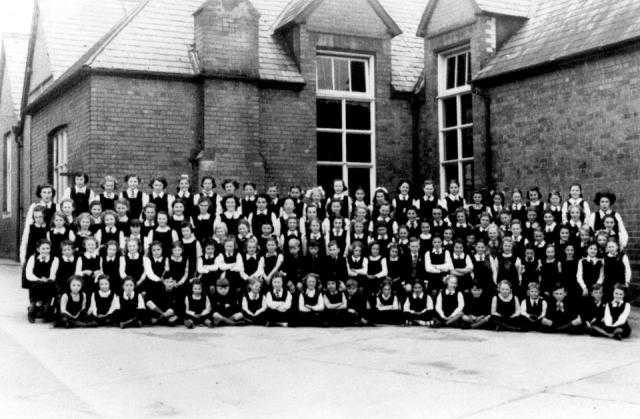 Only pupils with a uniform got to have their pictures taken
Back Row - Pam HODGES, Joan PREECE, Margaret GOODWIN, Evelyn GRIMES, Janet PEDLINGHAM, Mary LEAR, Barbara BROOKES, Josephine TOOBY, Leonie BAGHURST, Helen BUTLER, Pat NEALE, Diana MOWBERRY, Sheila STAUNTON, Wendy JUCKES, Janet WORRALL, Maureen WRIGHT, Eileen POWELL, Ruth Williams, Kathleen JONES, Ann DAVIS, Doris STEPHENS, Cyntha BLAIR, Gill HIGGINBOTHAM, Beryl McLEAN, Ann JACKSON
2nd Row - Rosalind HAMMOND, Lorana BEBBINGTON, Doreen mORRIS, unknown, Janet POWELL, unknown, unknown, Julie FLETCHER, Allwyn..., Dinah LANCETT, Pauline GRIFFITHS, Cynthia KING, Brenda WELSH, Margaret SOLOMON, Ann BARNETT, unknown, Mary GURNEY, unknown, unknown, Marion CLARKE, Ailiffe WALTERS, Margaret WILLIAMS, Dorothy TAYLOR
3rd row - Wendy DANIELS, Marion DADSWELL, Glenis PERRY, Elizabeth LAWLEY, Jean PARTRIDGE, Jennifer SCREEN, Rita DOWNING, Barbara WATKINS, unknown, Heather DAVIS, Carol MEAKINS, Pamela WILLIAMS, unknown, Rosemary MILLS, Joan BENNETT, Gillian SMITH, Joan PEDLINGHAM, Eileen CAFFULL, Sheila LAW, Monica MAYO, Valerie HUMPHREYS, Diane SHORT, Ursula WALLER, Isabel WHITE
4th Row - Elaine MOSS, Gloria BAGHURST, Shirley BALDWIN, Marilyn TAYLOR, Dorothy LOCKE, Hilary BEVAN, Pam DAY, unknown, Gill DAVIES Jean PEDLINGHAM, Diane STURGE, Terry DOWNING, Colin WILLIAMS, unknown, Marian CLARKE, Esme HAWCUTT, unknown, unknown, Christine DAVIES, Anita DAVIES, Joan JAYNES, Ann BAKER, Nova WOODHOUSE, Ann GOUGH, Diane JONES, Marion DAVIS, Pat SIMMONS
Front Row - Fay JONES, Carol STOKES, unknown, Roy PIDD, Sandra GIBBONS, unknown, Val JAYNES, Isabel DAVIS, Maureen PEVERAL, Carol KEELEY, Barry MORRIS, Elaine HODGES, unknown, Jane LEWIS, John HIGGINBOTHAM, Mary OVERTON, Sylveen FURLONG, John OSBOURNE, unknown, Carol BLEWIT
Photo Jean MESSAM ( Pedlingham ) Collection JEM1
---
1954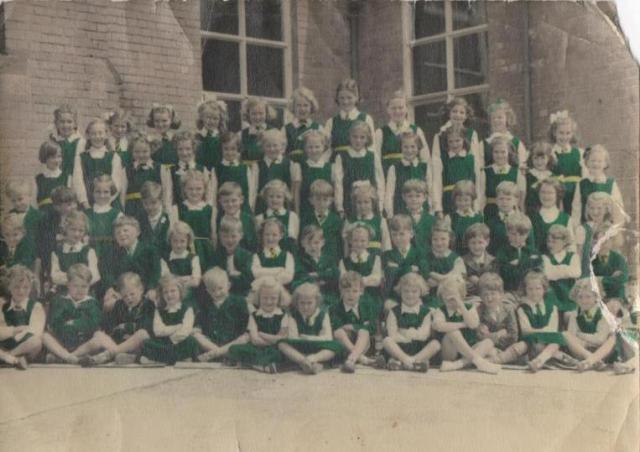 Back Row - Pat PALMER, Pam DAY, Carol BLEWIT, Marion CLARK, Val HUMPHREY, Ursula WALLER, Christine DAVIES, Monica MAYO, Marion DAVIS, June BACHELOR, Jane EDWARDS
2nd Row - unknown, Ann GOUGH, Susan BEDDOES, unknown, Monica CHAPMAN, Francis HAINES, unknown, Joy FAIRBASS, Sandra GIBBONS, Linda DAVIES, unknown, Shirley VERNALLl, Maureen CHERRY
3rd Row - Barry SMITH, unknown, Stephanie CATER, unknown, Kay TURNER, Roger THOMSON, unknown, unknown, unknown, ... FOX, unknown, John MADDERS, unknown, Joan MEREDITH
4th Row - Brian ROGERS, Jennifer JEANS, Mervyn HUMPHREYS, Pam BALDWIN, Alan WILDING, Diane BLEWIT, Barry WILLIAMS, Yvonne BLEWIT, James SANDFORD, Janet GREY, unknown, Peter DADSWELL, ...BAKER, unknown
Front Row - Shirley BADHAM, Alfie PHILLIPS, Alec SHAKESHEFF, unknown, Alan STURGE, Heather FARLEY, Janet DAVIES, unknown, unknown, unknown, Richard CALE, unknown, Sylvia ROGERS
Photo Brenda HILL ( Davis ) Collection BRH17
A real blast from the past! Lovely photo--however do you remember all those names! I do remember a few!...MI
I might be on that photo but must say I cant see myself! Sylvia ROGERS was my best friend and we were in the same class later at Grammar School. Her family then moved to Worcester. I think her dad worked on the railways. ...SG
There are a lot of children who should have been on this photo. Perhaps it was just a few from each class....BH
...
---
1955 / 1956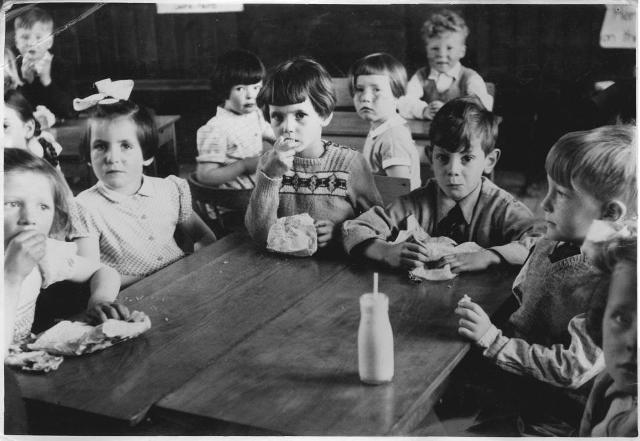 Front table L/R unknown, Sandra PEATE, Janet DREW, Brian NELSON, Pat HICKEY, unknown
Back table L/R Sue COOPER, Gwyneth MAY, Kelvin MITCHELL, Two in top left corner unknown
Photo Pat HICKEY Collection PH6
What a treasure lovely photo...CP
Jan BETTISON ( Drew ) you havn't changed and can see Kelvin also not changed, bottle of milk its great...CP
I can't remember most of the girls because we got separated not too long after (after Mrs Martin's class I think). Was the teacher of this class Miss Slater?...PH
I can remember being in the lovely Mrs MARTINS class, went through school with these kids so probably would have been in the class...CP
What a wonderful photo! No recollection of this at all. I can remember the jumper, think I was wearing this in my ' SMITH's ' photo....JB
Yes a good one, when I looked quickly thought it was just a picture about school milk, know thats silly but thats what I thought, then saw you Jan, lovely pic...CP
Can't quite read the writing on Janet's paper bag, there is a picture of a building...PH
Paddy you were so cute xxx...JS
...
---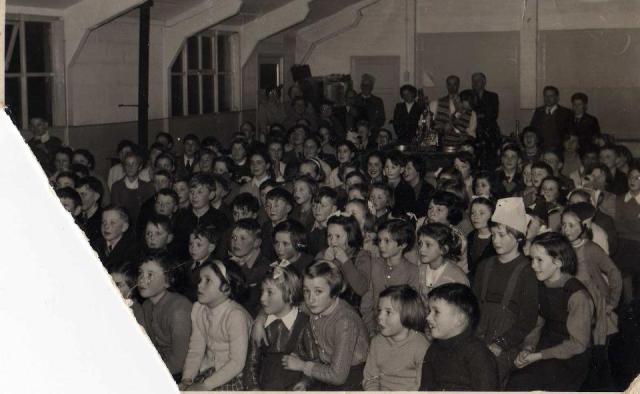 British Legion Party held in the School Canteen
Photo - Jan BETTISON ( Drew ) Collection JD18
---
1958 Girls and Infants School - Headmistress Mrs THOMAS
---
1960s Pupil Gallery - Alphabetical by Surname
---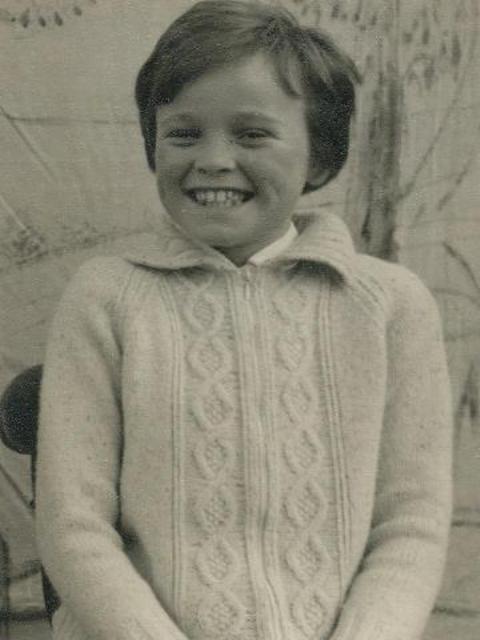 Denise EDGE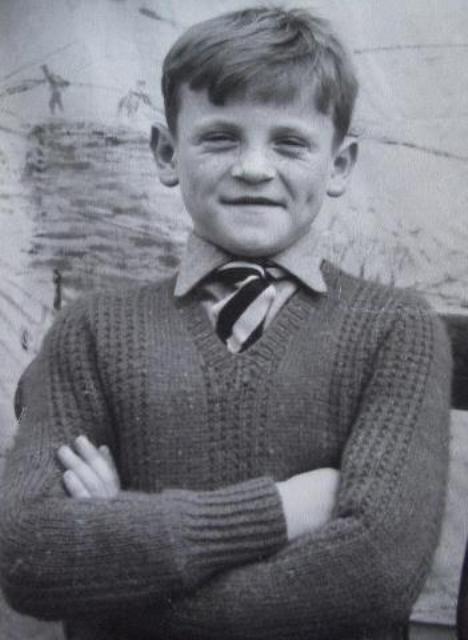 Raymond EDGE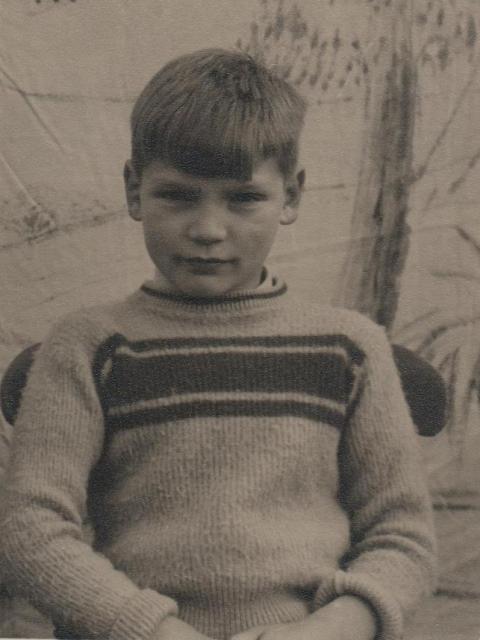 Mike ELLIS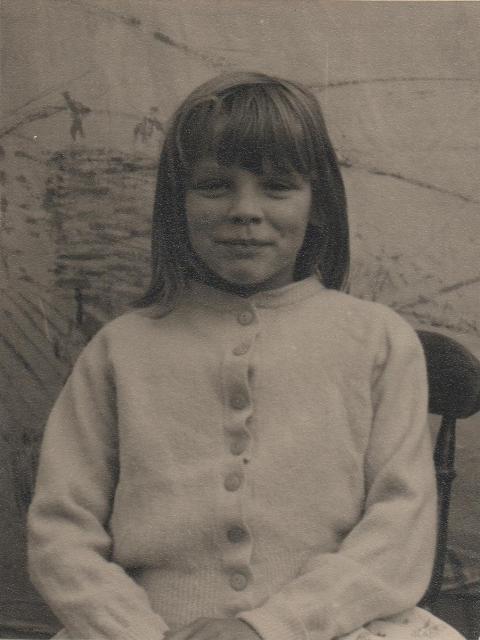 Pauline PREEDY ( Ellis )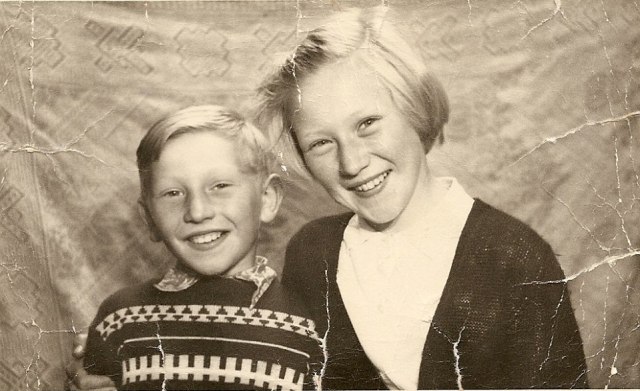 Brian and Frances HAINES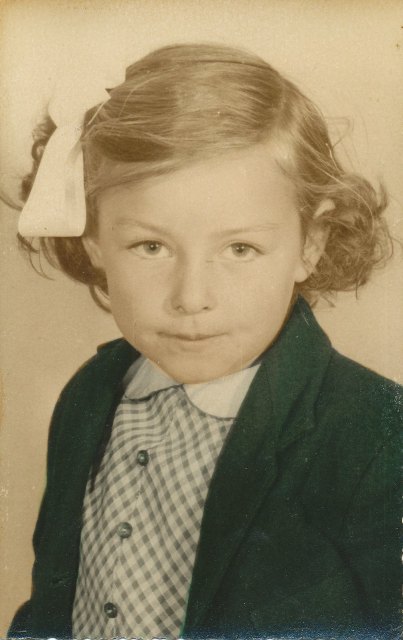 Pat CLARKE ( Hankins )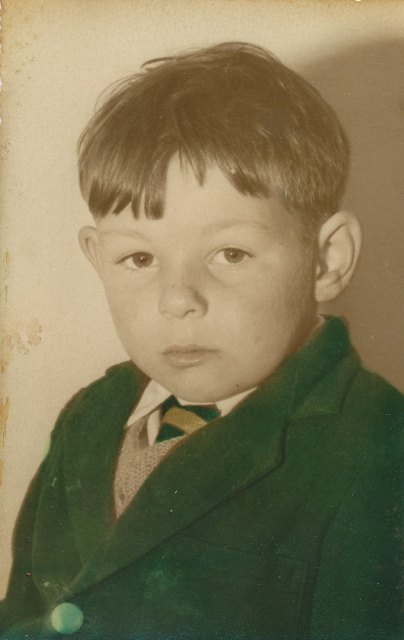 Robert HANKINS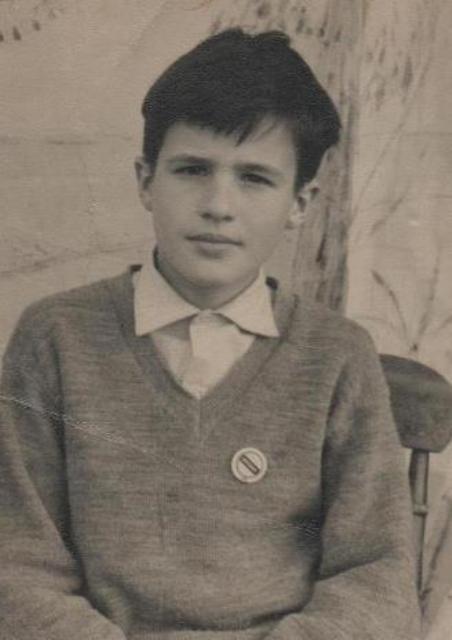 Duncan ISAACS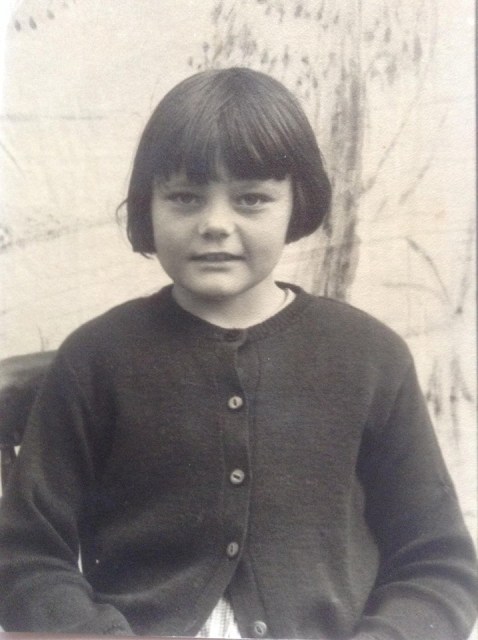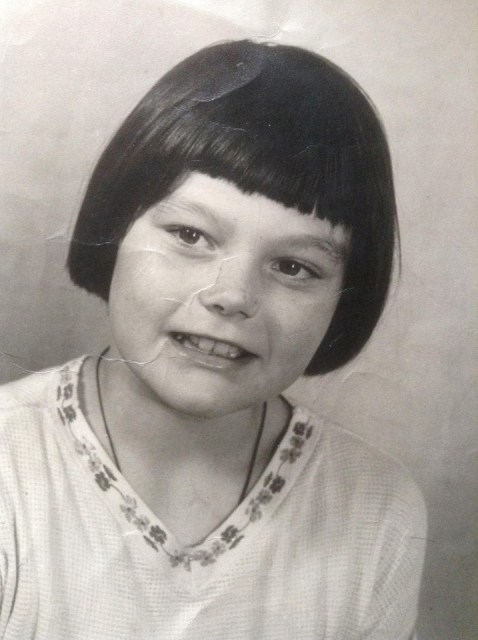 Pauline JONES ( Kitchen )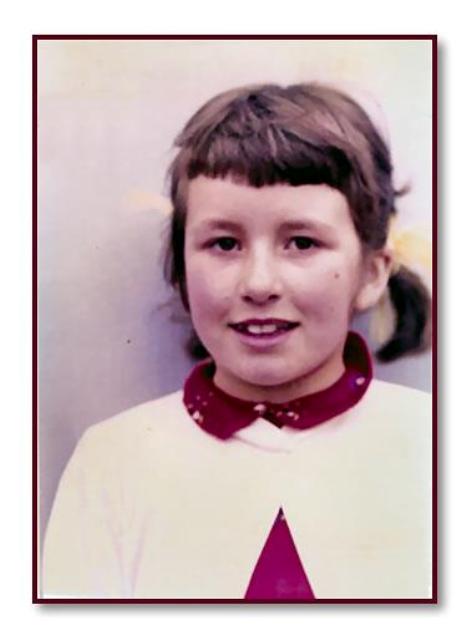 Sally MUSTAFIC ( Lawrence )
Pat, Brian and Mary MORRIS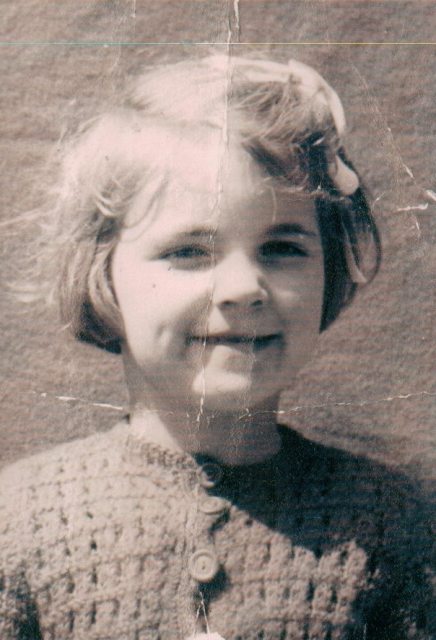 Carole PHILLIPS ( Preedy )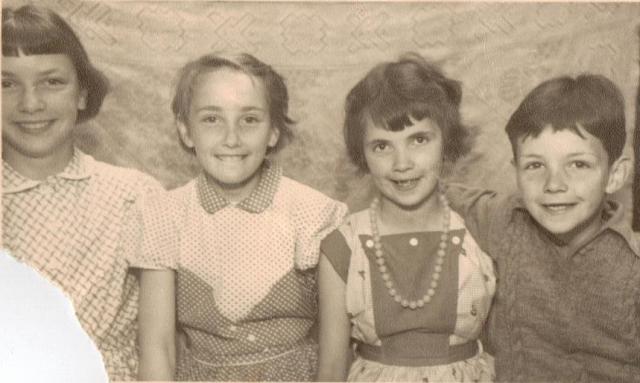 Sally, Marlene, Carole and John PREEDY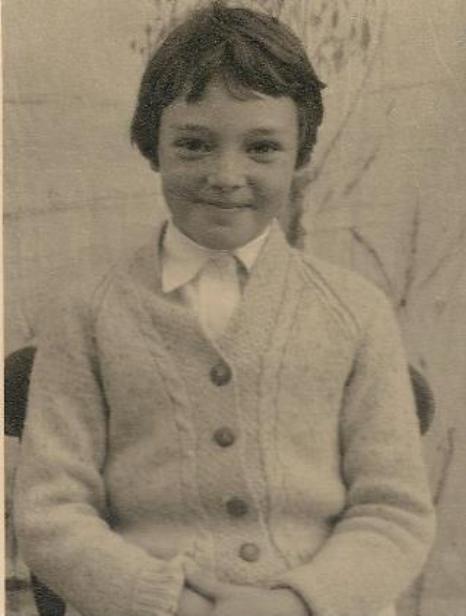 Hilary JONES ( Williams )
---
1961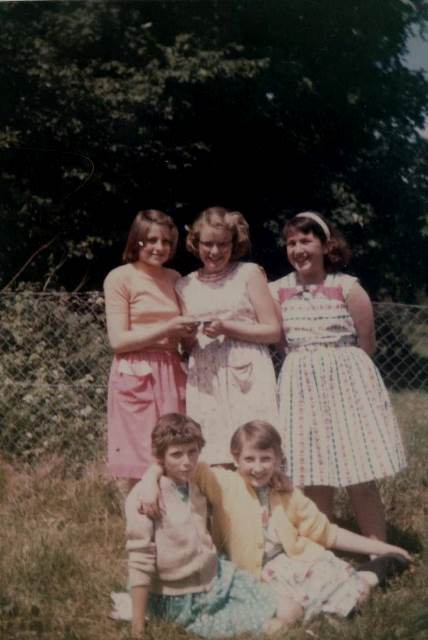 Last days at Primary School, taken at the classroom on Worcester Road
Jenny DAVIES (Noad Farm, Parkway), Ann MOBBS, Rosemary MORRIS, Jan BETTISON ( Drew ), Jenny SUDDES
Photo - Jan BETTISON ( Drew ) Collection JD19
Another great photo remember Ann MOBBS her birthday fell day before mine and lived by Jenny SUDDES up the Homend, can still picture that class room, at one time had teacher called Miss KINGSBURY...
Yes, we thought Miss KINKSBURY was young and trendy in her pencil skirts and stiletto...
We all loved Miss KINGSBURY. She seemed so cool and trendy whilst most other teachers seemed to be so old!!...
Remember she had a boyfriend in what would have been Yugoslavia then, Sue COOPER and myself used to take her case down to the Milk Bar on some Fridays as she used to catch a coach home to Bristol where her parents lived, she had big glasses ...
She was young and made the rest look old and they probably weren't...
...
---
1966 - 1967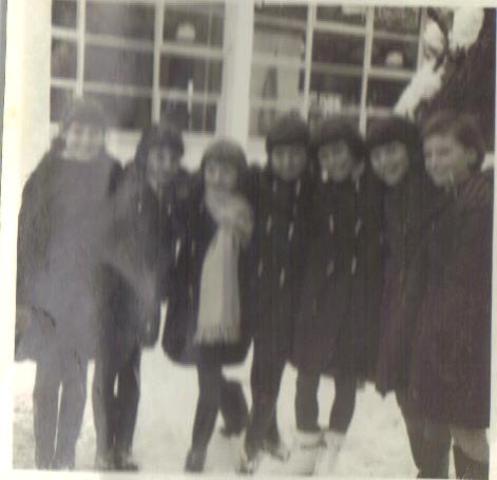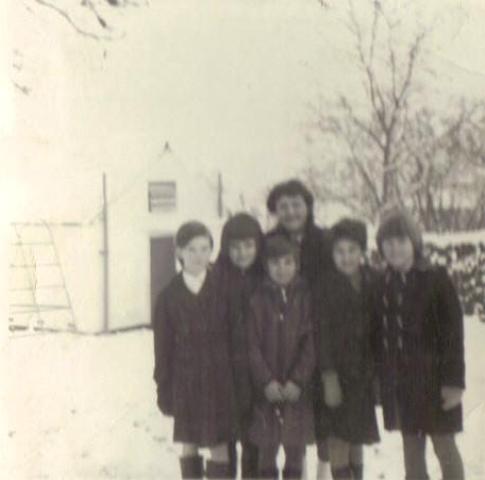 ...
...
Photo - Bridget BACHE ( Davis ) BB5 BB6
...
---
1968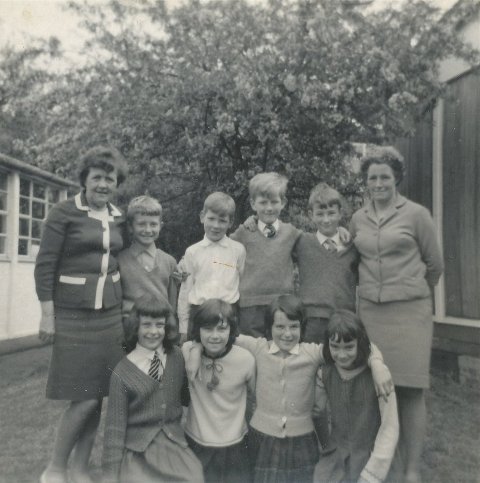 Mrs MARSDEN, Nicky GOODCHAP, Carel van MEEUWEN, Christopher FRY, Bruce BUTLER, Mrs BROOK
Jean HODGETTS, Joanne EDGE, Shelley SMITH, Tina WILLIAMS
Photo - Joanne EDGE Collection JE65
...
1968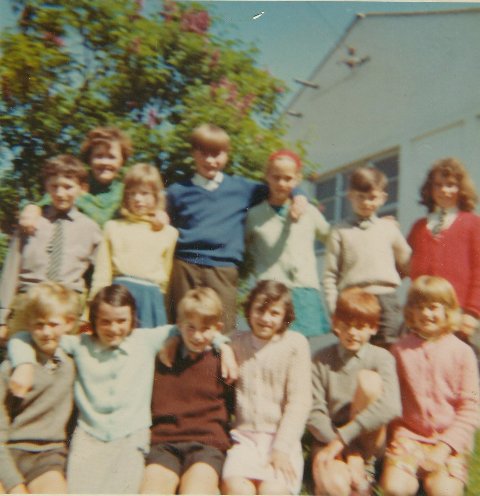 Mark DORRINGTON, Mrs MARSDEN, Susan HARTSHORNE, Jimmy GREEN, Janet HOBBY, Andrew HODGES, Jean HODGETTS
Christopher FRY, Shelley SMITH, Gareth GREENHOUSE, Joanne EDGE, Derek HILL, Julie HILL
Photo - Joanne EDGE Collection JE66
...
---
1969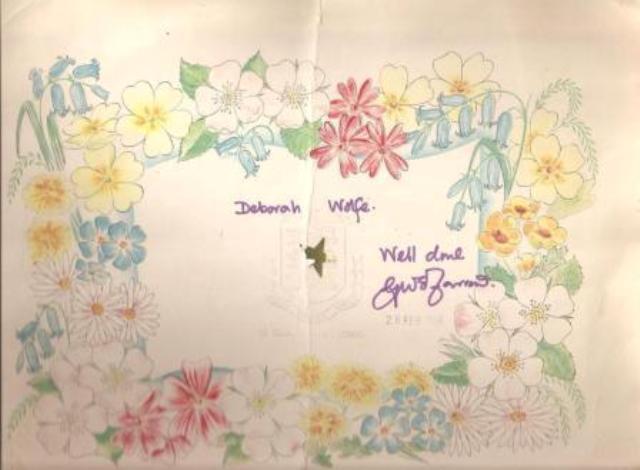 Gold Star Award head teacher Geoff FARROW
Photo - Debbie WOLFE Collection DW8
3 green stars for a red star, 3 red stars for a blue? then silver . . . 3 silvers for a gold! it was a marathon!!! and then you could go home early on Friday. ...
---
1960s late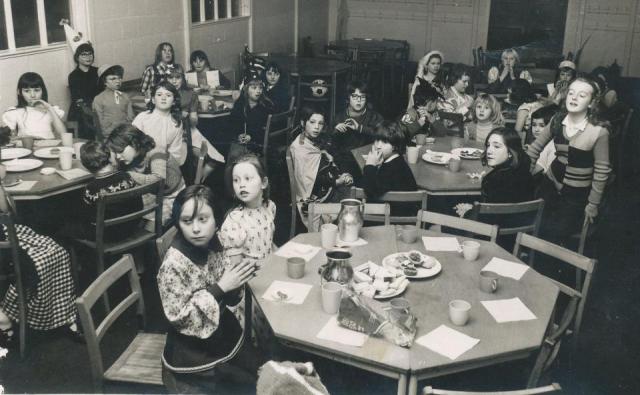 NSPCC Fancy dress Party held in the school canteen
Front table Sally and Ann HARLING, Table behind Jeremy Pugsy POWELL, Janice BROOKS, Girl standing Rita PHILLIPS
Table on the left against wall, Joanne TAYLOR, girl talking to boy Wendy KIRBY and her brother PAUL, Next table against the wall Joy COLE, opposite Bryony POWELL
Wendy or Jane STURGE on the left with hat tied under her chin.
Amanda BERRY at the back and younger sister Jacquie on the table in front
Girl sat by the football perched on the chair is Helen ROBERTS
Photo - Laura Jones ( Cole ) Collection LJ32
ooh those tin coloured water jugs! ...JS
...
---
1970s
Dinner Ladies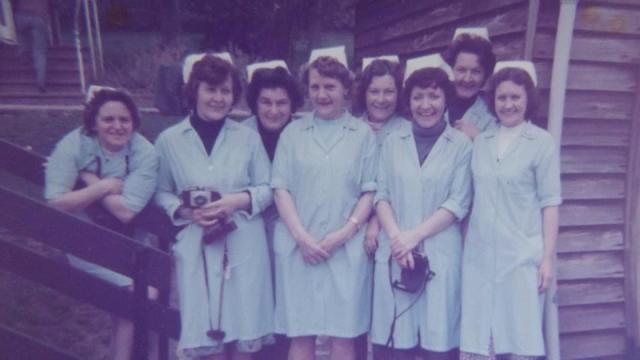 ...
Photo - Amanda TOMKINS Collection ATO6
1970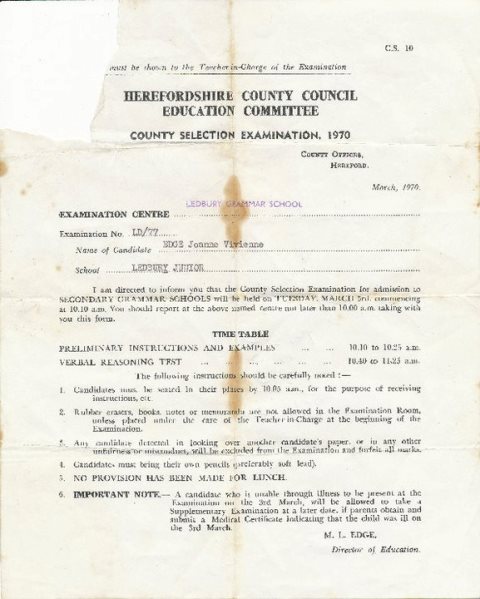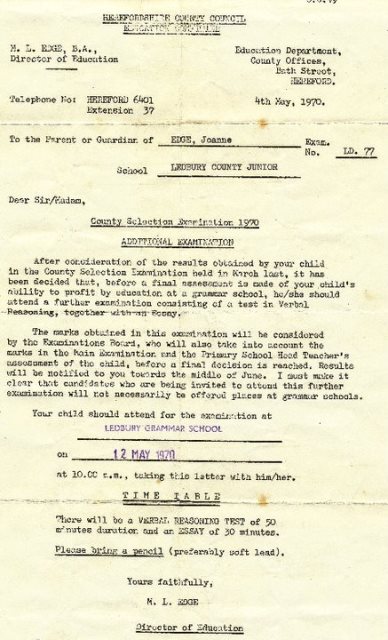 The 11+ Exam and Border Line Letter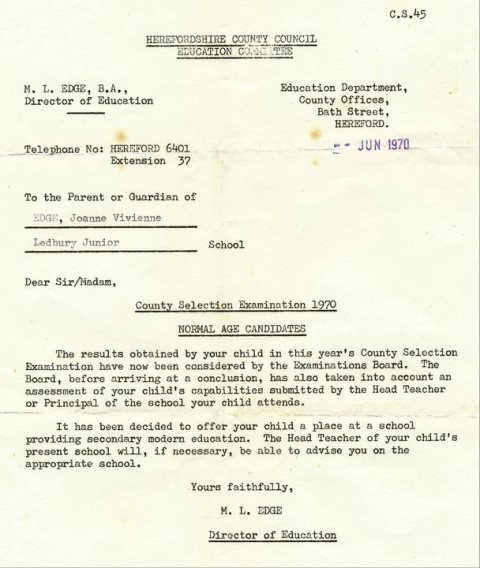 Result Letter
Original Documents Joanne EDGE Collection JE67
---
1971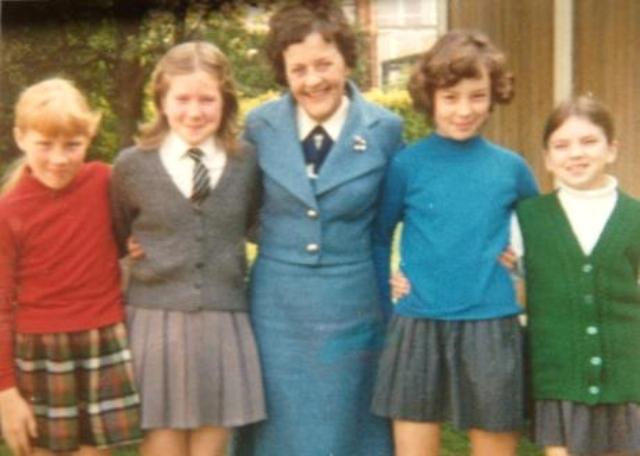 Pat HOWELL, Janet ONIONS, Mrs MARSTAN, Pat MOSS , Anneliese BLOEM. Happy Days...
Photo - Jan RAWLE ( Onions ) Collection JO2
...
---
1973- 1974
School Magazine - School Days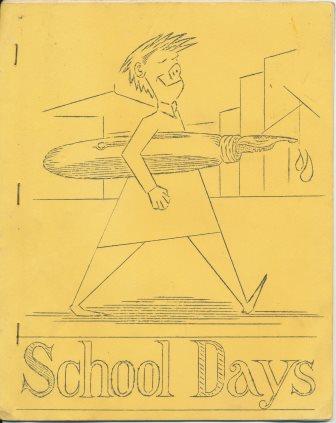 To download the magazine click the picture, it is 27 mb and takes a while
28 pages - Articles in the magazine by - Janice MITCHELL, Julie BRUNDRETT, Lisa ROBINSON, Pat LILLEY on Veronica BAKER's dog, Mark TAYLOR, Mark LEDBURY, John EAGER, Rosalind PRICE, Melissa AMER,
Andrew HALE, Stephen MORRIS, Helen CROMPTON, Hazel SAMUEL, Linda SMITH, Clare AMER, Wendy DAVIES, Sally HARPER, Anthony BORN, Jane MULLINS, Joy COLE, Anne LOCKE, Deborah ONIONS,
Pat STURGE, Carol STINTON, Pat BALDWIN, David COLLINS, Jayne NICHOLSON, Angela MORRIS, Amanda BORN, Mary Ann HARVEY, Edward MUSTAFIC, Ian MADDOX, Rita PHILLIPS, Paul FLETCHER
Mary JONES, Carol POWELL, Tony BUNCLARK, Melissa PIGGOTT, Elizabeth HARVEY and a special thank you to children of Class IV especially Joanne ISAACS, Pat LILLEY, Teresa MORRIS and Paula SMITH
Magazine Laura JONES ( Cole ) Collection
...
---
1979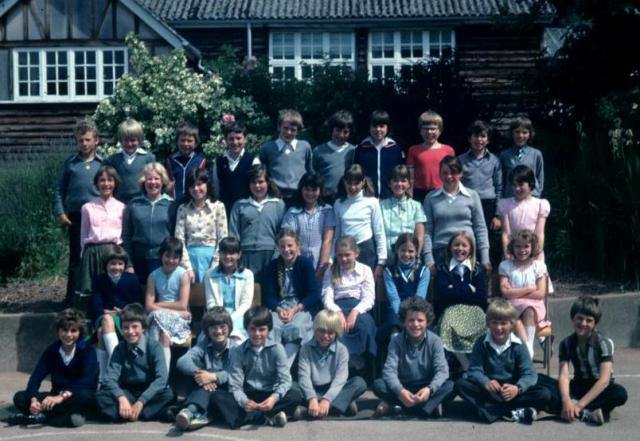 Stephen DAWE, Phillip MIDDLETON, Helen COLE, Nicola BERRY, Craig BRUNDRETT, David ALLEN, Amanda GRINNELL, K PREECE, David FLETCHER, Katy BOO, Nicola CURTIS, Paul GLADWIN, Sarah BULLARD, Adrian GITTENS, Veronica DAVIES, Ian GLASPER, Lisa HODGETTS, Richard BOYCE, Lisa HUGHES, Colin BRANDT, Tim DONALD, Debra HAYNES, Sam JONES, Jeremy CLAPP, Sarah LIMP Zena CLUEIT, Tim MARSHALL, Kjell WALKER, Jen KELLY CAMPBELL, Debbie LANCETT, Wayne DAVIES, Beth DAVIES, Aine LYNCH
Photo - Dave THOMAS - Jen Kelly CAMPBELL Collection JKC1
School trip to London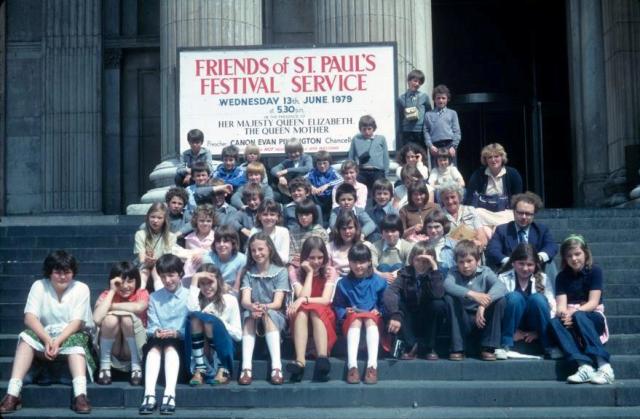 ...
Photo - Dave THOMAS - Denise WATKINS ( Parker ) Collection DP1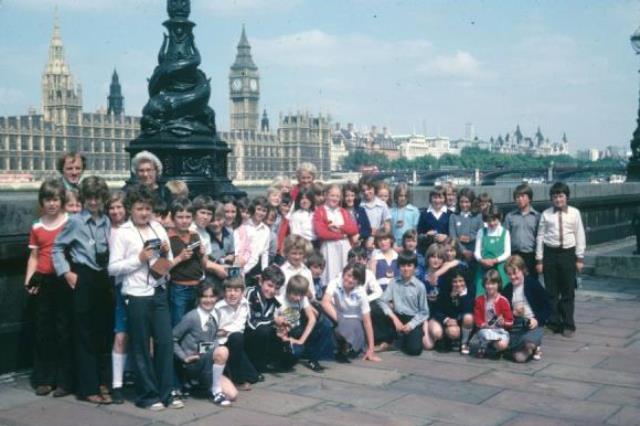 ...
Photo - Dave THOMAS - Neil JAMES Collection NJ1
---
1980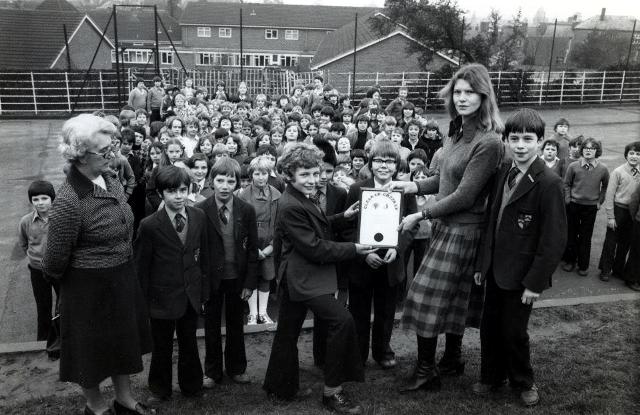 Keep Britain Tidy Campaign
Children on the bank Ian GLASPER, Dave THOMAS, Philip MIDDLETON, Matthew HALE, Kjell WALKER, Chris QUICK
Photo - Dave THOMAS - Chris PONTER Collection CP102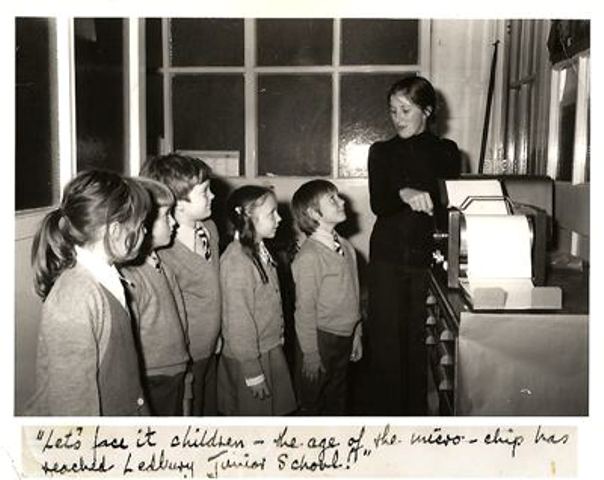 In the corridor outside Mr. THOMAS' room. He was deputy head....
Demonstrating the new-fangled ink colour copier, the picture / text had to be written by hand with a different piece of inked carbon paper for each colour. Then the copies were created by turning the handle.
Jonathan THOMAS lovingly looking up at Mrs MUSTAFIC, Tanya FOX, Andrew THOMAS, Andrew WOOD, Andrea EDWARDS
The handwriting is The Head teacher's - David Leyshon WILLIAMS
Photo - Sali MUSTAFIC ( Lawrence ) Collection SM26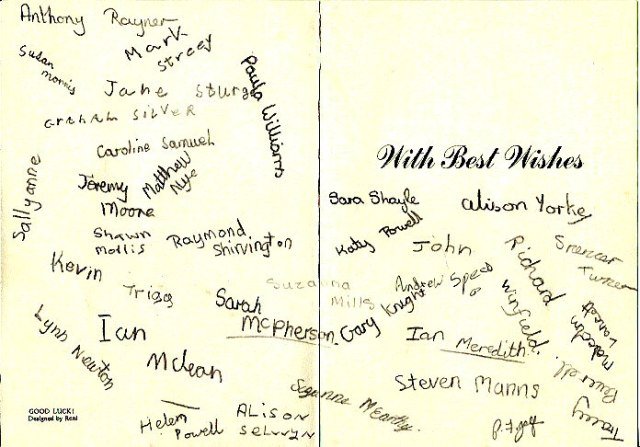 The children signed a card for Mrs MUSTAFIC when she left the Junior School and moved to Devon.
Photo - Sali MUSTAFIC ( Lawrence ) Collection SM25
---
Thanks to Laura JONES ( Cole ) for this lovely set of photos of the school building and playground
These were taken in 19-- when the school buildings were up For Sale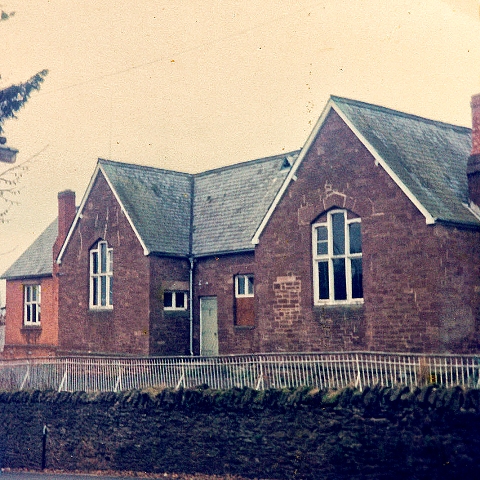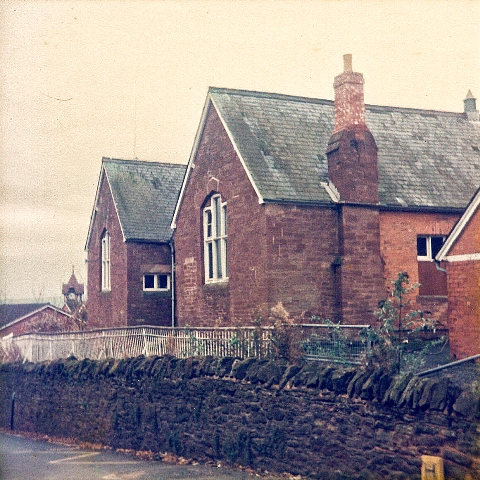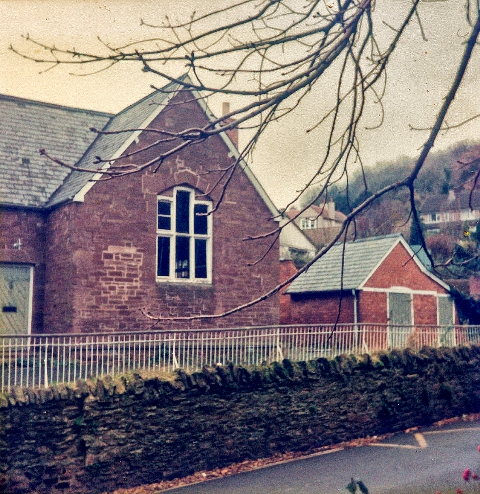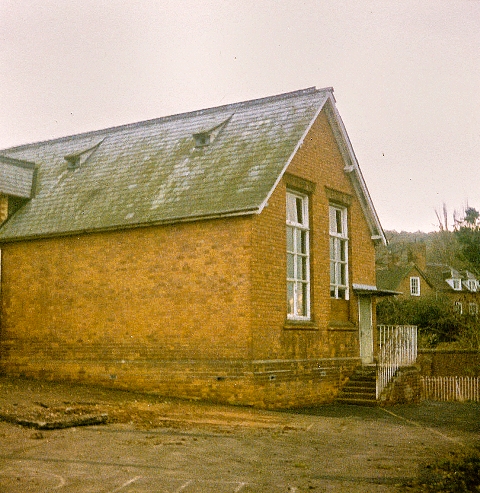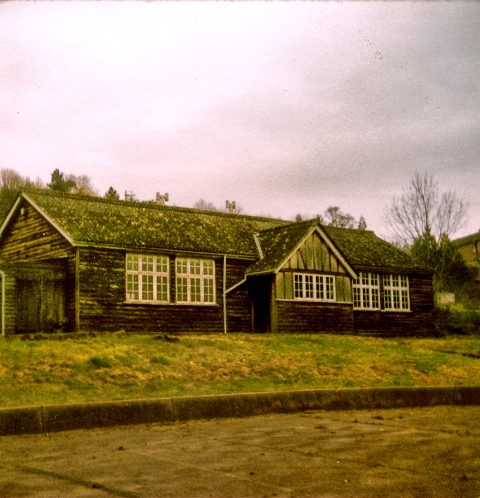 Sources
1902 Jakeman and Carver's Directory and Gazatteer of Herefordshire
1916 Tilley's Almanack
1958 Tilley's Almanack