All Newspaper Cuttings have been taken from old Ledbury Reporter newspapers, most adverts from Tilleys Almanac 1958, photos are credited to the owners and comments are from members of old ledbury group on Facebook
Dog Hill Wood
Date Unknown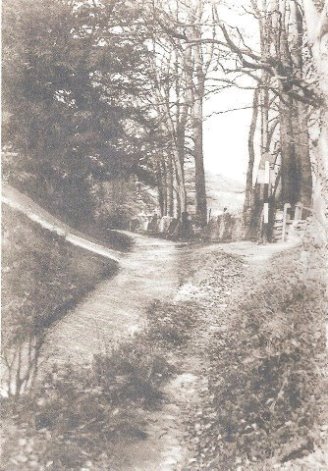 Green Lane leading to the Paddock
Postcard Debbie WOLFE Collection DW2
...
2012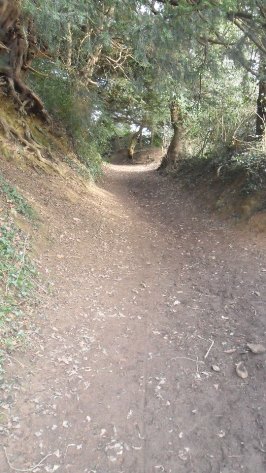 Photo Chris PONTER Collection CP81
Old Ledbury Facebook Members Comments
Used to love running down there full pelt - remember the helter skelter bit, such fun ...
Always amazes me how those trees on the left cling to the bank without falling over...
Apparently my Mom did a bit of courting at Dog Hill in her youth...
We called it the Curly Wurly. I used to meet Ike Madders up here regularly when I was a kid taking my dog for a walk. He used to say 'A walk up Dog Hill clears the mind of the daily grind'...
Yes I remember him a real gentleman and knew a lot about history of Ledbury....
I remember the helter skelter. Happy days!!!!...
pent many a day up Dog Hill used to meet up with other mums and take a picnic up there, we would sit in paddock most of the day whilst the kids ran wild, right by that spot. Also we did the same as kids as our parents took us for walks through woods most sundays rain or shine, still refer to it as curly wurly today, more happy memories lovely photo...
Had a lot of fun up there as kids...
Eerie place when it is getting dark quickly in winter months, us kids always stepped out a lot quicker going home. We brave boys used to send my sister in front of us for scouting duties!! Never figured out why Lyn stopped going up the woods ......11 or 12 is well old enough for patrol duties, after an afternoon playing Tarzan and soldiers, hide and seek, etc...
Quite a few other games after dark too...
Have started to take my little boy up here. he loves climbing amongst the roots!...
I can remember coming down here very fast on an old fertiliser bag one snowy winter...
Me and brother were playing one sat morning the sun was shining me and him taking turns swinging on the vines and the sounds of cracking and then a twang the vine broke and also my arm - good old happy days haha before the vine snapped...
I remember Ike Madders bless him what a great Ledburian, always doffed his trilby when he met you ... a true Gent with a great sense of humour ...
...