Date Unknown - Post Office 126 Homend Street
A Retrospect

1896

November 25 Mrs. W. RUSSELL, of the Woodlands, died at the age of 57 years. By her will the deceased made several munificent bequests to Ledbury, including £5000 for a middle class boys school to he established in Ledbury; £500 for a memorial window and otherwise in Ledbury Church; £150 to the Ledbury Cottage Hospital; and £100 to the Ledbury Reading Room, Besides these gifts it will be remembered that she presented the four-dial clock to the Barrett Browning Memorial Clock Tower, and also the Clock at the Post Office.

1902

March 18 Presentation to Mrs. SARGENT on relinquishing the duties of postmistress of Ledbury.

May 1 Mr. Arnold Harry BISCO commenced his duties as Postmaster of Ledbury.

1915 - Post Office 10 the New Street
1915 January 30 - Mr J BELL Postmaster was appointed to a similar post at Braintree.
1915 February 20 - Mr J BELL Postmaster presented with an illuminated address and purse of gold, by tradesmen and gentry in Ledbury and district, on his promotion to Braintree, Essex.
1915 May 19 - Mr G UPTON Postmaster from North Walsham appointed as Postmaster of Ledbury, in succession to Mr J BELL.
1916 - Mr G UPTON Postmaster
19-- - Post Office The Homend
1958 - S HAYWARD Postmaster Telephone Number 1
1958 - Post Office Savings Book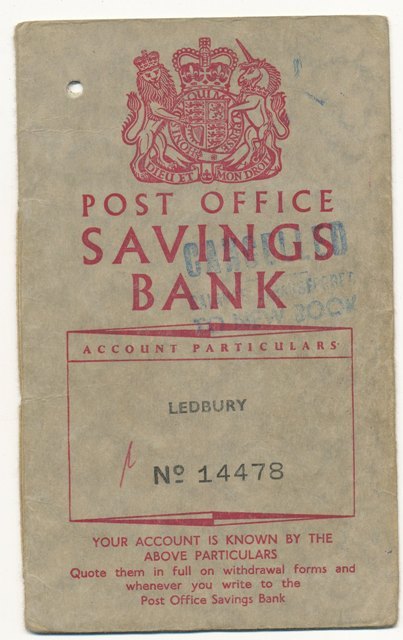 ( Jo EDGE Collection JE30 )