A Retrospect

1896

November 25 Mrs. W. RUSSELL, of the Woodlands, died at the age of 57 years. By her will the deceased made several munificent bequests to Ledbury, including £5000 for a middle class boys school to he established in Ledbury; £500 for a memorial window and otherwise in Ledbury Church; £150 to the Ledbury Cottage Hospital; and £100 to the Ledbury Reading Room. Besides these gifts it will be remembered that she presented the four-dial clock to the Barrett Browning Memorial Clock Tower, and also the Clock at the Post Office.

1899

The ancient grammar school is incorporated with the RUSSELL Endowed middle class boys' school in the Southend, founded in 1899, endowed by the late Mrs RUSSELL of Woodlands, Ledbury. It is an excellent institution, which gives free, or partly free, education to a number of the sons of middle-class parents.

1900

August 1 First Annual Distribution of Prizes at Ledbury Middle Class Boys' School.

1901

July 31 Prize Day at the Russell Endowed School, Ledbury.

1902

July 30 Speech Day at the Russell Endowed School.

1902 - Frederic William WADE, Head Master, George Henry MEACOCK Assistant Manager
1914 - The successful seniors were : C.B. HILL (Russell Endowed School) - Ledbury Guardian Newspaper 29-08-1914 Oxford Local Examinations.
1914 - The pupils of this school, with the kind assistance of Mr. S. F. FELL (O.B.), who is on service in the Royal Fusiliers, have sent a donation of £2.8s.9d to the Central Fund, for the relief of the Belgian victims of the war. Ledbury Guardian Newspaper 07-11-1914 Donation Central Fund.
1916 - Frederick William WADE. M. A. Head Master
1926 - Court House School
1949 - Preparatory School
1956 - Class Photo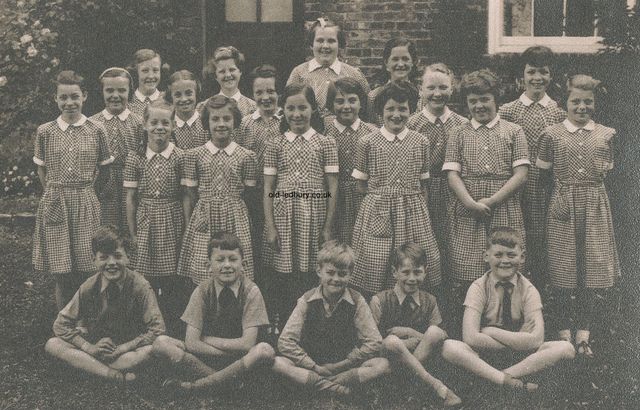 ( Liz BRACE ( Paul ) Collection )
Back Row - unknown, Christine BINGHAM, Mary GITTINGS, unknown
Monica HAYWORD, Carol CHAMPION, Penelope SWANCOTT, unknown, Hilary EVANS, Monica GRIFFITHS
unknown, unknown, Deane WOOD, Elizabeth PAUL, Penelope DEVEREUX, Caroline SPENCER, Lorna POWELL
Boys - David HODGES, Bobby GORIN, unknown, unknown, David PRICE
1958 - Head Mistress Miss E F ROWLEY
1959 - Class Photo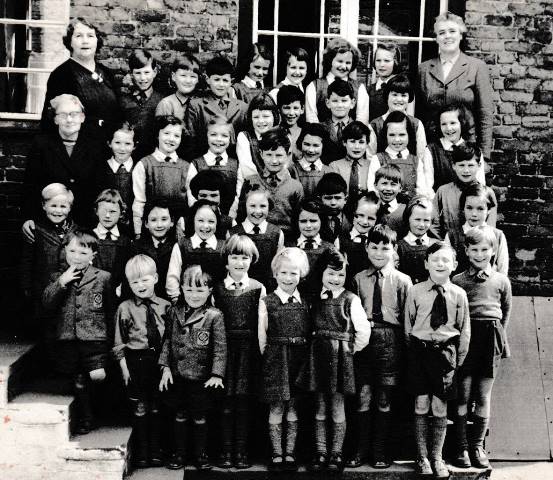 ( Jenny PELL ( Houlbrooke ) Collection )
3rd row from the back 4th from the right Jenny HOULBROOKE, brother Robert HOULBROOKE in front of her.
Jenny and Robert attended until the school closed.
1960 - The school CLOSED
2021 - Visit this excellent website for more history on the School and the RUSSELL family Ledbury History