The eight cottages in the square known as ' Ants Nest ' were built on the site of old farm buildings, there was a large barn and some stables.
Part of it was a stonemanson's yard belonging to Mr HATTON. Stage Wagons were put in there and several horses stabled in the buildings.
The present cottages were erected by Mr WEBB, father of the late E J WEBB.
Mr Robert BALLARD was the builder and carpenter engaged in this work. George TAYLOR by name said to him " this will be a regular ants nist gaffer " from that remark the square took the name " Ants nest " and the appellation has struck ever since....
There were no schools at the top of the lane then as the place was an open orchard, with a hedge fronting the road..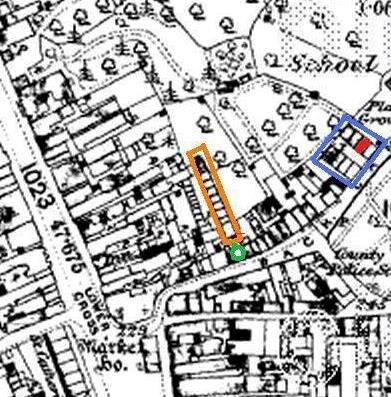 The White Hart is outlined in Green, Bowlers Yard behind is outlined Orange. A total of 12 properties numbered 16 to 27 existed from the White Hart up to Ants Nest outlined in Blue. Looks like from this plan that there were 10 properties in Ants Nest - if the Nos follow from No 27 clockwise on then 34 where my Dads family PONTERS lived would be the one marked Red
Date Unknown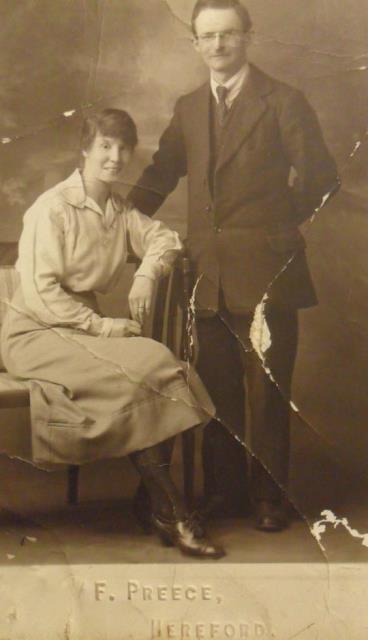 Postcard James and Esther PONTER taken by F Preece Hereford...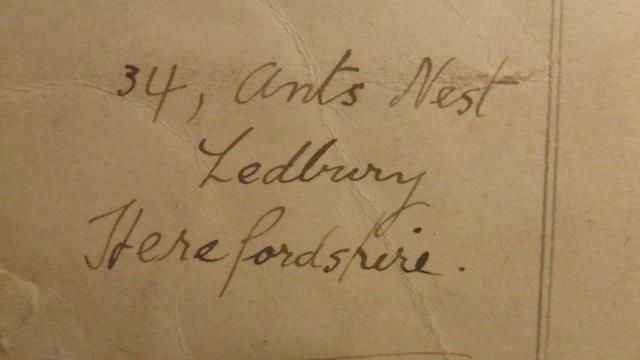 Rear of Postcard showing address 34 Ants Nest
1928 - 1929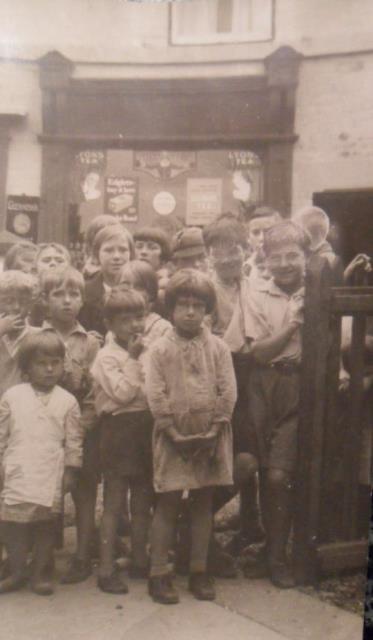 How about this for a picture that shows the tough old times times? I love this pic. I think this was taken from the Ants Nest in Church Street looking towards the Legion side that alley on the right looks like the door down to the Prince to me anybody else have any ideas ?
Amazing photo! Wonder who the children are?...CP
Yet another great photo...CP
Dads brother Ray PONTER on here but obscured back left...CP
Love the way the the girl at the front is standing and holding her hands. I reckon this is about 1928 / 1929...CP
Tough old times. Bless em all .We dont know how good we've got it...CP
Is this the old houses they knocked down? What is that shop behind?...LJ
...
1931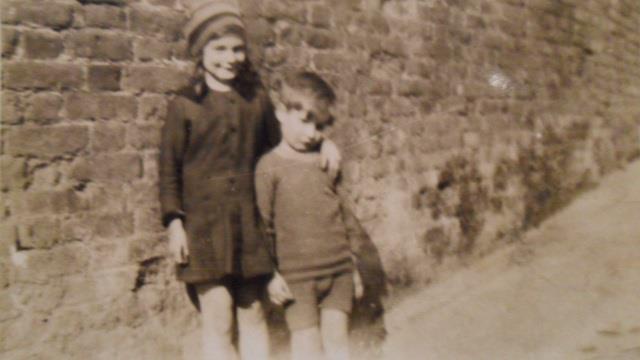 Stella and Ray PONTER leaning on the School Wall next to Ants Nest -
1931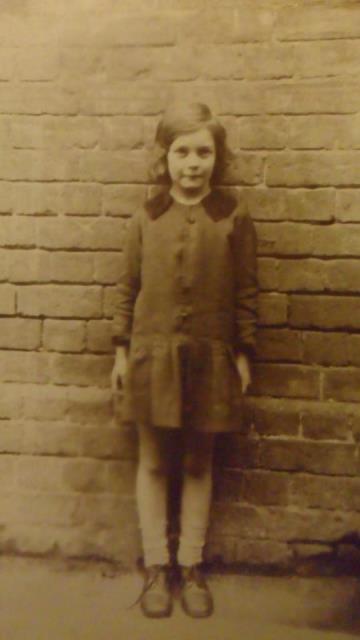 Stella leaning on wall near to entrance of Ants Nest
1973
Ants Nest Demolished
1993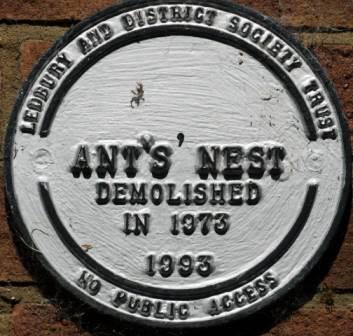 Sign erected by Ledbury District Society Trust showing the location of the house demolished in 1973
Source
1889 Old Ledbury By An Octogenarian George WARGENT
Photographs are credited to the owners
Comments are from members of the Old Ledbury Facebook Group
Cuttings from Ledbury Reporter newspapers