View Ledbury Guardian Newspaper Articles for Tarrington during World War One 1914 - 1918
---
The rest of this page is divided into the following categories
BUILDINGS AND CHURCHES | CLUBS AND SOCIETIES | EMPLOYERS | ENTERTAINMENT | FETES ROYALTY AND SHOWS| MILITARY | PUBS AND HOTELS | SCHOOLS | SPORTS | WEDDINGS | FAMILY ANNOUNCEMENTS BDM |OBITUARIES
---
Buildings and Churches
---
Clubs and Societies
1930s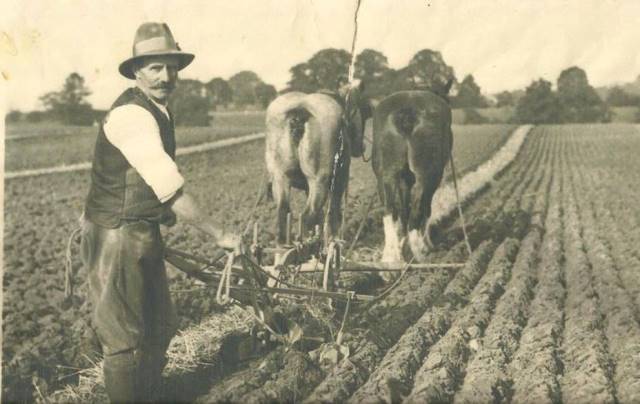 My grandfather Jack GWILLIAM competing at Ledbury Ploughing match in the 1930's ...
1959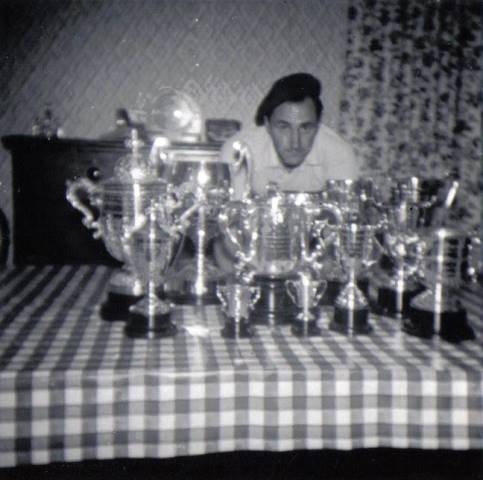 Mr GWILLIAM with his ploughing trophies. Photo taken after his British Championship win.
These were only the trophies he won at the British National as he couldn't get all his other trophies on the kitchen table.
1960 October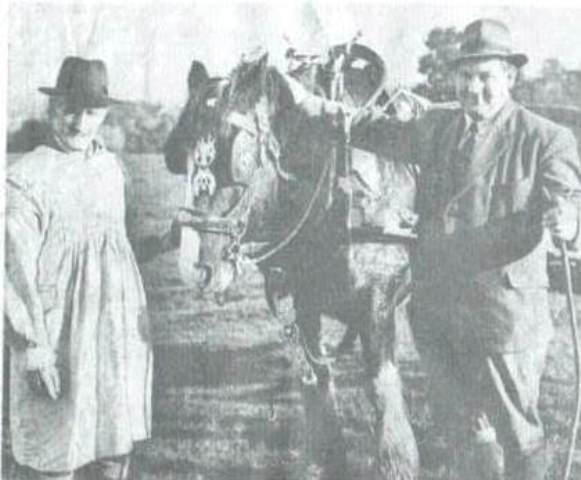 Eighty year old Mr John GWILLIAM a one time champion ploughman, wore this hundred year old farmer's smock at the Ledbury agricultural Society's ploughing competition on Monday. Mr GWILLIAM was in charge of the cider wagon and is seen with Mr H SAMUEL, of Orlham, on whose land the competitions were held. Mr GWILLIAM's son, Mr John GWILLIAM is in Rome competing for the world ploughing championship. ( Source Hereford Times Newspaper Friday 6th October 1960 )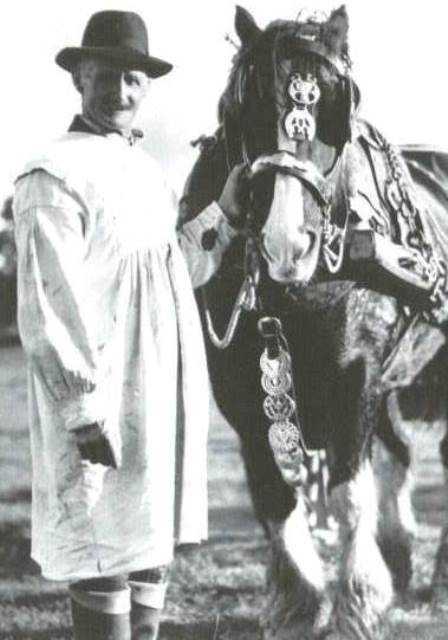 This is my grandfather John (Jack) GWILLIAM aged 80 at Ledbury Ploughing match in October 1960. In the newspaper cutting he is talking to Horace SAMUEL of Orlam Farm, Ledbury who was a good friend of our family as well as being a champion horse ploughman like my grandfather.
---
Employers
---
Entertainment
---
Fetes Royalty and Shows
---
Military
---
Pubs and Hotels
---
Schools
Tarrington VC
1955 / 1956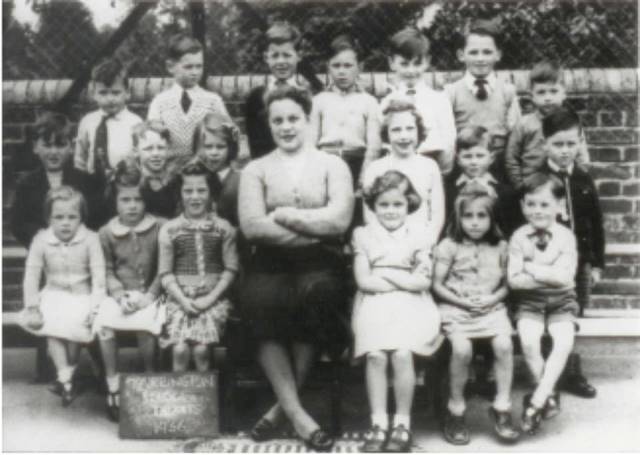 Back Row - Robert COLE, Roger FURBER, Roger SMITH, Philip GWILLIAM, Richard LEWIS, Philip DAVIES, Robert HODGES
Middle Row - Roy BAKER, ... FRANCIS, ... WEAVER, Barbara FRANCIS, uk, uk
Front Row - Jean WEAVER, Jeanette WEAVER, Linda FRANKLIN, Mrs. DAVIES (Teacher), uk, Mary SMITH, Desmond COX
1957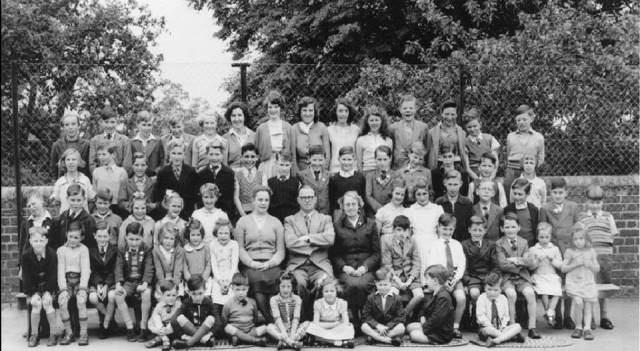 ...
1959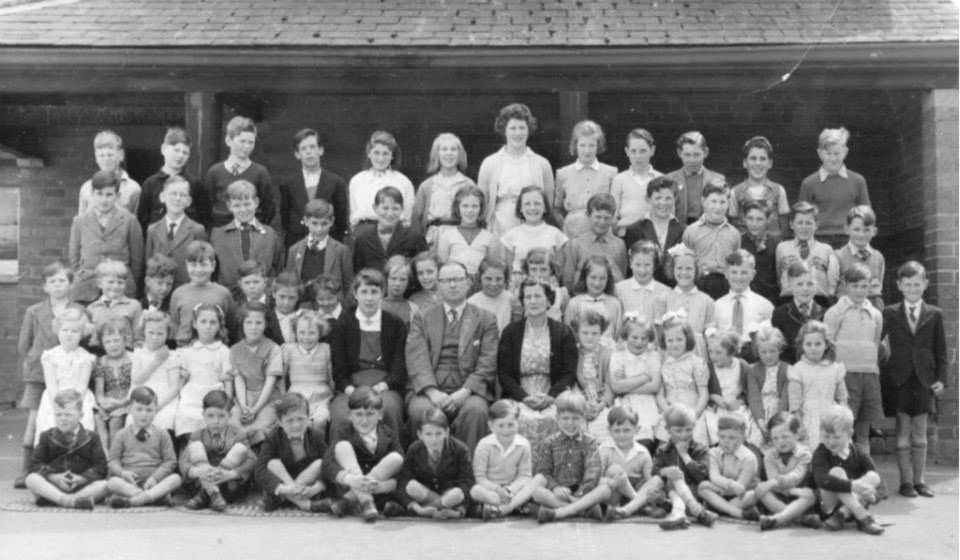 ...
1960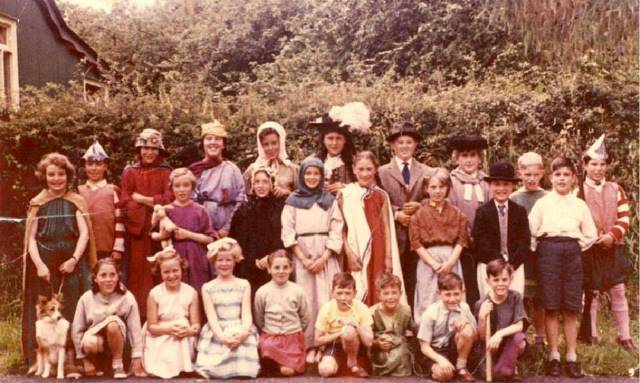 Pupils perform a play about the history of Tarrington
Back Row - uk, Phillip GWILLIAM...
Middle Row - ...
Front Row - uk, uk, uk, uk, Dave THOMAS...
May 1960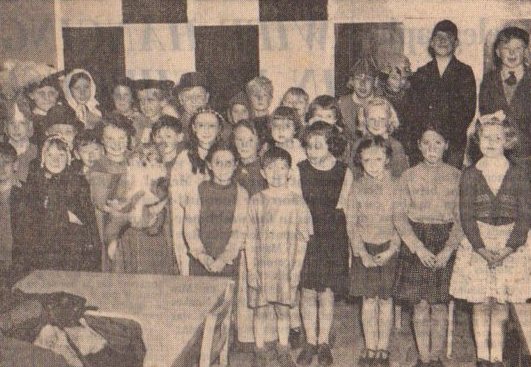 Pupils presenting their play The Tarrington Story - at Ledbury Drama Festival, County Secondary School.
The standard of acting and presentation by these young people was very high.
Back row - 4th from the right Philip GWILLIAM, possible Roger LANE 2nd from the right
I had a chat to Richard LEWIS, the headmaster's son who was also in the play and he said it cannot be 1961 as he left to go to the Hereford Cathedral School at Easter 1961 and I also left then. Mine was temporary as my mother refused to move to Beeston Hill, Shropshire on the Friday night prior to our supposed move on the Saturday so I finished out my time at Tarrington before going to Ledbury Grammar. We both concluded that the play must have been 1960. I also remember that one of the muskets for the civil war scene got broken and it was glued back together who borrowed some clamps from my dad.
---
Sports
---
Weddings
1951 3rd quarter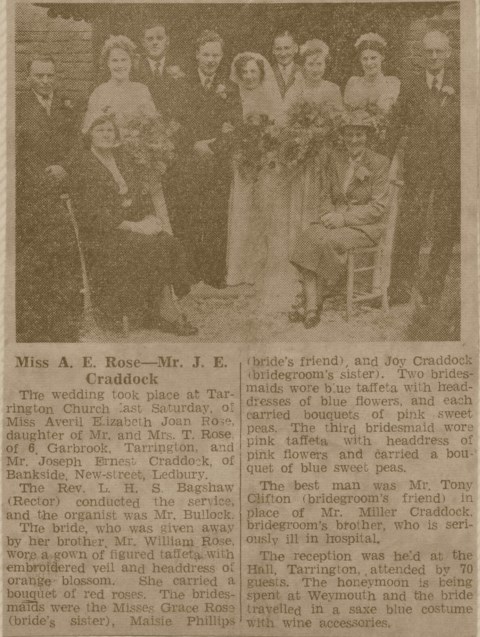 The wedding took place at Tarrington Church last Saturday, of Miss Averil Eizabeth Joan ROSE, daughter of Mr. and Mrs. T. ROSE of 6, Garbrook, Tarrington, and Mr. Joseph Ernest CRADDOCK, of Bankside, New Street, Ledbury.
The Rev. L. H. S. BAGSHAW (Rector) conducted the service, and the organist was Mr. BULLOCK.
The bride, who was given away by her brother, Mr. William ROSE, wore a gown of figured taffeta with embroidered veil and headdress of orange blossom. She carried a bouquet of red roses. The bridesmaids were the Misses Grace ROSE (bride's sister), Maisie PHILLIPS (bride's friend), and Joy CRADDOCK (bridegroom's sister). Two bridesmaids wore blue taffeta with headdresses of blue flowers, and each carried bouquets of pink sweet peas. The third bridesmaid wore pink taffeta with headdress of pink flowers and carried a bouquet of blue sweet peas.
The best man was Mr. Tony CLIFTON ( bridegroom's friend.) in place of Mr. Miller CRADDOCK, bridegroom's brother, who is seriously ill in hospital.
The reception was held at the Hall, Tarrington, attended by 70 guests. The honeymoon is being spent at Weymouth and the bride travelled in a saxe blue costume with wine accessories.
Joe and Joan Craddock lovely couple she was a good friend to my mum...CP
Agreed Carole. They lived in the Bridge Street for years next door to my aunty. Joe worked with my dad at Ledbury Farmers. Joan used to take my Katie into her garden to pick raspberries. Shame they didn't have children of their own x...CE
Yes Claire can remember Joe and your dad working for Ledbury Farmers, our first house was next door to the yard, remember Joe always playing with my boys never called them by their names though used to call them little curlys...CP
Joan's niece married Tom WATT (Lofty in Eastenders) He did a reading at Joe's funeral...CE
Lovely couple! Joe used to visit us as a rep for Countrywide. He was always smiling!...DA
They lived in Bridge Street...BH
1969 August 16th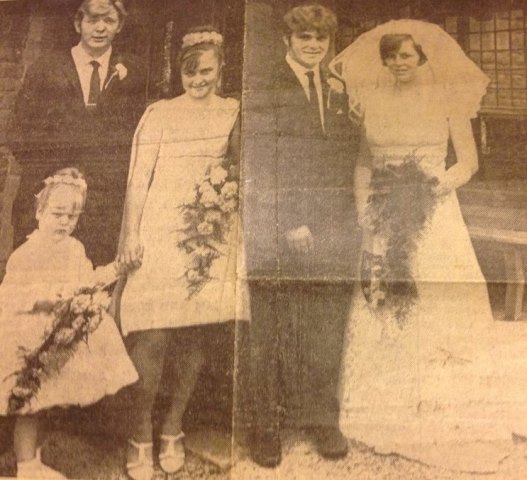 Chris COOKE to Jean WEAVER at Tarrington Church. Cutting from the Ledbury Reporter.
---
Family Announcements Births, Deaths, Marriages
Engagements
1961 April - Source Ledbury Reporter
JONES - POTTER - Tarrington
Mr and Mrs W.J. POTTER, Marlborough, Durlow, Tarrington have pleasure in announcing the engagement of their elder daughter Sheila to John younger son of Mr and Mrs W JONES, 30 Albert Road, Ledbury.
---
Obituaries
---
Sources
1914 Newent Reporter Newspaper - Herefordshire History
1914 - 1919 Ledbury Guardian Newspaper - Herefordshire History
1916 Tilley's Almanack
Photographs are credited to the owners
Comments are from members of the Old Ledbury Facebook Group
Cuttings from Ledbury Reporter newspapers