1832
In 1832, a Royal Commission recommended changes to the Poor Law of 1601 which had become less relevant with the industrial revolution and an increase of population from 4 million in the sixteenth century to over 14 million by 1834. To comply with the Poor Law Amendment Act of 1834, the parishes around Ledbury grouped themselves into a Union and the Ledbury Poor Law Union was set up on 2nd June 1836, overseen by an elected Board of Guardians made up of representatives from the 22 constituent parishes:
Ashperton, Aylton, Bosbury, Canon Frome, Castle Frome, Coddington, Colwall, Donnington, Eggleton (Township of Bishop's Frome), Ledbury, Little Marcle, Mathon, Munsley, Much Marcle, Parkhold (Township), Pixley, Putley, Stretton Grandsome, Tarrington, Woolhope, Yarkshill.
---
1836
The Union Workhouse was built in 1836 on what was Union Lane, now Orchard Lane with a project budget of £3,970. The architect was George Wilkinson who designed other workhouses at Leominster, Bromyard and Weobley. His design was cruciform with an entrance block at the front and four accommodation wings connected by a central block. Between the wings were yards so the different categories of pauper could be segregated - Aged and Sick / Children / Able-bodied females / Able-bodied males. It opened in 1837 to house 150 inmates.
All paupers who could not support themselves and were unable to take part in Outdoor Relief were to be admitted to the workhouse. (Outdoor Relief was paid to labourers whose wages were too low for them to support either themselves or their families. It was usually paid as a wage subsistence, with a man's wage packet being made up to a certain amount depending on the current bread prices and the size of his family. It might also be paid as a bread allowance) If a man was forced by his circumstances to join the Workhouse he had to take his family in with him. Upon entry he, his wife, and their children would be split up and sent to the separate areas of the Workhouse. The family would only be reunited when they chose to leave. This regime was designed to be a deterrent to the acceptance of their situation by the poor.
The population within the Union area at the 1831 census was 11,973 and the average annual poor-rate expenditure for the period 1834-36 was £5,678 or 9s.6d. per head of the population. In 1871 the population had increased to 13,1022 but by 1891 had dropped to 12,613.
---
1881
The 1881 census records that the staff were: Henry Morgan - Union Master, Mrs Fanny Morgan - Workhouse Matron (with their sons Ernest, Archer and Frederick), Elizabeth Morgan - Workhouse School Mistress, Charles Guy - Porter and Jane Bevan, Nurse and the Morgans were still there in 1901.
There were over a hundred 'inmates' in 1881 and they came mainly from Herefordshire but also included vagrant Irish labourers. There were a several mentally disturbed people, bluntly described as 'Imbeciles', widows and widowers, a large number of agricultural labourers and a few young orphans who were taught at the workhouse.
John Adams, Charles Ainsworth - musician, Charles Arkell, Stephen Aston, John Bannester, Sarah Barrett, William Barrett, William Barrett from Bosbury, George Bates, William Bird, John Bishop, Alice Box, Anne Box, Sarah Box, William Brown, Harriet Bruton, John Bruton, Mary Buckell - agricultural labourer from Bosbury, John Burlton, Anne Chamberlain and her daughter Elle, John Chamberlain, John Cook, James Davies, William Davies, William Davies, Eliza Day, Mary Dobbs, Mary Dobbs, Thomas Dutson, Frank Eacock, Samuel Evans, Edward Fincher, Fanny Fryer, Sarah Gough, Elizabeth Green, William Green, Eliza Griffiths, John Griffiths and his wife Kate, Thomas Grossenor, George Hallard, James Harding, Caroline Hartwell, John Herbert, William Hill, Harriet Hoare, Charles Hodges, Abigail Holland, Ellen Hope, Henry Hope, Elizabeth Huges and her sister Hannah, Esther Humphries, Ann Jarvis, Charles Johnson and probably his brother, Stephen Johnson, George Jone, Ester Jones, Frederick Jones. James Jones, John Jones, May Jones, Thomas Jones, William Jones, James Kelly, George Kimbley, John Lewis, Mary Lewis, John Llewellyn, Ellen Lloyd, James Lloyd, Mary Lloyd, Harriet Mason, John Masters, Matthias Matthews - farm labourer from Bosbury, James Mitchell, Margaret Morris from Bosbury, William Morris, William Morris from Bosbury, Samuel Mowden, Emily Napper, Sarah Jane Napper, Edwin Pardoe, Emma Parry, George Parry, Olive Parry, John Pritchard, Elizabeth Proberbs, Joseph Proberbs, Robert Pullen, John Reed, Alfred Rosser, Hannah Rosser, Lucy Rosser, Sebastian Rosser, Susan Smith, William Smith, Eliza Taylor, Beatrice Vaughan, Frances Vaughan, Thomas Warner, Catherine Watkins, Richard Watkins, Arthur Whittal, Anne Williams, Frederick Williams, Henry Williams, John Williams, Margaret Williams, Mary Williams, Thomas Williams, William Wingate, Louisa Yeomans
---
1900
By 1900 two further parishes were added, Eastnor and West Malvern, and Parkhold changed to Ledbury Rural.
---
1914 - 1918
View Ledbury Guardian Newspaper Articles for Union Workhouse World War One 1914 - 1918
---
1930
After workhouses were formally abolished in 1930, it was renamed as a Public Assistance Institution under the name 'Belle Orchard House'. Uniforms were no longer worn and 'residents' were free to come and go.
---
1948
In 1948 it became an old people's home.
---
Date unknown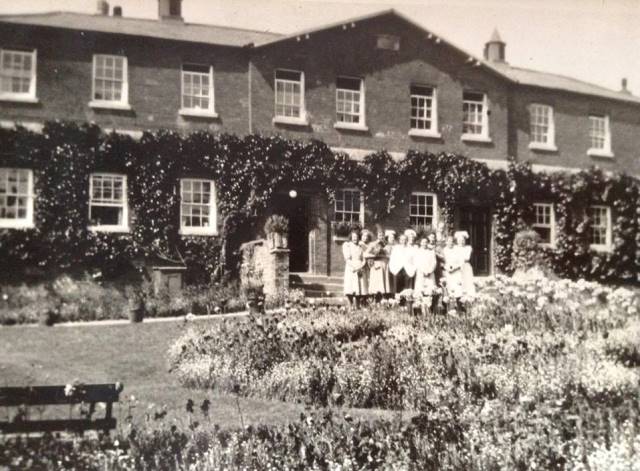 Belle Orchard House
My nan worked there...PS
So what was it at this time? Still the Workhouse?...CE
My great grandfather Evan GRIFFITHS died here x...PP
My great grandfather William BARNETT was an inmate at the workhouse...CAB
Grandad went there at the time when it had changed to an old peoples home xx...PP
I was going to say, when did it transform from the workhouse into the old folks home? - or did it kind of evolve like other workhouses? It looks very pleasant in the photo; It must be the old folks home by the time of the picture?...CAB
Yes I only ever heard my nan say that she worked in an old people's home!...PS
I don't think anybody back in those days had an easy life - if they worked on the land they ended up dragging through the mud and all the family had to work on the land to survive.They were also often turned out of the farmhouses at a whim of the landowner and that was why a lot of people ended up in the workhouse. There were children who were orphaned and if they weren't lucky enough to move in with relatives they often ended up in the work houses with poor relations...SD
I can remember Mr and Mrs KENDRICK and their daughter (think she was a nurse) always very smartly dressed and very friendly...JG
Mike and Miriam EVAN,took over running the the home in Belle Orchard, I would say in 1973 approx after then things started improving,and thanks to them the place had a better name...JJ
Although there was a lot of sadness caused by the "institution" in Victorian times, when it was the workhouse, this building actually has a lovely atmosphere and has made me feel exceptionally welcome since I moved here just over 2 years ago...JL
I first went to work at Belle Orchard House in 1971 ish. I remember so well that one of the men, when I asked his name told me it was 27! I also remember when the new place was being built (close to finishing) we were having to bail water out of the cellar, carry gas heaters up and down stairs and carry hot water from the laundry, across the yard, & for me, through the dining room to bathrooms for everyone washes & baths. We moved everyone on New years day (as I recall) as enough was enough... Dolly BAILEY was cooking the Christmas turkeys and the oven door fell off. We had to carry them up to the hospital to finish cooking! I would do it all again if it meant everyone was kept warm, fed & clean and to hell with H&S and risk assessments...KH
Any stories any body has about the workhouse would be greatly appreciated as I am doing research into the workhouse with Miriam Evans. I've been researching on and off for the past year...KD
Please say hello to Mrs Miriam Evans for me. Not sure if she will remember, but we did a drawing of the sitting rooms at Belle Orchard House with people sitting in their chairs. There were no faces, but sitting positions, facial hair, hats, shoes bags and the like that we, could all easily identify who it was. I thought it was wonderful...KH
Not sure about the facts, but as the story goes, in the building known as the 'bottom block' there were hooks in the walls where a rope line was attached. At night people would pay 1d to escape the elements and hang off this line to sleep. Hence the saying ' I'm so tired I could sleep on a clothes line' Like I said, not sure how true this is...KH
...
---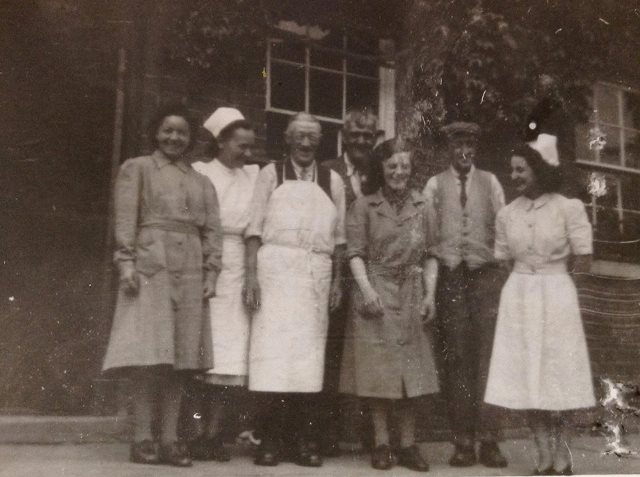 ...
---
Today the building's central block and inner cross-ranges have been demolished. The remaining buildings have been converted into residential accommodation under the Belle Orchard House Residents Association.
---
Sources
1914 Newent Reporter Newspaper - Herefordshire History
1914 - 1919 Ledbury Guardian Newspaper - Herefordshire History
1916 Tilley's Almanack
Photographs are credited to the owners
Comments are from members of the Old Ledbury Facebook Group
Cuttings from Ledbury Reporter Newspapers
Introduction text was provided by Barry SHARPLES