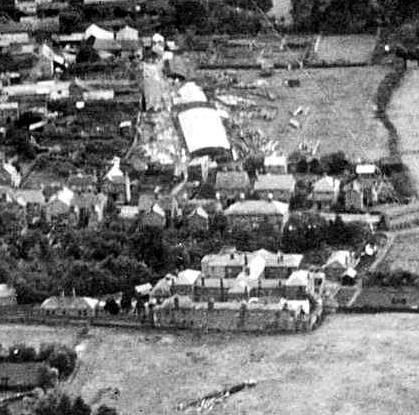 1832
In 1832, a Royal Commission recommended changes to the Poor Law of 1601 which had become less relevant with the industrial revolution and an increase of population from 4 million in the sixteenth century to over 14 million by 1834. To comply with the Poor Law Amendment Act of 1834, the parishes around Ledbury grouped themselves into a Union and the Ledbury Poor Law Union was set up on 2nd June 1836, overseen by an elected Board of Guardians made up of representatives from the 22 constituent parishes:
Ashperton, Aylton, Bosbury, Canon Frome, Castle Frome, Coddington, Colwall, Donnington, Eggleton (Township of Bishop's Frome), Ledbury, Little Marcle, Mathon, Munsley, Much Marcle, Parkhold (Township), Pixley, Putley, Stretton Grandsome, Tarrington, Woolhope, Yarkshill.
1836
The Union Workhouse was built in 1836 on what was Union Lane, now Orchard Lane with a project budget of £3,970. The architect was George Wilkinson who designed other workhouses at Leominster, Bromyard and Weobley. His design was cruciform with an entrance block at the front and four accommodation wings connected by a central block. Between the wings were yards so the different categories of pauper could be segregated - Aged and Sick / Children / Able-bodied females / Able-bodied males. It opened in 1837 to house 150 inmates.
All paupers who could not support themselves and were unable to take part in Outdoor Relief were to be admitted to the workhouse. (Outdoor Relief was paid to labourers whose wages were too low for them to support either themselves or their families. It was usually paid as a wage subsistence, with a man's wage packet being made up to a certain amount depending on the current bread prices and the size of his family. It might also be paid as a bread allowance) If a man was forced by his circumstances to join the Workhouse he had to take his family in with him. Upon entry he, his wife, and their children would be split up and sent to the separate areas of the Workhouse. The family would only be reunited when they chose to leave. This regime was designed to be a deterrent to the acceptance of their situation by the poor.
The population within the Union area at the 1831 census was 11,973 and the average annual poor-rate expenditure for the period 1834-36 was £5,678 or 9s.6d. per head of the population. In 1871 the population had increased to 13,1022 but by 1891 had dropped to 12,613.
1881
The 1881 census records that the staff were: Henry Morgan - Union Master, Mrs Fanny Morgan - Workhouse Matron (with their sons Ernest, Archer and Frederick), Elizabeth Morgan - Workhouse School Mistress, Charles Guy - Porter and Jane Bevan, Nurse and the Morgans were still there in 1901.
There were over a hundred 'inmates' in 1881 and they came mainly from Herefordshire but also included vagrant Irish labourers. There were a several mentally disturbed people, bluntly described as 'Imbeciles', widows and widowers, a large number of agricultural labourers and a few young orphans who were taught at the workhouse.
John Adams, Charles Ainsworth - musician, Charles Arkell, Stephen Aston, John Bannester, Sarah Barrett, William Barrett, William Barrett from Bosbury, George Bates, William Bird, John Bishop, Alice Box, Anne Box, Sarah Box, William Brown, Harriet Bruton, John Bruton, Mary Buckell - agricultural labourer from Bosbury, John Burlton, Anne Chamberlain and her daughter Elle, John Chamberlain, John Cook, James Davies, William Davies, William Davies, Eliza Day, Mary Dobbs, Mary Dobbs, Thomas Dutson, Frank Eacock, Samuel Evans, Edward Fincher, Fanny Fryer, Sarah Gough, Elizabeth Green, William Green, Eliza Griffiths, John Griffiths and his wife Kate, Thomas Grossenor, George Hallard, James Harding, Caroline Hartwell, John Herbert, William Hill, Harriet Hoare, Charles Hodges, Abigail Holland, Ellen Hope, Henry Hope, Elizabeth Huges and her sister Hannah, Esther Humphries, Ann Jarvis, Charles Johnson and probably his brother, Stephen Johnson, George Jone, Ester Jones, Frederick Jones. James Jones, John Jones, May Jones, Thomas Jones, William Jones, James Kelly, George Kimbley, John Lewis, Mary Lewis, John Llewellyn, Ellen Lloyd, James Lloyd, Mary Lloyd, Harriet Mason, John Masters, Matthias Matthews - farm labourer from Bosbury, James Mitchell, Margaret Morris from Bosbury, William Morris, William Morris from Bosbury, Samuel Mowden, Emily Napper, Sarah Jane Napper, Edwin Pardoe, Emma Parry, George Parry, Olive Parry, John Pritchard, Elizabeth Proberbs, Joseph Proberbs, Robert Pullen, John Reed, Alfred Rosser, Hannah Rosser, Lucy Rosser, Sebastian Rosser, Susan Smith, William Smith, Eliza Taylor, Beatrice Vaughan, Frances Vaughan, Thomas Warner, Catherine Watkins, Richard Watkins, Arthur Whittal, Anne Williams, Frederick Williams, Henry Williams, John Williams, Margaret Williams, Mary Williams, Thomas Williams, William Wingate, Louisa Yeomans
A Retrospect

1896

January 3 Mrs. GABB visited the Workhouse and made presents to the inmates.

January 3 Mrs. FOWLE invited the inmates to the Rectory where they had tea and games.

January 22 Mr. and Mrs. MARTIN gave their usual New Year's treat to the Union Inmates, which was followed by an entertainment.

February 4 at a meeting of the Ledbury Board of Guardians, the death of Mr. E. PRITCHETT, of Woodleigh (late of Priors Court), was alluded to by the chairman in feeling terms. Mr. PRITCHETT had been vice-chairman of the Board for 12 years, and a. resolution expressive of deep sympathy and condolence with Mrs. PRITCHETT and family was unanimously passed.

March 9 Ledbury Rural Council Election took place at the Board room, Workhouse. Very little interest was manifested in the proceedings. The old Council were re-elected, with the exception of Mr. Tom HODGES, whose place was taken by Mr. W. R. HARMAN.

July 2 Mrs. BALLARD, of the Winnings, Colwall, gave her annual treat to the Union inmates.

September 15 A meeting of the Guardians was held at which a resolution was moved that the Union children be educated at the board schools. Attention was also called to the cost of medical attendance and drugs at the Ledbury Union dispensary. Both questions were referred to a committee.

October 13 At a meeting of the Board of Guardians, the motion that the Union children be boarded out, and that the governess be superannuated at a pension of £19 per year, was carried by a large majority.

November 4 At the monthly meeting of the School Board, Mr. BUTLER (who succeeded Mr. A. BROWN at the Capital and Counties Bank) was appointed treasurer to the Board.

November 10 The Board of Guardians appointed Mr. BUTLER treasurer, by one vote.

November 24 A meeting of the Board of Guardians was held. at which the question of the cost of drugs and dispensing of medicines at the Union Dispensary was again brought forward, and it was decided to enquire of other Unions of a similiar size to Ledbury what their expenditure was. At the same meeting Mr. BANNER proposed " That in future the religious duties of this Union be carried out by ef?cient voluntary service." This was seconded by Mr. BRAY. A direct negative was moved by Mr, RILEY, and seconded by Mr. THOPSON, and the original motion was lost by 3 to 1, Mr. BANNER giving notice to bring the question forward again in a month's time.

December 8 The Board of Guardians decided to communicate with the Local Government Board on the question on the excessive expenditure on medical matters in the Ledbury Union. The question of Chaplaincy was deferred for 6 months.

1897

January 21 Mr. and Mrs. W. A. H. MARTIN'S annual treat to the Union inmates was given in the evening.

February 2 the standing orders of the Board of Guardians were considered, and were ordered to be printed at "The Free Press" Of?ce, Mr. TILLEY'S being the lowest tender sent in.

April 27 the Board of Guardians held their annual meeting, Mr. C. A. HEWITT and Mr. J. E. VEVERS being re-appointed chairman and vice-chairman respectively.

July 20 the Board of Guardians decided that the Union Schoolroom should be altered and utilized for the meetings of the Board.

August 5 the Union children were entertained at Colwall by Mrs. BALLARD.

1898

January 6 Mr. and Mrs. W. A. H. MARTIN gave their annual treat to the Union inmates.

May 24 The Chairman of the Board of Guardians proposed a vote of condolence with the family of the late Mr. W. E. GLADSTONE, which was passed unanimously.

July 21 Mrs. BALLARD, The Winnings, Colwall, invited the Union inmates to her residence.

At the Guardians' Meeting, a motion to admit non-pauper cases from the Urban District into the Union Isolation Hospital was defeated by 10 votes to 5.

1900

By 1900 two further parishes were added, Eastnor and West Malvern, and Parkhold changed to Ledbury Rural.

January 7 Mr. and Mrs. MARTIN's Annual Treat to Union Inmates.

July 25 Mrs. BALLARD's (Colwall) Summer Treat to Union Inmates.

August 31 Mr. and Mrs. HEWITT entertained the Union Children at Hope End.

1901

January 10 Mr. MARTIN's Annual Treat to the Union Inmates.

July 19 Mrs. BALLARD'S Annual Summer Treat to the Union Inmates at Colwall.

August 13 The ?rst of a series of long discussions at the Ledbury Board of Guardians re the erection of an isolation hospital. Subsequently decided to shelve the question for six months, and that several infectious cases at the Wyche be isolated at Malvern Fever Hospital.

1902

January 3 Mr and Mrs MARTIN's New Year's Treat to Union Inmates.

April 7 Ledbury Urban Council Election : Messrs. H. BRAY, E. H. HOPKINS, W. R. WALKER, W. F. EVANS, C. BIXLEY, and J. C. DAVIES, elected without opposition.

April 22 Mr. C. A. HEWITT re-elected Chairman of the Board of Guardians after 25 years service.

May 20 At the Meeting of the Board of Guardians it was reported that the tramps had greatly increased.

July 30 Mrs. BALLARD's (Colwall) Annual Treat to the Union Inmates.

September 23 At the Ledbury Guardians Meeting it was reported that the tramps relieved in the fortnight had increased to over 900.

1914 - 1918 World War One Ledbury Guardian Newspaper Articles
1930
After workhouses were formally abolished in 1930, it was renamed as a Public Assistance Institution under the name 'Belle Orchard House'. Uniforms were no longer worn and 'residents' were free to come and go.
1948 It became an old people's home Belle Orchard House.
---
Related Links
Belle Orchard House ( Old Peoples Home )
---

Sources
Introduction text was provided by Barry SHARPLES
1902 Jakeman and Carver's Directory and Gazetteer of Herefordshire
1897 - 1980 A Retrospect Tilleys Almanacks - Herefordshire History
Photographs are credited to the owners where possible
Edited Comments in italics are from the Old Ledbury Facebook Group
Cuttings from Old Ledbury Reporter Newspapers