A Retrospect

1896

July 14 Ledbury Volunteers held a church parade at Colwall

August 22 Ledbury Volunteers went to Leominster for their annual encampment.

November 26 Ledbury Rifle Volunteer Corps held their annual dinner and prize distribution at the Feathers Assembly Room, when COL-Sergt. W. E. JONES was presented with a marble timepiece on his resigning the post after 29 years' service.

1897

May 17 the Ledbury Volunteers were called out to take part in a test mobilization.

August 1 the Ledbury Volunteers went to Aldershot for their annual encampment.

December 16 the Ledbury Rifle Volunteers had their annual dinner and prize distribution in the Feathers Assembly Room.

1898

April 11 The Ledbury Volunteers were engaged in a sham fight at Much Marcle.

July 10 The Ledbury Volunteers held a Church Parade.

July 31 The Ledbury Volunteers went to camp at Conway.

December 15 The Annual Dinner and Prize Distribution to the Ledbury Volunteers took place at the Feathers Hotel, Lieut. Col. SCOBIE presiding.

1900

February 2 The Three Colwall Volunteers (Privates CORFIELD, GODSELL, and SMALL) entertained at the Feathers Hotel, and left Ledbury for South Africa on the 5th.

July 15 Half of the Ledbury Company Volunteers went to camp at Fleetwood for 14 days.

July 29 The Second portion of Ledbury Volunteers went to Camp.

August 26 Volunteer Church Parade at Ledbury Church.

December 13 Rifle Corps Annual Supper and Distribution of Prizes at Feathers Assembly Room.

1901

March 24 Ledbury Volunteers route march to Coddington.

August 11 Ledbury Volunteers returned from Camp at Towyn, North Wales.

1902

January 23 Ledbury Volunteers' Annual Supper and Prize Distribution at the Feathers Hotel.

December 19 Ledbury Rifle Corps Annual Prize Distribution and Smoking Concert, Feathers Assembly Room.


Pre 1908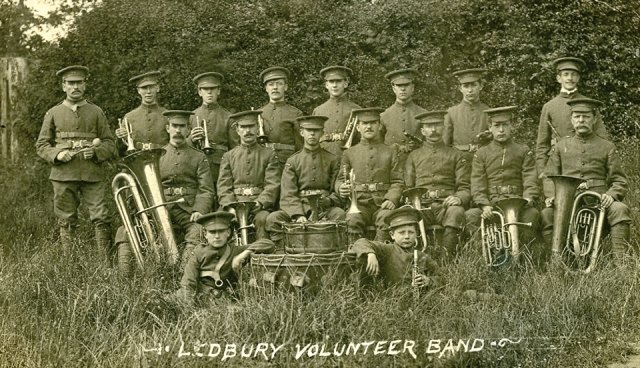 ( Jenny LAWRENCE ( Gough ) Collection )
Front Row - Pte Harry JESSETT, Pte Jim DANCE, unknown, Pte Charlie JESSETT brother of Harry. No other names.
Janet Jones - Would that be Harry JESSETT that lived in the Homend
Andy Taylor - Herefordshire Rifle Volunteers pre-1908. There was also a James JESSETT 1898-1929. I wonder if he is one of the band boys?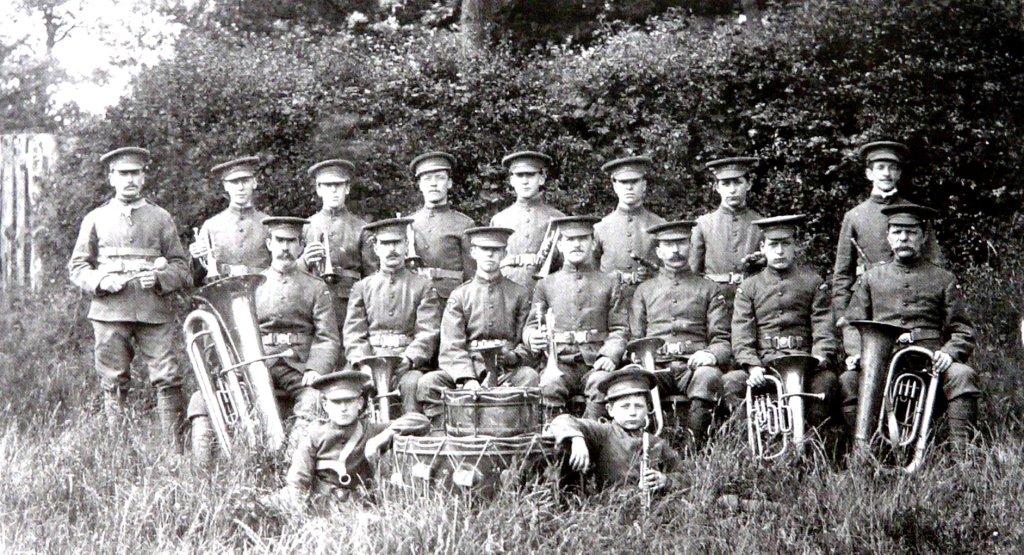 ( Alfred Watkins Collection FK1 2020 )
( 2012 October )

Andy Taylor - This is the band of The Herefordshire Rifle Volunteer Corps - although probably only part of the Battalion band - identifiable from their shoulder titles. The HRVC was disbanded in 1908 and effectively became the 1st Battalion The Herefordshire Regiment (Territorial force). We have this photo in the Regimental Museum. The tuba (?) player is ? Jessett.
Frank Kenward - They played around the county recruiting soldiers to fight in WW1

Sue Weatherhill - Is this Alfred Watkins of the ley lines please?

Frank Kenward - Yep, Alfred Watkins, photographer, antiquarian, inventor, brewery owner, mill owner, the family did much for Herefordshire.

Roger Baker - The family Brewery and Mill ? C Watkins, brother or Father ?

Frank Kenward - Roger Baker Father, Charles, started in the Three Crowns, Eign Gate, Hereford, 1820, moved to the Imperial, bought the old Hereford Brewery and a mill on Friars Street. Made his first fortune supplying beer to the navies building the railway. He had three sons, one predeceased him the other two Alfred and Charles sold the brewery, hotels and pubs when father died and led productive lives in other fields.

Pat Lancett -Great picture

Jenny Lawrence - Are there any names with this? It would be lovely to know if any family were still around.