View Ledbury Guardian Newspaper Articles for Wellington Heath during World War One 1914 - 1918
---
The rest of this page is divided into the following categories
BUILDINGS AND CHURCHES | CLUBS AND SOCIETIES | EMPLOYERS | ENTERTAINMENT | FETES ROYALTY AND SHOWS| MILITARY | PUBS AND HOTELS | SCHOOLS | SPORTS | WEDDINGS | FAMILY ANNOUNCEMENTS BDM |OBITUARIES
---
Buildings and Churches
---
Clubs and Societies
---
Employers
---
Entertainment
---
Fetes Royalty and Shows
---
Military
---
Pubs and Hotels
---
Schools
1955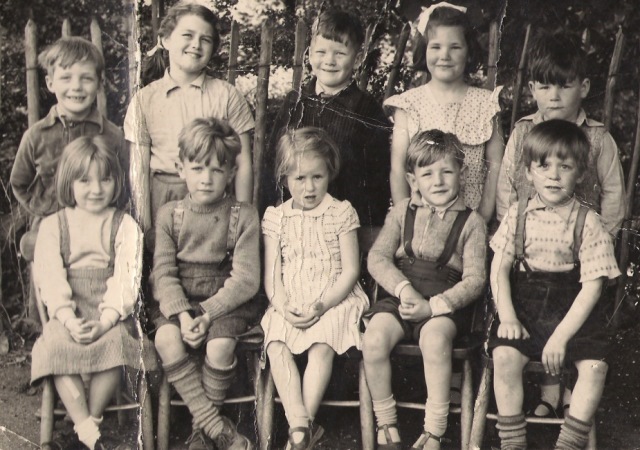 Back Row - Bob BARNES, Lavinia NICHOLLS, .. TAYLOR, Sandra PHILLIPS, Paul PHILLIPS
Front Row - Christine WEAGER, Colin ROWBERRY, Launa DREW, Keith MOWBRAY, Tony LOVERIDGE
A well groomed bunch!...SD
What a lovely photo, I wonder if that was the whole class!...BB
How lovely, Chris WEAGER still looks the same now ...CP
Love it...BH
What a great photo...LS
Was Bob BARNES a relation to Titch BARNES...LJ
Thanks for this pic. I have never seen a pic of my dad this young!! And yes Bob BARNES was a relation of Titch ...DA
Mrs EDWARDS was teacher there when I started in 1946. She lived in the bungalow just past the van rental place on the Hereford Road...CT
Not just the whole class but the whole year, it was a small school, & my gran was dinner lady...RB
I went to this school - I ran home on the first day...SM
And Christine WEAGER taught me to dance the mashed potato ...
...
---
Sports
Football
1950s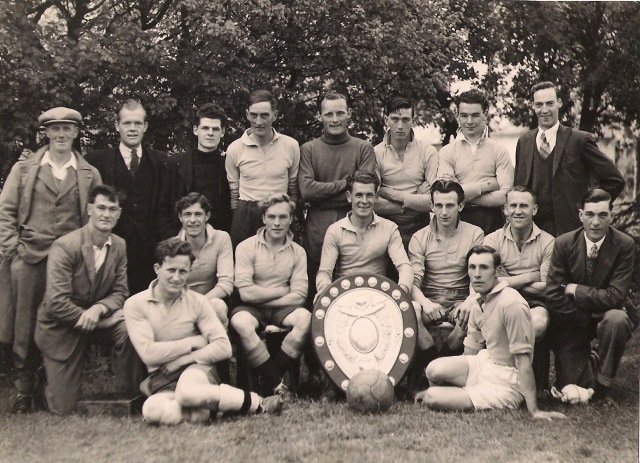 Back Row - Fatty TAYLOR, unknown, Gerald MOWBRAY, Eric GROVES, Bert HATHAWAY, Roly BARNES, Jeff MOWBRAY, Tom DAVIES
Front Row - Dick'Baggott' BAGLEY, Tony VICARAGE, Reg BARNES, Reg MOWBRAY, Tom DAVIS, Baffy DREW, Ernie BARNES
Floor - unknown, unknown
1970s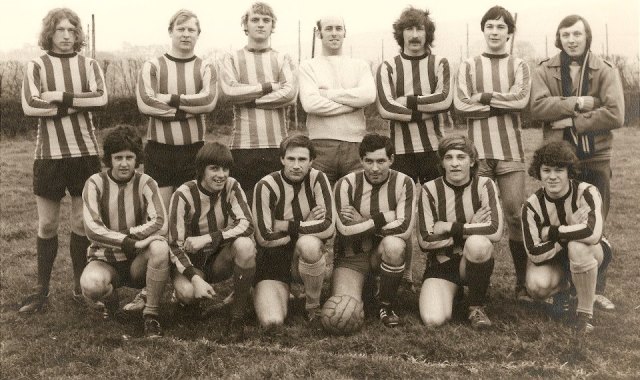 Most of the players worked at Ledbury Preserves at the time
Back Row - Brian HAINES, Ian WHEELER, Bob JEYNES, Colin HILL, Colin DAVIES, Mike STERRY, Phil MANNS
Front Row - Brian DAVIES, Ronnie DAVIES, Bob FLETCHER, Ken POWELL, Colin ROWBERRY, Colin PROTHERO
1978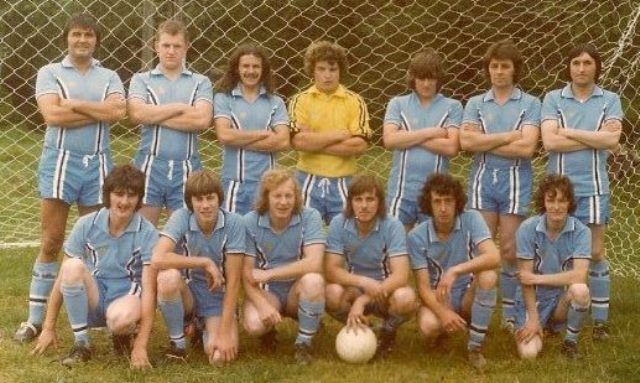 Photo taken at Much Marcle
Back Row - Ken BULLARD, Joe GLADWIN, Paul Bunny SMITH, Chris GUMMER, Paul BLOISE, Ralph TYLER, Roy ELVINS.
Front Row - ... TYLER. Mark HERBERT, Alex SHAKESHEFF, Ronnie DAVIES, Ron DAVIS, Ray SHAKESHEFF
Skittles
1960s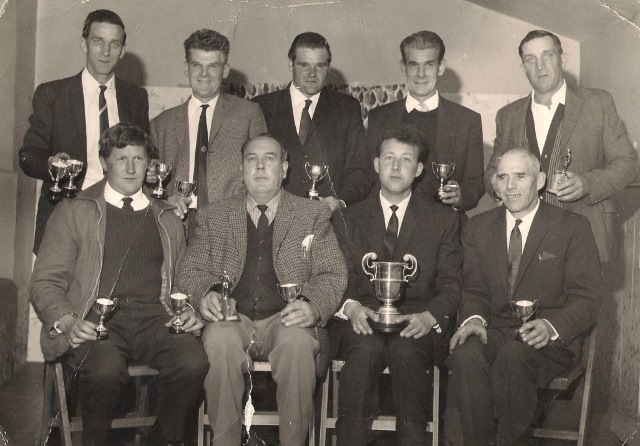 Rovers Skittles Team were based at the Plough in Ledbury
Back Row - Rolly BARNES, Gerald MOWBRAY, Davy 'Crocket' JONES, Reg MOWBRAY, Dennis BARNES
Front Row - Michael HAINES, Stan SLEEMAN, Don SAVERY, Fred ...
Tug of War Team
1960s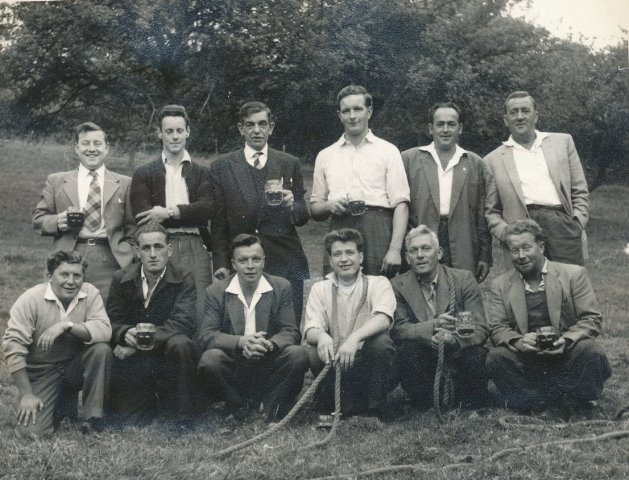 Wellington Heath before the Tug-o-war, White Hart v Farmers Arms
Back row - Albert ROSE, Mike ING, George DREW, Phil GREEN, Lionel FLEETWOOD, Roly LILLEY
Front Row - Mike SMITH ( Percher ), Joe HOLTHAM, Bunny SMITH, Tommy VICARAGE, Bill PREEDY, Harry CARPENTER
---
Weddings
---
Family Announcements Births, Deaths, Marriages
---
Obituaries
---
Sources
1914 Newent Reporter Newspaper - Herefordshire History
1914 - 1919 Ledbury Guardian Newspaper - Herefordshire History
1916 Tilley's Almanack
Photographs are credited to the owners
Comments are from members of the Old Ledbury Facebook Group
Cuttings from Ledbury Reporter newspapers