Farm workers, labourers, servants and some craftsmen would work for their employer from October to October. At the end of the employment they would attend the mop fair dressed in their Sunday best clothes and carrying an item signifying their trade. A servant with no particular skills would carry a mop head. The 'tassle' worn on their lapel was the emblem of the employee's trade and was known as a 'mop' — hence the term "mop fair". Hiring fairs were also known as statute fairs (or statutes) because an Act of Parliament of 1677 endorsed the yearly bonds made between masters and servants at them.
Employers would move amongst them discussing experience and terms, and once agreement was reached the employer would give the employee a small token of money and the employee would remove the item signifying their trade and wear bright ribbons to indicate they had been hired. They would then spend the token amongst the stalls set up at the fair which would be selling food and drink and offering games to play.
Michaelmas Day is celebrated on 29 September but mop fairs were tied to the seasons and the harvest, not the calendar. When the Gregorian calendar was adopted in 1752 and eleven days dropped from that year, events associated with the end of the harvest moved eleven days later to 10 October. This date is known as "Old Michaelmas Day" and since 1752 has been the date mop fairs take place.
---
1902
A pleasure fair is held on the second Tuesday in October
---
View Ledbury Guardian Newspaper Articles for the October Fair during World War One 1914 - 1918
---
Date Unknown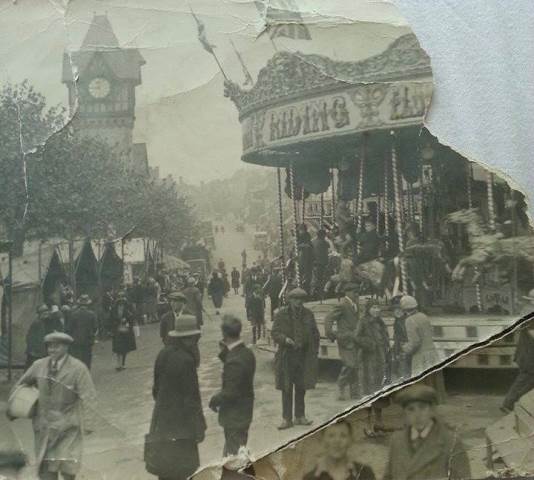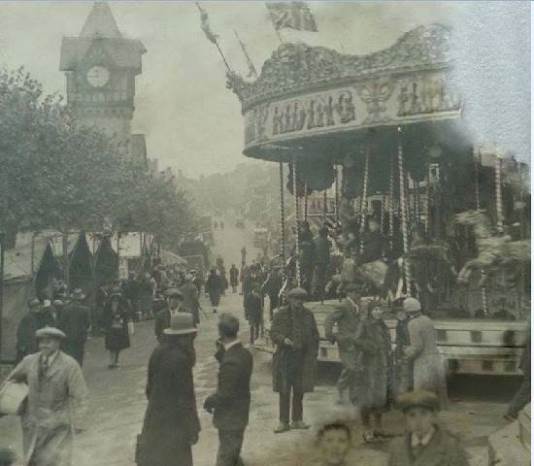 ---
Date Unknown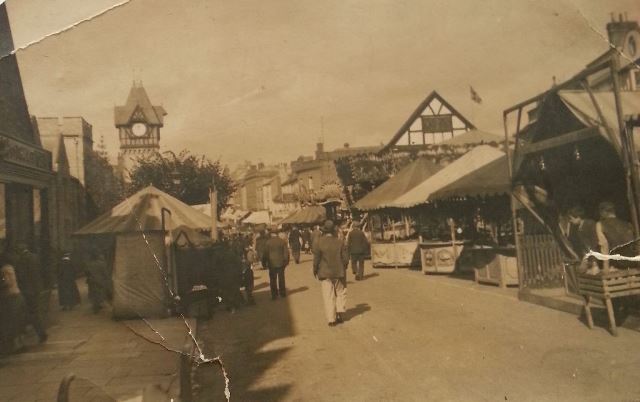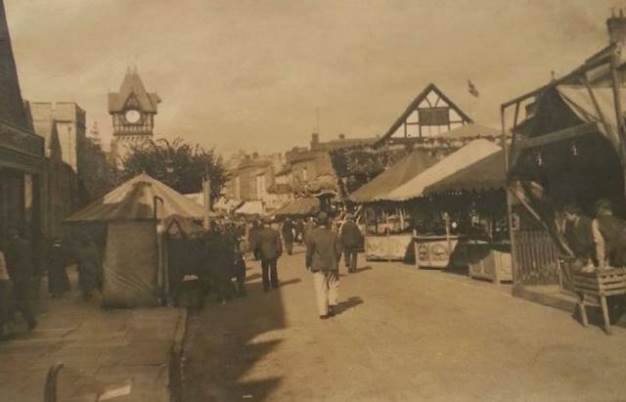 ---
Date Unknown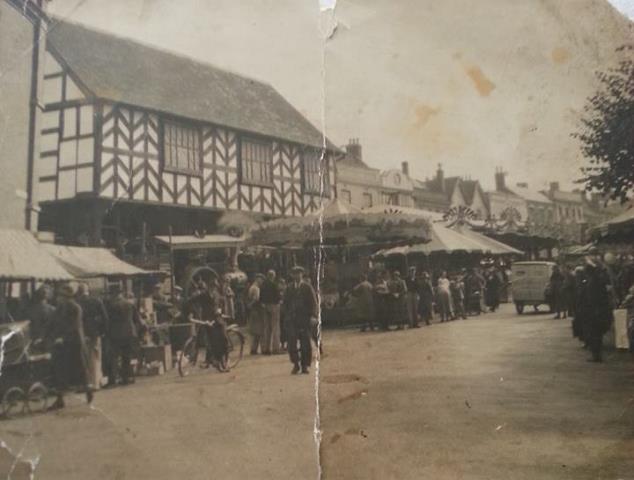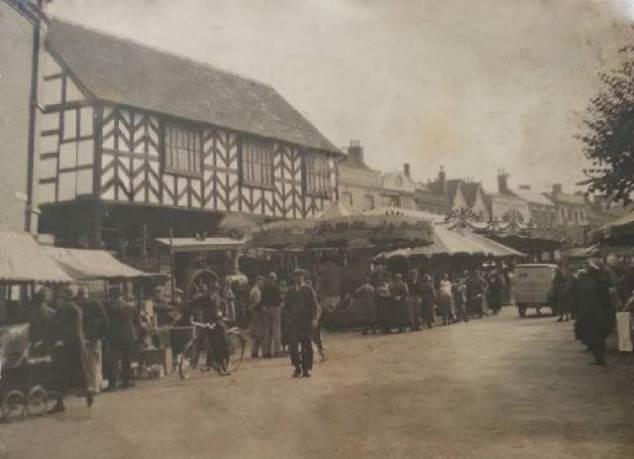 Text for all 3 photos coming soon!!!
---
October Early 1950s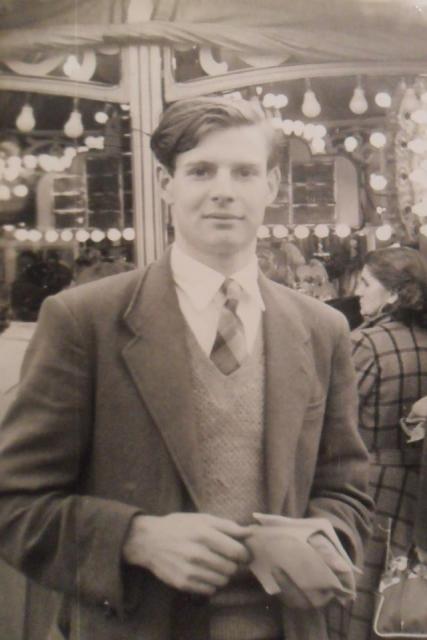 Mr PONTER coming through the fair early 50's fetching a parcel from the Stringworks in Bye Street to take back to the shop on the top cross. The stall behind him looks like the one Alfie used to run.
Remember Alfie, You bought tickets and had to match a Christian and Surname...CP
It had a left and right board which used to revolve the left board had Christian names and the right board Surnames the board used to spin round and as it did the different names used to light up when it came to a stop a Christian name and Surname would be left illuminated if you had the correct name on your ticket you won. Not a stall for kids because all the prizes were crockery / sheets / ornaments etc ...CP
I remember the name, the stall and the huge baskets of crockery but not the format of the game. I remember standing there for what seemed like hours with my mum...CE
There was dolls on there too china ones I have one still that my grandad got for me she is 59 yrs old now lives in a box under the bed beacuse my children allways said she looked like that doll from the film chucky...VB
My mum and aunties Dot and Peg knew the fair people well, Alfie used to send Christmas cards every year. My aunty Dot was ill one year and could not go to the fair and Alfie asked my sister Wendy to take him to her place, she lived on Deer Park then, half way down he said his legs were aching, our Wend said we have'nt gone far, he said yes but mine are only little, he was great ...PP
Alfie was a dwarf he ran the stall I described above. His stall was usually sited outside the Seven Stars...CP
Dad has 2 sets of crockery from there so my sis and I had one each and I've still got a few plates and bowls from my set...ED
Was there another person called Manny as well? I know that one of the fair men used to stay with us at fair time but I don't think it was Alfie tho' we knew him well...FP
Alfie was lovely, when dad worked temporary for gulf oils we had to take diesel to gloucester. The fair was overwintering there and Alfie came out to see us when we arrived. He was a great man really part of Ledbury fair. I loved the fair then. The stall selling china, mum always bought a new service from there every year. The lino stall, the peacock remember that?, hook a duck, waltzers, dodgems, candy floss, darts, it was wonderful then so bright and somewhere everyone got together every year...LJ
---
October 1965
All the fun of the fair filled Ledbury streets on Monday and Tuesday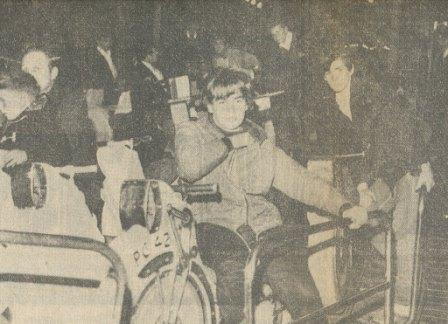 It was October Fair time again, but, judging by their expression having fun can be such a serious business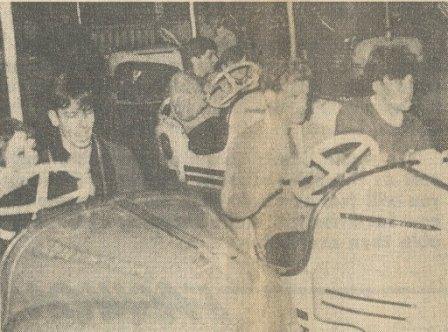 Oh those bikes, loved that ride...ED
Speedway...ED
Was it called the Noahs Ark...HCB
Yes noahs ark, when you got brave you would stand up back leaning against the bar...CP
Don't think kids this age woud go on such a tame ride these days!...CE
That was the fastest I think then they brought the walzers in...CP
Loved the Waltzers - don't think I could stomach them now though!...CE
They had those chairs in chains that swung - WAY OUT, my mum wouldnt let me go on them..SD.
Oh yeah Carole if you could stand by the bar you were known as really cool lol...HCB
Yes the ride was called speedway...PH
Just found this pic, remember those bikes at the fair, loved them, does the fair still come to Ledbury in Oct?...BB
Yes it's still here every year Bridget one of the things that is still here lol...CP
Thanks Chris, loved the fair, remember getting so excited watching them set it up and then so disappointed when it went!...BB
Remember Dad taking me on the octupus.... I was petrified!!...BB
The Octopus was always down Bye street if I remember, and the Waltzers by the market house and the guy used to shout ' scream if you wanna go faster' and they would slap the back of the waltzer and frighten us !! They just used to laugh!!...JVM
Gosh, remember that Jo.I loved the fair , highlight of the year!!...BB
Yes those were the days, we had the 3 main rides The Octopus, The Waltzers and The Bumper Cars. Couldn't do it now, we had no fear in those days!!!!...JVM
I loved hook a duck and roll a penny, you always won a prize with the hook a duck!!!...BB
Usually it was a goldfish that you won on hook a duck. I remember the china stall where parents used to buy a basket of china!! Of course there was the Helter Skelter. Then the food stalls, this was the only time you could buy a Toffee Apple or a Candy Floss or a big bar of pink and white nougat !!!!..JVM
Don't forget Alfie...CP
Don't remember the helter skelter, remember winning afew goldfish!! Whose Alifie?..BB
Just read previous comment naming this ride as Noahs Ark, which sounds familiar to me, I seem to remember long seats as well as the motor bikes?...
The motorbikes were speedway and noah's ark were the animals...ED
Never liked fairground rides, Yes I'm a scaredy cat...BEM
Loved the noah's ark, used to stand up for the ride thought i was clever ha...DE
I loved the Noah's ark too...DA
I remember Alfies stall you bought a draw ticket, I won a tea set I used for ages music bow plus an enormous teddy David loved it it was bigger than him at the time wait until he reads this it will be aw mum..JG
I remember Alfie and the crockery stall and I loved the penny amusement arcade it was awesome. I went on the waltzers only once and mum came home from work and said to my brother where's Deb and she came upstairs to find me collapsed on my bed with the whirling pits the room was going round and round and i never went on the chuffing things again...lol...DW
We used to have competitions to see who could eat and go on the waltzers the most times- 15p a go!!! robbing sods lol..SD
David GOUGH won me a goldfish from the fair, he handed it over under the clock tower, it lived for ages...JR
Wanted to come down to Ledbury today and tomorrow for the annual fair which I first went to as a 4 year old...ish. I am now too busy to make it, so it looks like a 3 nighter stay to make up for it next October. Love that fair...RM
..
---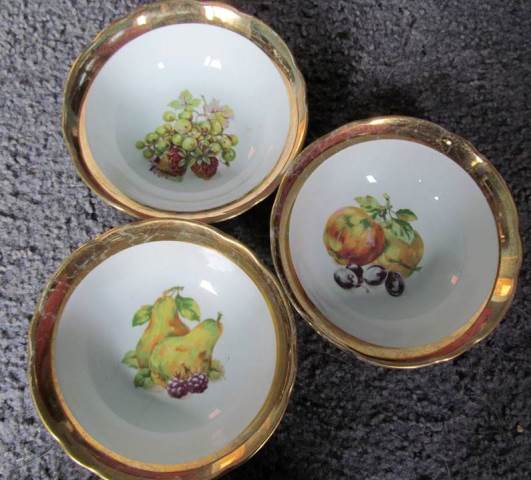 Found this today three of six probably. On the back made in czechoslovakia, prize winner on Alfies stall, late seventies anybody else got anything similar still surviving?...SWG
I got a single blue blanket!! prize winner...LB
I won a mustard and brown stripe coffee set. Hideous! Real 70's look. Dad still has it in the cabinet...SS
Alan has got half a tea set (6 cups saucers and plates) bone china, I think it is around 50 years old, think his mam won it...LS
Yes I have a doll my grandad won for me when I was 2yrs old. Still has moving eyes plus head turns when you hold her hand to walk, but she no longer says mamma. My girls hate her and call it the chucky doll, oh and she is now 61yrs of age ..VB
..
Sources
1902 Jakeman and Carver's Directory and Gazatteer of Herefordshire
1916 Tilley's Almanack
1958 Tilley's Almanack
Photographs are credited to the owners
Comments are from members of the Old Ledbury Facebook Group
Cuttings from Ledbury Reporter Newspapers