BALDWIN Family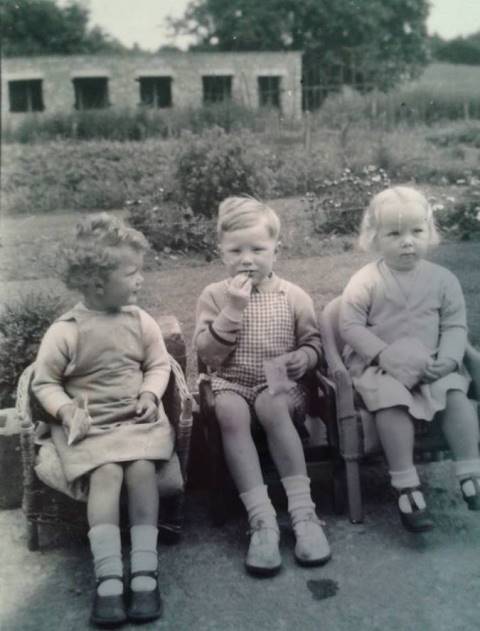 Snack time at the Camp
Lynne BALDWIN, Paul SMITH, Caryl SHAKESHEFF
Mum says they used to cut bags of crisps in half for us to share...LL

Fantastic...PBS

Bick...PH

Certainly is...LL

Lovely...JB

That is lovely...BH

Why was he called Bick?..PW

Was it because his hair was ginger and he was known as ginger biscuit - bick?...BH

Yes...PH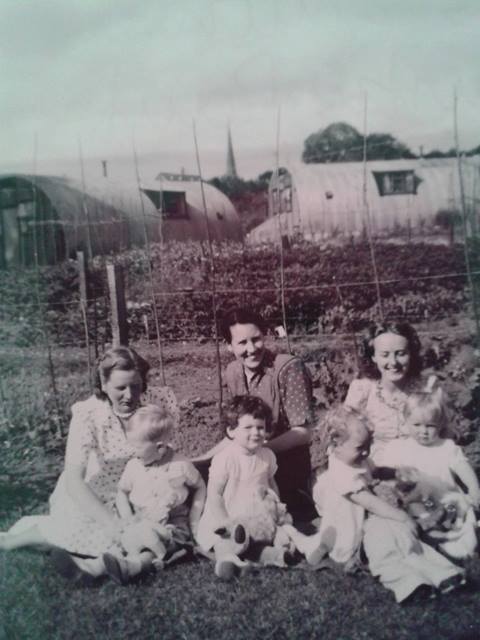 Cis SMITH with Paul, Hilda PARTRIDGEe with Jane, Eileen SHAKESHEFF with Caryl
Did the lady Hilda PARTRIDGE go on to run the brewery inn in bye street...AE

I spent the first few years of my life living in the camp, but was too young to remember it. So interesting to see what these huts looked like. Thankyou...KW

Hilda PARTRIDGE was the daughter of Ella JAMES who ran The Brewery for years - not sure if Hilda went on to run it. Hilda had a lovely sister called Bunty. Think there was a garden at the back of The Brewery with a little wendy house Jane and I played in...LL

Hilda is related to me by marriage she married one of my grandads relations. She did run the Brewery on her own in her own unique style...CP

Thankyou Lynne the "JAMES" are/were part of my family I do not have any photos of Hilda so its lovely to see I have also put some photos of the JAMES family on here thanks once again...AE

Hilda is/was also related to me on my mums side her dad was my Greatgrand mothers brother and her mother was a sister in law on my dads side perhaps we are related in some way...AE

Lovely pic...PBS

Hilda was a character. I remember going in the brewery when she was running it I went in the little room on the left it was 2 separate rooms back then. I ordered my pint and went and stood by the open fire it was a cold night and there was nobody else in there. She came back behind the bar and said "don't hog the fire everybody else wants a warm too" You didn't mess with Hilda !!!...CP

Sound like a lot of the women are like that in the family (like my hubby says the men who marry into the family have to like strong mind women) may I ask how you are related Angus JAMES was my great grandmother...AE

Hilda married my grandads cousin his name escapes me at the moment..CP

Hildas husband was Tom PARTRIDGE...LL

Lovely photos Lynne and to see the camp...BH

Wouldn't have known Cis SMITH. Aren't these ladies very smart. I never knew 'The Camp' and am very interested to see it. Did each family have the whole hut or was it divided into two...JB

I never saw them either, only pictures & stories I've heard, but these photos are so lovely to see, real Ledbury history, thanks Lynne...CP

We had our own hut. I can remember the exact layout even though I was 6 when my parents were given the first brand new council house at Mabel Furlong ...(sylvia)

(Sylv) draw a rough sketch..CP

Cis was Ron SMITH the builders wife and son Paul married one of the FLEETWOOD girls. X...MH

Everybody had there own hut no sharing, my sister May and her husband Jim lived in one of these, they used to say they didn't have a lot but they were all happy and got on with everyone...JJ

I remember May and Jim living there. They were on the other side of the road from our hut. Bunny and Joan SMITH lived behind us, Derek and Sylvia TAYLOR also lived near us and across the road, on the corner were, I think, the BADHAMSs. There was a HUGE water tank across the road a well...(sylvia)

Yes Sylvia, May and Jim moved from the huts to 65 Queensway, I don't remember what year...JJ

I was born in one of the huts!!!!...HCB

My family moved from Ants Nest Church street to 9 Queensway 1950, so could be same year...LM

Well Helen I would say you have something to be proud of, not many can say that...JJ

Cis and Ron SMITH my grandma and grampy lovely photo xxx Sallyann Smith's daughter ...HG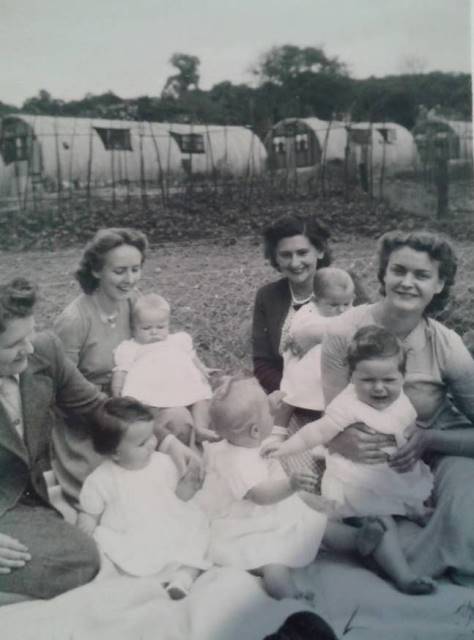 Ladies - ... PHILLIPS, Eileen SHAKESHEFF, Marie ROGERS, Betty BALDWIN, Babies - Pauline PHILLIPS, Caryl SHAKESHEFF, Lynne BALDWIN, Carolyn ROGERS, Jane PARTRIDGE
Mum says they were very happy days...LL

Cracking pic...PBS

Lovely photo your mum never changed Lynne...CP

Lovely pics of the camp Lynne thanks for sharing them...CP

She is amazing Carole - 89 on 10 Feb ! Very able, fiesty as ever and really enjoys living in St Katherines...LL

Didn't know she lived in st katherines, remember you, well I think it was you, presenting a bouquet to the queen when she visited Ledbury...CP

Lovely seeing Pauline PHILLIPS on here will tell her next time I see her, & to see the old huts down mabels furlong, such a lovely photo...CP

Yes that was me don't remember much about it other than some of the flowers were exactly same colour as her outfit ! Got photo somewhere will dig it out. It was the Queen Mother...LL

I think our parents got it right they could make the best of any situation ,mum came from the west midlands they had a house with all mod con's ,yet she married dad who had a farm cottage with no electric out door loo etc,and loved it...KC

We lived here, first home for mum and dad...DE


---
GWYNNE Family
1954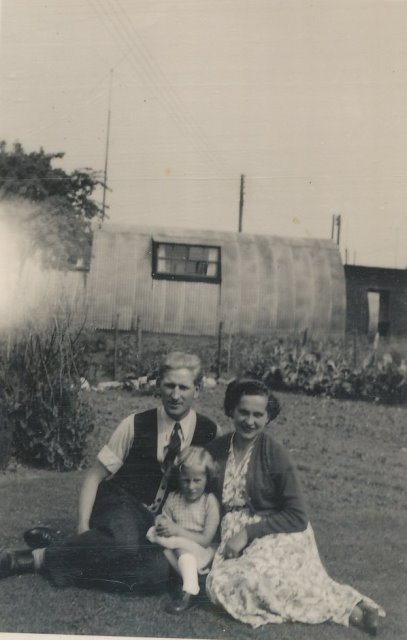 ...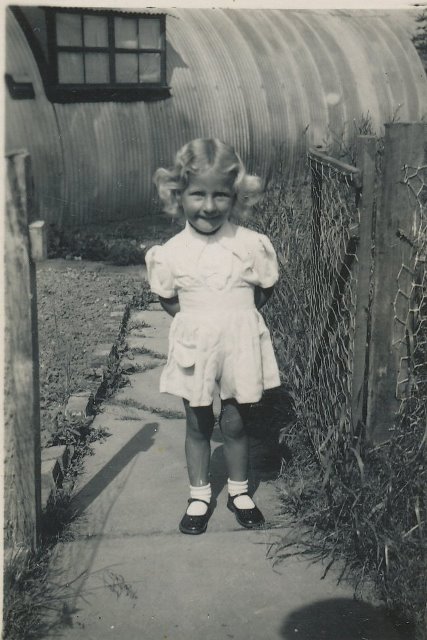 ...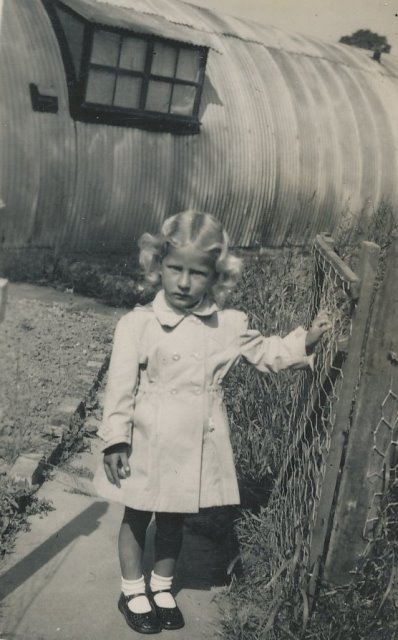 ...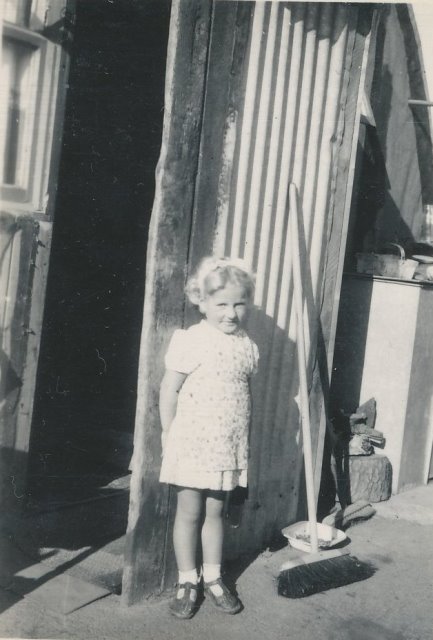 ...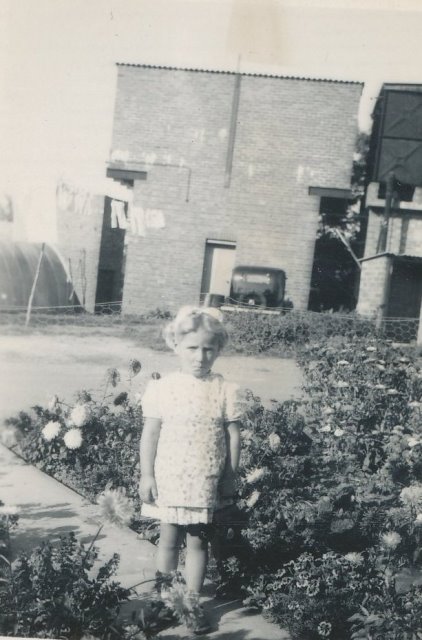 Anyone remember what the building in the background was! I am not sure but some foggy memory says it might have been some sort of council depot! Very foggy mind you lol! (sylv)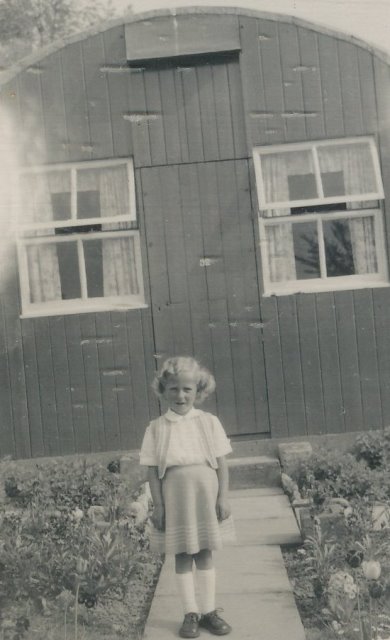 That was the front door which, strangely, opened straight into the main bedroom! (sylv)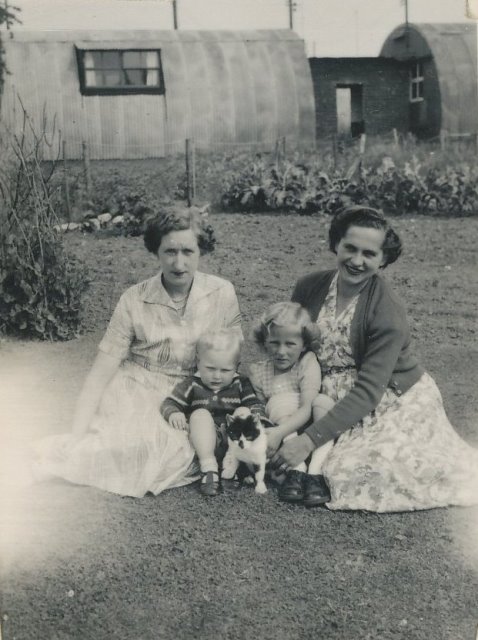 Me, My mum, Antie Peg & her son Kenny Gwynne, who a lot of lads will remember from his days playing football for teams in and around Ledbury (sylv)
Kenny was a high quality player and perfect combination with Mervyn Carless in the Woodsend Wanderers midfield !...BC

Mr Manns says to quote ' they didnt like you to get stuck into them though' unquote !!!!! and we all know he got stuck into more than most haha!! pysco!!! (sylv)

They were "protected" a bit by Geoff HARRINGTON...BC

Yes he was a rough defender...PM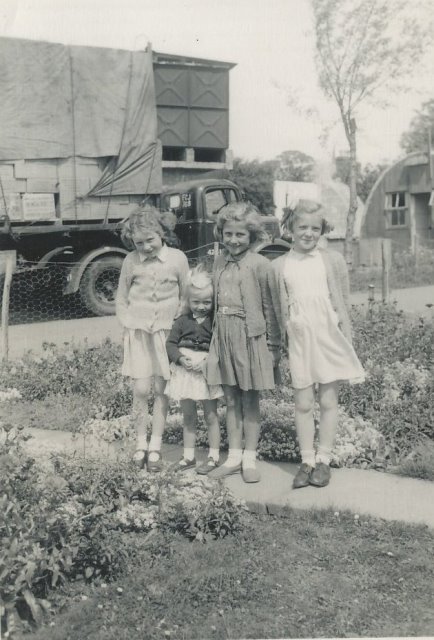 My dads lorry in the background (sylv)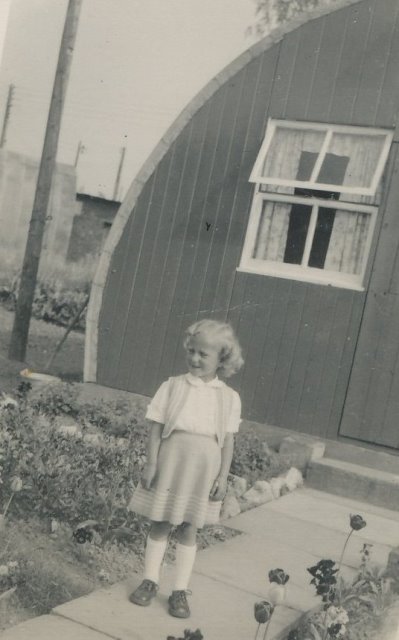 ...
That's a good view of a hut & lovely pic of you to Sylv x...CP

Were the camps down Mables Furlong...MS

Yes Miranda, where the John Masefield School is now...PM

I lived there before moving to Queensway then, about 1949/50, great to see photographs as I haven't ever seen the camp before...MS

Dolly BAKER used to talk about the camp to me never saw any photos until this site put them up, her tales sound so funny even now, everyone looks so happy in all the photos,...VB

I remember 1958 working on the new school and the huts were being dismantled I was amazed at how homely the people who lived there had made them...TR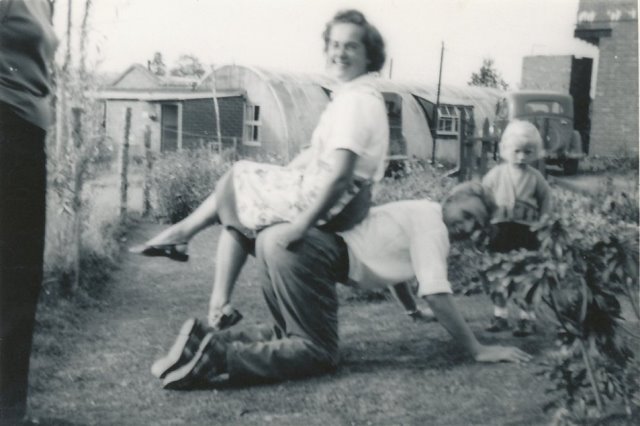 Ursula, Alan and Carol GWYNNE
Look at that car...JB

I think the hut in the background could have been where The Badham family lived? ...(sylv)

How many huts were there on the camp?...JVM

Dont know sorry. I believe ours was No.52. It was Camp 27 when it was a prisoner of war camp before being turned into council housing...(sylv)

My parents lived in one and apparently, I was born there...BM

Me to Bri, I often wonder if I got my love of the sound of rain beating down, from when I was in the old tin huts ????...HCB

I think my grandparents Sonny & Christine Mills lived there? ?...AS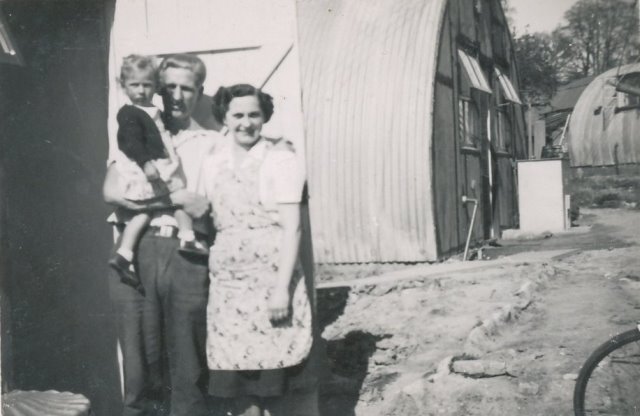 ...
Lovely view of the huts...CP

This is wonderful for me to see 'The camp' only ever heard about it never saw it....JB

Same here never saw them, kept so neat, gardens are all planted , looked like a fun place to live...CP

I think so, bet they were really cosy but wonder what it was like when it rained. Sylv were they divided into rooms or a big space...JB

Huts a lot bigger than I thought they would be, lovely photo ....RS

Proper rooms, kitchen lounge , bathroom and 2 bedrooms ...(sylv)

Grandad didn't change much...AM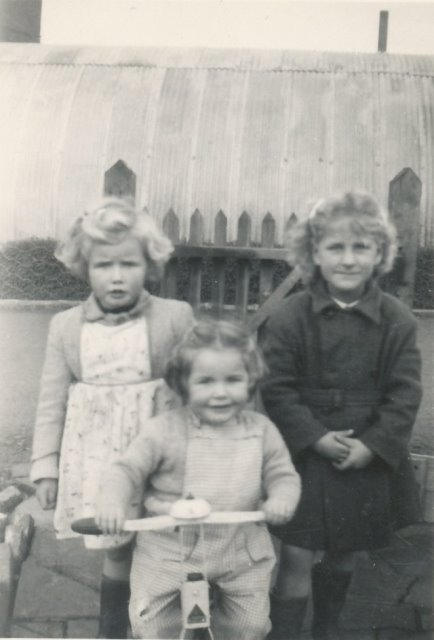 Sylvia GWYNNE, Ann MOBBS and her sister Janice MOBBS
Ann now lives in Alfrick and her sister Janice in Bournemouth area...HJ

I love this picture and lovely hair Sylv...SN

Ha ha Sheila, I have spent my whole life trying to get rid of those curls! ...(sylv)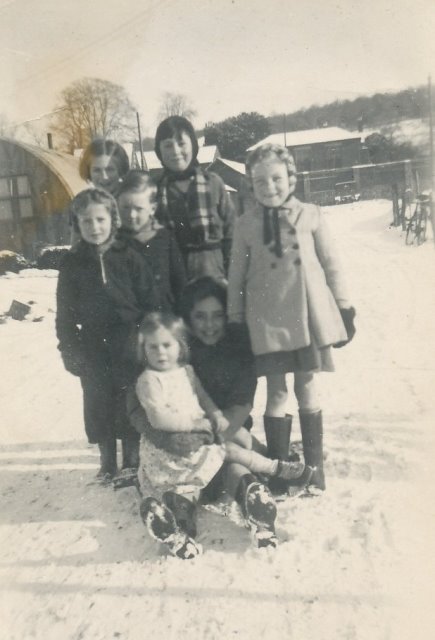 Patrick MITTON, Shirley BADHAM, Pam BADHAM, Peter BLEI, Sylvia GWYNNE
In white coat did you say that was Shirley BADHAM, and the little one on someones lap was that Pam BADHAM, lovely photo Sylv x...CP

Patrick MITTON, 2 BADHAM sisters, One of the BLEI brothers, me and I cant remember the other 2...SMG

In the background you can see Gloucester House am I right?...BH

Is that the house that has the Toll House on the corner of Mabel Furlong?...JVE

No tights for the girls in those days...!PW

Lovely picture x...TG

That would have been Peter Blei Sylv...HCB

Sorry it is not Gloucester House that is still standing. The House in the photo was where the New Houses are as you turn in Mabels Furlong on the left what was the name of that house?...BH

Thats my mum and aunty shirley its like looking back at photos of myself xx...TG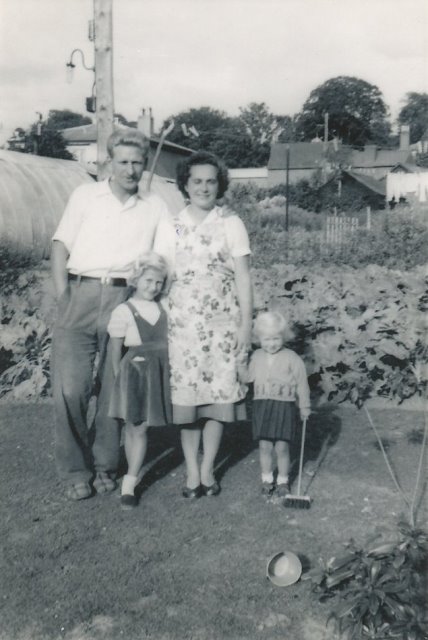 ...
Fantastic photo - am loving Alan's slippers and Carol with that broom x..SN

Ha ha what about the Pinny! No self respecting housewife would be without a pinny back in the day!! (sylv)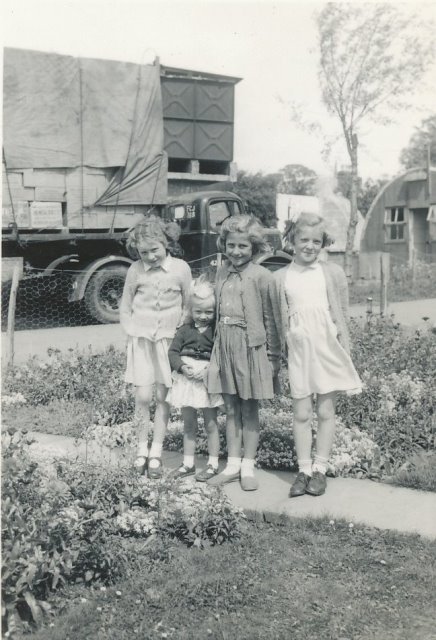 Me, my sister, cousin Kathleen but I cant remember who the other girl is! (sylv)
---
PEVERAL Family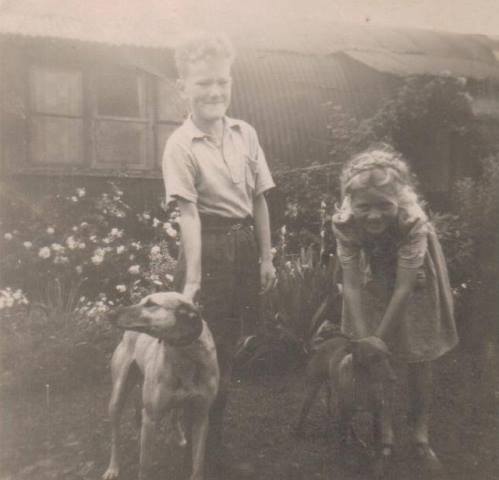 John and Maureen with their dogs

Lovely photo xx...HCB

Lovely photo of John & Maureen, where are they living now.?...JM

Wow ive never seen that one before x...TM

Omg its my amazing and always missed grandad xx...KMD

Aunty Maureen is in Ledbury and we lost grandad in 2006 x...KMD


---
SMITH Family
1958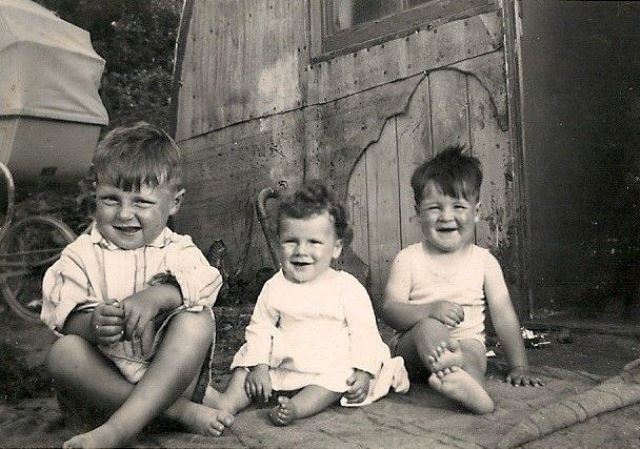 Mark, Paul and Andrew SMITH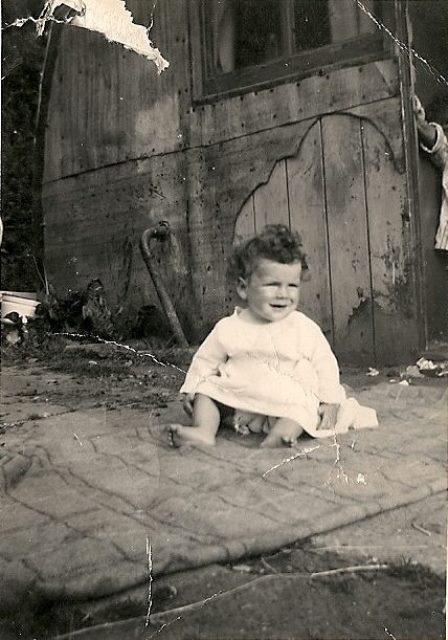 Paul SMITH
What a fantastic photo ...SJ

Great picture this Cant get over how much Ollie looks like Dad!!...LS

Lovely photo...CP


I lived in one of these huts too for a short while and can still remember them. The Family then moved to Lower Rd...GH

Dolly BAKER told me about living there but have never saw a photo until now,such happy looking children, dolly used to talk about living there a lot...VB


At a guess i'd say Mark,Paul, Andy. You havn't changed...BH


brilliant photos...SM

Great memories xx..HCB

I remember that house. I lived in the one in front of your parents. By the way this is Sylvia (Gwynne). I remember Robert MARSH used to live on the other side of the road and The TAYLORs (Steven, Christine etc) used to live close by as well...(Sylv)


I used to live there as well, then moved on to Orchard Lane and then to Masefield Close...JC


I also lived there opposite Tony BOUCHERs family, not far from the cinema and then moved to Queens Way...AS


---
TAYLOR Family
1952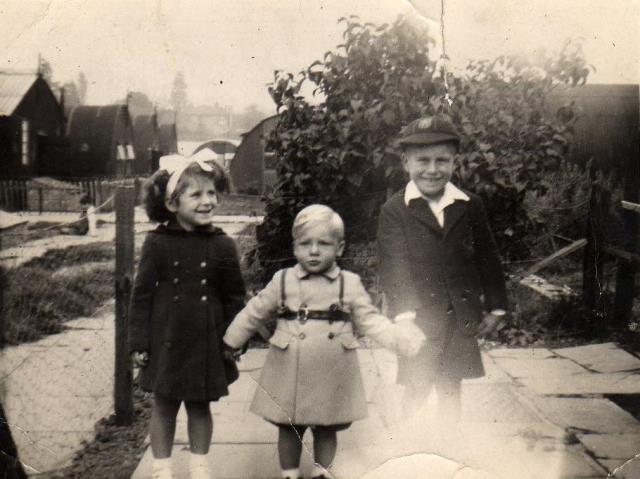 unknown, John TAYLOR, unknown

Andrew Thank You - lovely photo, I wonder who the other two children are? Oh and the young lad in the background on the left?...JM

I wonder what it was like living there, saying huts makes it sound like the accomodation was quite basic, but thats just my interpretation. Where did these people come from dad spoke about the italians here a lot...LJ

Lovely photo can see the huts quite clearly on here...CP

Apparently, I was born in one of these huts when mum and dad lived there until moving to Margaret road...BM

There were Italians and Germans interned there for the duration. Some of them stayed on in Ledbury after the war and settled down really well...BM

Such happy children a lovely family photo...VB

Lovely photo I don't remember 'the huts so its good to see them...JB

Yes love to know who the other 2 are...CP

I (Sylvia) also lived in the huts until I was 6. The SMITH family were behind us. TAYLOR family were 2 huts away and the MARSH family were across the road. Even though I was 6 when we moved up to Mabels Furlong, I can remember the exact layout of the hut!...(Sylv)

I belive my husbands uncle Ozz and auntie Dolly BAKER lived there too until moving to oatleys Terrace she used to talk about the huts at mables furlong...VB

Great picture...CP


---
Layout of the inside of the huts
To enter the hut that I lived you went through the front door and immediately on the left was the toilet, turn right and a small passage led you into a big open plan living room. In the middle at the far end was the fire place (coal for those of you who can remember) on the left up against the window was a sink and a cooker (now called a kitchen) either side of the fire place were the bedrooms.
When it was a prisoner of war camp me uncle was living there as a prisoner of war.
Besides the water tower it also had a cinema.
Families that I can remember living there were the BOUCHERS, BLYS, Peggy and Lionel HILL (aunt and uncle also lived there).
As for the water tower that was still there when the school first opened over on the right hand side as you look at the playing fields from the school and was knocked down during the first year of the school. I have now gone a full circle and live at the top end of Oakland drive with my garden backing on to the playing fields...Alan SHAKESHEFF

In ours, you come up the garden path, up a couple of steps into what was the main bedroom. From there into the lounge. On the left of the lounge was the long narrow second bedroom with a couple of narrow windows set high in the wall. Through the lounge towards the back of the hut was a narrow hall. On the left of this was a small kitchen. To the right were two small rooms which I am not sure about but probably a toilet and bathroom or even toilet and bath in one room and a storage cupboard. The hallway then led out into the back yard where Ithink there was a shed? Yes, i remember The BLIEs and I think The SMITHS (Pam & husband), Wyn & Mary CHERRY...Syvia MANNS ( Gwynne )


---

1957 - 4th March - At Ledbury Urban Council meeting it was announced that the ministry of Housing and Local Government had approved and authorised the Council's acceptance of a tender of £26,400 0s. 0d. to build 12 houses and eight flats at the Mabel's Furlong site.

---
Sources
1958 Tilleys Almanack
Photographs are credited to the owners
Comments are from members of the Old Ledbury Facebook Group
Cuttings from Ledbury Reporter Newspapers