All Newspaper Cuttings have been taken from old Ledbury Reporter newspapers, photos are credited to the owners and comments are from members of old ledbury group on Facebook
Thank You to Judy BAKER ( Rose ) who has shared her lovely photos and memories with the group
Nags Head Yard was a row of 4 houses Nos 243, 241, 239, 237 side on to the road. They were situated between Cruck House and the Boys / Infants School in The Homend
1950s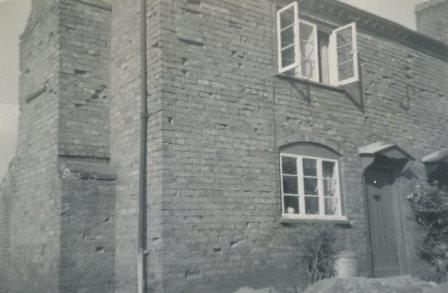 243 The Homend - This is the first of a small row of houses
My Mum and Dad rented this house off Eric WILLIAMS the magician for the grand sum of 2 / 6 a week
My Mum worked with Eric at Masefields solicitors. He kept the rent so low my Dad went and told him to put it up.
There was a hall, sitting room and very small kitchen. A landing bedroom and a larger bedroom. No toilet or bathroom.
In the kitchen there was just a cold water tap. We had a bath, in a tin bath in front of the coal fire after Mum heated up the water in the boiler and ladled it out into the bath.
I can remember the toilets for all the houses were at the top of the garden.
We had our dustbin stolen from the side of the toilet block and it was full.!
...
1957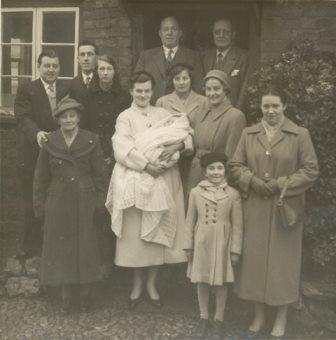 Judy's Christening - Photo taken by Jim SMITH
Back Row - Albert ROSE, Ron TAYLOR, Doris STEPHENS, Fred JACKSON, Frank ROSE
Front Row - Nell ROSE, Alison ROSE holding Judith, Gwendoline TAYLOR, Ivy JACKSON, Rosemary JACKSON, girl in front Pauline TAYLOR
1958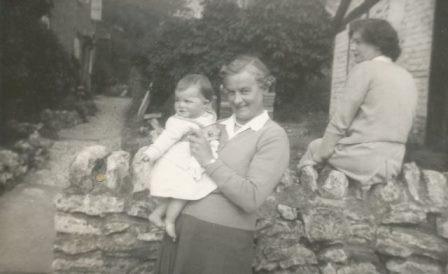 June - Cruck House on the right - Judy, Grandmother Mrs JACKSON and Mrs LOAD
Mum said this was when the Queen Mother came to Ledbury we were waiting for her. She was probably coming from the railway station.
Our neighbours were Mr and Mrs LOAD with their two daughters Rosemary and Janet both older than me.
Then Pam and Mike ING with their children, and the last house an old lady Mrs LUCAS.
When they moved out Mr LOAD bought the other houses and we girls used one for a play house. They had dirt floors and were very dark. We used to put on plays there.
...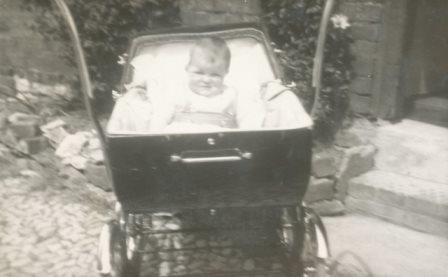 June - Judith in her Grey Silver Cross Pram from Denslows !!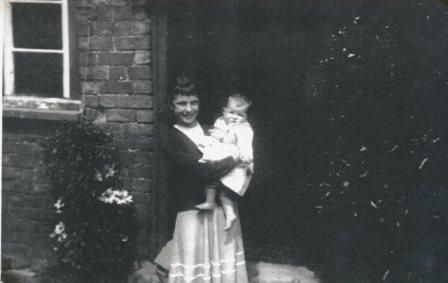 Sally PREEDY with Judy in her arms
1961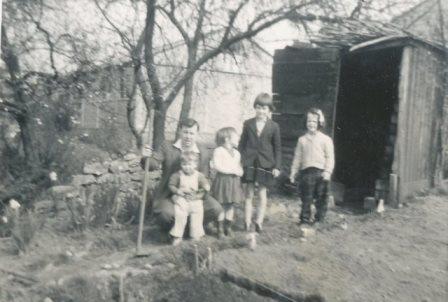 Top of the garden over looking Infants School playground, Albert, Steve and Judy ROSE, Rosemary and Janet LOAD
My Dad had a shed up the garden where he kept the wood for the fire and I can see him now chopping the kindling I don't know how he missed his fingers.
We grew veg and the neighbour had gooseberry bushes.
...
1962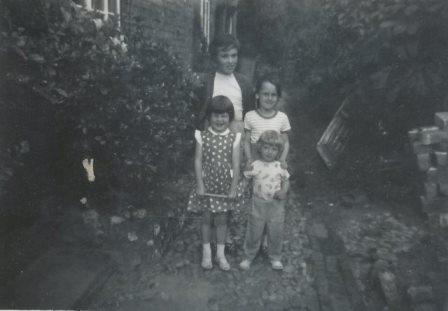 Back Gillian PERRY, Janet LOAD, Front Judy ROSE, Wendy WATKINS
We played all together in Nags Head Yard and were all great neighbours.
I can remember sitting on the pavement kerb playing with toys as there was so little traffic. Cowans was opposite and I watched the staff come and go to work.
...
196.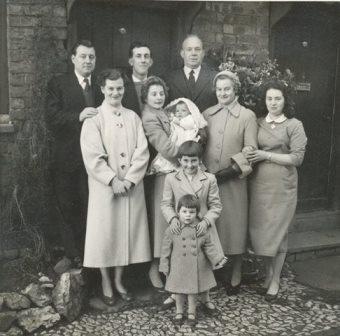 Steve's Christening - Back - Albert ROSE, Ron TAYLOR, Fred JACKSON
Middle - Alison ROSE, Gwen TAYLOR, Steve ROSE, Ivy JACKSON, Rosemary JACKSON, Front - Pauline TAYLOR, Judy ROSE
1964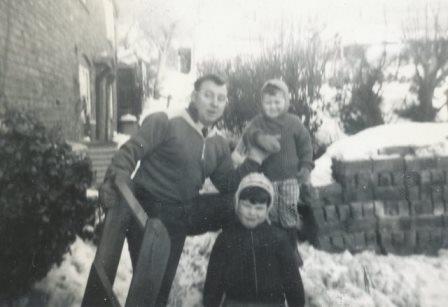 Getting ready for the Dog Hill Wood - Albert ROSE, Judy and Steve
Loved living in The Homend it was so close to the Rec' and the woods where we went a lot.
Also next door to The Infants School so I could go home for lunch.
...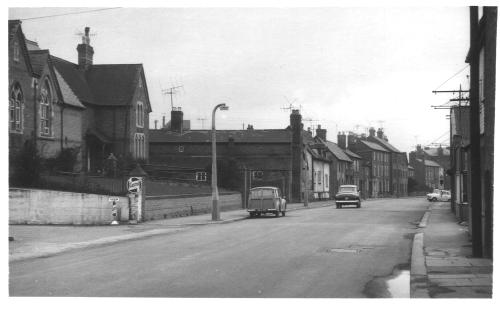 Nags Head Yard visible down past the school on the left.
Photo D J NORTON Collection
1993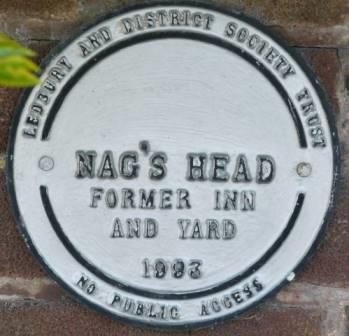 Sign erected by Ledbury District Society Trust showing Nags Head Inn and Yard
Photo Robert BARNES Collection RB12