1894 August 14 - Marriage to Tryphosa CARPENTER at the Iron Church, New Street, Ledbury
1911 December 8 - Church Belfry Perseverance Crowned With Success
Hereford Diocesan Guild 5040 changes. In this tower was rung Groves Variation of Parker's twelve part Peal of Grandsire Triples, on Thursday December 8th 1910, in 3 hours and 8 minutes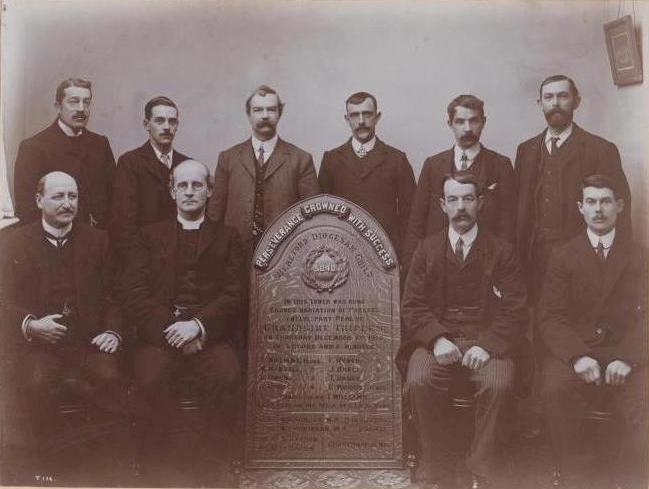 ( Brenda HILL ( Davis ) Collection )
Top Row - G MORRIS, W MANSELL, T WILLIAMS, D OWEN, J DANCE, Thomas DAVIS
Front Row - W P BARRY, ( Churchwarden ), Rev F W CARNEGY ( Rector ), T DANCE, F HYNER
( 2016)
Jo Edge - Brenda Hill Thank you for posting this lovely photo, still working through the DAVIS Family Tree info you gave me!!!!

Lynne Robinson - Thanks for sharing this wonderful photo

Carole Phillips - lovely photo mate keep them coming xx

Jenny Lawrence - I've got this one at home. T Dance is my great grandfather and J Dance my great great uncle. The board is still on the wall in the ringing chamber. My great grandfather was a carpenter and I often wonder if he made the board.

Jo Edge - My mum Audrey is always telling me the story of when she was a child her dad used to take them to the church, he used to ring the bells, then he would take the kids for a walk up to the conigree wood, then back to ring the bells again.

Jenny Lawrence - Hereford Diocesan Guild 5040 changes, In this tower was rung Groves Variation of Parker's twelve part Peal of Grandsire Triples, on Thursday December 8th 1910, in 3 hours and 8 minutes. Then the list of names, Conducted by T Williams, First on the bells by a local band. Rev Carnegy Rector, Curate , Bastow and Barry Churchwardens. Can't quite make out the last 2 names, I will look when I go up the tower next, they may be local ancestors. A full peal is over 5040 different changes of the bells, rung in rows of 8 without any rows being the same. The conductor has the job of calling the method and making sure everyone is right, no mean feat! Parker's Twelve Part variation of Grandsire Triples is the name of the method (music) It is a long tradition to put up peal boards in towers, but this one is quite grand for this area. The fact that it was rung by locals is quite an achievement. When I go up next time I will photo the other board which has a lot of local names on it.

Jenny Lawrence - What was your grandad's name Jo

Jo Edge - Denzil DAVIS son of Thomas DAVIS who is in this picture!

Brenda Hill - My dad George Davis brother to Denzil and Jim Davis were also bellringers at Ledbury a family affair.

Brenda Hill - Your Great-Grandad Thomas Davis also had a son Thomas Giles who was Jane Limbs Grandad or it could have been Giles Thomas

1914 October 22 - National Reservists leaving New Street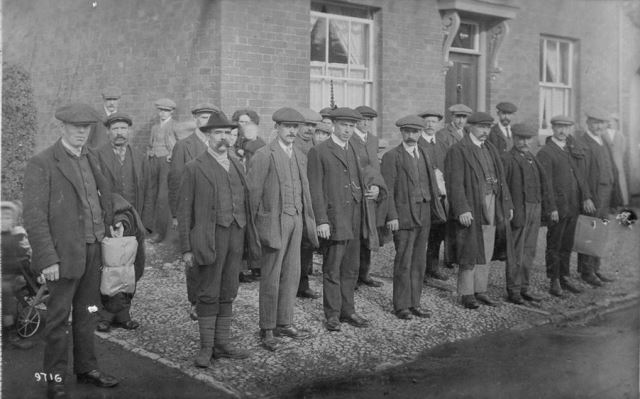 Thomas back row far right with the beard.
Departure of National Reservists - Ledbury Guardian Newspaper 24 10 1914
Upwards of 20 men belonging to the National Reserve left Ledbury on Thursday morning in response to their country's call. They were played to the station by the band attached to "C" Company, 1st Herefordshire Regiment, and their appearance was very creditable to the town. Their departure to Hereford was witnessed by Rev. F.W. CARNEGY, Rev. F.C. LYNCH, Mr. W.A.H. MARTIN, Mr. T.S.S. GARDNER, Mr. R. LAWRENCE and others. Before they left the town two boxes of cigarettes were presented to them by Mr. C. H. BASTOW, and the men immensely appreciated the gift. The names of the men are as follows - Messers H.J. POWELL, G. CHANDLER, T. BROOKES, H. BAYNHAM, W. OWENS, H. CALE, T. DAVIES (DAVIS ), S. JONES - THOMAS, R. HODGETTS, T. WILLIAMS, W. WALKER, F. SMITH, J. JONES, W. MANSELL, G. BAYLISS. The last named was in charge. The men were given a hearty send off.

1916 - Church Street Fire Station
Under the supervision of the Ledbury Urban District Council, Mr E H HOPKINS, Engineer, Mr W LEWIS, Sub Engineers, Messrs T CHADD and W PITT, Firemen - Messrs J CHADD, E DAVIS, E GURNEY, J JESSETT and T DAVIS, For day service notice to be given to the Chief officer at the Royal Oak Hotel, Fire Alarm pillars are situated in High Street, The Knapp, Homend Street, and Albert Road, Newtown connecting the members of the Brigade with electric bells, There is a Steamer, also two manuals, and Hose Cart.
Date Unknown - Paddock / Dog Hill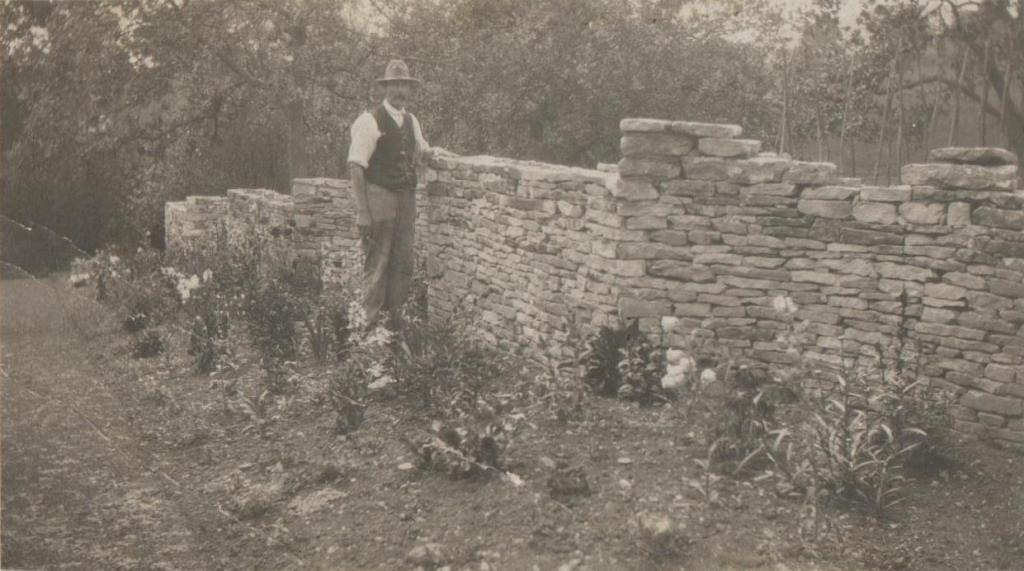 ( Brenda HILL ( Davis ) Collection )
( 2013 February )
Jenny Lawrence - That is a brilliant photo, not related myself, but what a lovely thing to have

Sam Jones - Wow!

Jessie Gough - yes i agree they must be so proud

Beryl Smith - beautiful picture and knowing your great grand dad built it how proud you must be x Jo, Denise and Raymond x

Jo Edge - Brenda Hill Dusty was telling me this evening that Great Grandad whilst working for Hills helped build the Clock Tower.


1920s - Rifle Club, Drill Hall, New Street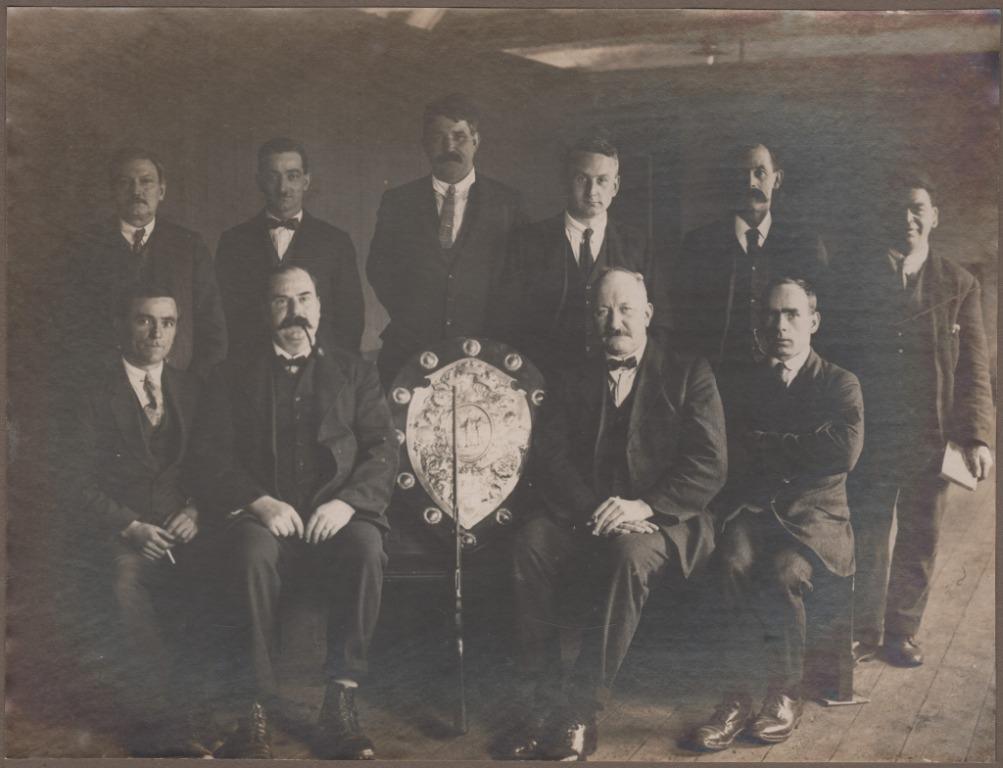 ( Jo EDGE Collection )
Back Row - ... SHAKESHEFF, Ted HOLLINS ( Landlord of the Fox ), Jack VICARAGE, ...MORGAN, Thomas DAVIS, HOLTHAM or FARLEY?
Front Row - Denzil DAVIS, Bill WEST, William PITT, Arthur POWELL
Wonder where that lovely shield is today?
---
Related Links
Denzil Ernest DAVIS ( Son )
Iron Church ( Marriage )
Fire Station ( Volunteer )
Parish Church Bell Tower ( Bell Ringer )
Drill Hall ( Rifle Club Member )
George HILL and Sons ( Employer )
---